Welcome back to From The Terraces, the weekly column where I choose a hot topic within the rugby league community, and discuss my opinions. This week I look at the upcoming season and explain why I think it's going to be the most competitive to date.
The new season is just one day away so it's the perfect time to talk about who I think will be fighting for a spot in the play-offs come September. I believe there are seven sides who realistically could make the top four after the Super 8s have finished; I can't remember the last time so many teams were viable challengers. Many will disagree and say that only the usual Wigan, Warrington and St Helens will 100% make it. However, for me, Wigan, Warrington, St Helens, Hull FC, Leeds, Castleford and Catalans are all able to make that top four this season, and here's why.
Since the start of Super League, there's only been four teams to go on and win the Grand Final. Those being, Wigan, St Helens, Leeds and Bradford (remember them?). With only two other teams (Hull FC/Warrington) making the Grand Final. While it always seems to be the same teams lifting that trophy come October, I don't think the Super League has been as competitive as it's now becoming.
Let's look at the teams…
Castleford Tigers: On paper, they have such a strong team, they've got a great coach in Darryl Powell and do have all the quality to make the top four. We saw glimpses last season, but that's all they seem to give, glimpses. It's crazy, because they could go on a run of four or five wins, then lose at home to a side they should be beating. The Tigers have come close to both play-off and Challenge Cup glory in recent years, but I think with the squad they've got now they must be considered as contenders.
Catalans Dragons: I never know what to expect with Catalans, this year more so than ever. They have always been a great side at home, and very poor away. Which, I guess you can understand, but given they've now been doing it for more than 10 years, you'd think they'd learn to adapt. Last season it seemed like they did, winning regularly on the road, yet their usual home form dipped so bad. They've lost a few big players, but brought in a few. If they can match last season's away form and go back to their usual self at home, they'll always be a danger.
Hull FC: Last season was a dream for FC fans. They finally ended their Wembley duck by winning the Challenge Cup, which was a huge thing for the club and their fans. Even with the superb season they were having, you sensed once they won that final, that was their season made, and anything else was a bonus. However, now they've broke that spell of the Cup, I feel they can now kick on and make a good go for the league.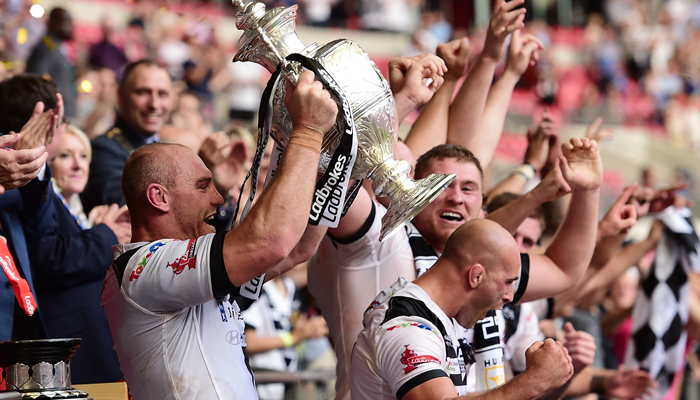 Leeds Rhinos: Well, where to start with Leeds. What a horrific year they had last season, it was a shocker in all accounts. From winning the treble, to fighting for their Super League place. It was crazy. They were knocked out of the Challenge Cup at their first attempt and finished ninth in the league. Going into the new season, I think there's expectancy of what will happen, but I would be very shocked to see them struggle once again, I think they'll bounce back and just scrape a play-off place.
St Helens: Saints had a funny season in 2016. They started off rather poorly and looked to be out of the running for a play-off place for the first time in Super League history. However, after a superb end to the season with a long run of wins, they pulled out a miracle and finished fourth. Unfortunately, they lost out narrowly to Warrington in the play-offs, but they will be looking to go that one step closer in 2017 and return to Old Trafford.
Warrington Wolves: The nearly men of Super League. They always look like they're going to do it. Out of the three Grand Finals they lost, they had great chances in each, but can never see out the game. They've played Wigan twice, in the first they led 16-6 at half-time and went on to lose. Last season, they led 6-2 early on and would go on to lose. They just seem to crumble under the pressure, and it must be so frustrating for a Wire fan as they have such a good team and an experienced Grand final winning manager in Tony Smith. It gets to the point now where they must be thinking, will it ever be our year.
Wigan Warriors: The 2016 Champion, the unlikely champions. Written off for much of the season, after being crumbled with injuries. However, they kicked on in the business end and won the big one for the fourth time. There's high hopes amongst Wigan fans going into 2017, they are expecting big things from their side. I think they are favourites for the Grand Final, and rightly so. They have the best squad on paper and have added some quality to their squads this season, especially with the return of Joe Burgess.
For me, 2017 will be a very interesting season, with there being no easy games. As it gets towards the business end of the season, there will be multiple teams fighting for that spot in the Super 8s. It's going to be a real bumpy ride for all fans… would we want it any other way?
This concludes the third edition of From The Terraces. Please feel free to let me know your thoughts and predictions for this season in the comments below.
*Pictures: Melanie Allatt (top), SWpix.com