When the Disciplinary Match Review Panel reveals the weekend's disciplinary issues, there is a great deal of attention thrust over the decisions.
Fans scramble to the page to see if any of their clubs' players have been banned and if so, why?
That then involves traipsing through the minutes to see the offences and who else has been cited and charged.
'Contact with a match official' is a statement that has been cracked down in recent weeks and months with Wigan Warriors star Willie Isa being cited last week and Catalans Dragons' Sam Tomkins the week before despite both merely being a friendly reassuring touch.
This week, it was the turn of St Helens' Tommy Makinson who, during the second-half, was said to have made contact with the match official.
The minutes state: "Player is rushing back into position and steadies prior to coming towards the referee who moves out of the way."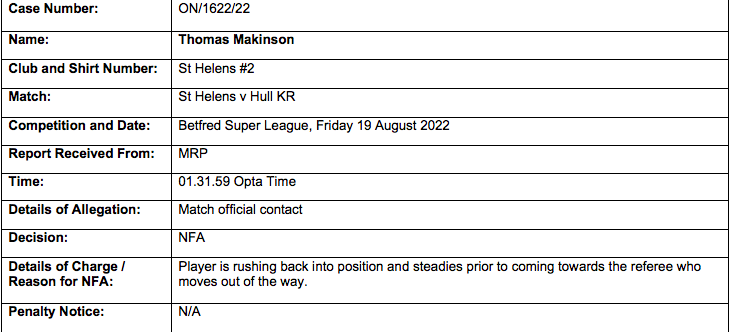 Last week, Isa was cited for 'Match Official contact' in the eleventh minute of Wigan's loss to Wakefield Trinity yesterday, with the Minutes then stating that: "Player places hand on referee in a non-aggressive way when communicating."
It appears as though the Match Review Panel is assessing every bit of contact with the referee no matter how little or friendly it supposedly is.
Here are the others who were cited or banned from the weekend's action:
Liam Hood (Wakefield Trinity) – Grade D Shoulder Charge – Refer to Tribunal
John Bateman (Wigan Warriors) – Grade A Other Contrary Behaviour – 0 Match Penalty Notice
George King (Hull KR) – Grade A Dangerous Contact – 0 Match Penalty Notice
Michael McIlorum (Catalans Dragons) – Grade A Dangerous Contact – 1 Match Penalty Notice
Sam Hewitt (Huddersfield Giants) – Grade A High Tackle – 0 Match Penalty Notice
The following player was handed a caution:
Bureta Faraimo (Castleford Tigers) – Contact with Match Official