James Rony is certainly one of the greatest players in Super League history.
A seven time Super League member, one of only four players to win two Harry Sunderland Awards in Super League Grand Finals, a former Man of Steel, a five-time Super League Champion and the record holder for most Super League appearances, Roby is in some ways the embodiment of Super League.
Chasing a record fourth consecutive title with St Helens, this year was set to be his swansong, however he is now set to play on in 2023 as he chases more silverware and accolades and likely takes the Super League appearance record out so far that no one will ever get close.
But why did Roby backflip on his decision to retire at the end of the year. Well in a clip shared from the always brilliant Out of Your League Podcast hosted by Roby's former teammate Mark Flanagan, Roby explained that the way he felt as the season went on as well as his ambitions to keep on winning trophies changed his mind.
"We're all competitive aren't we as players, when someone doubts you, you want to prove them wrong," Roby said.
"I was pretty much ready for retiring, happy with what I'd done, content with my career. There were a few tell tale signs body wise and stuff, but the more the year went on I was thought 'actually I'm scrubbing up better than I thought I would at this time of year, I'm feeling okay, I'm feeling good and mentally as well I'm still enjoying it which is a big factor.
"I'm at a club where we're challenging for trophies, we're in a period of success for the club and a team that might be remembered for many years to come. Why would I not want to be a part of it? I'm part of it and have been for the last few years but why can't we win more trophies next year, maybe I had finished and watched lads lift trophies maybe I'd have regretted it because I know I'll miss it when it's gone. I'll miss being round the lads every day, the team, the organisation, everyone involved we've been together for so long now, 20 years and I'm looking forward to one more year and I'm pretty sure it'll be my last."
🗣️ "This team could be remembered for years to come, I want to be part of that."

James Roby chats @Saints1890's four in a row chances, playing on & a potential appearance on SAS Who Dares Wins 👀

The latest @OutOfYourRL podcast is available NOW 🎙️

Watch 👇 #SuperLeague

— Betfred Super League (@SuperLeague) September 13, 2022
That was the tip of the iceberg in a typically brilliant and insightful podcast held at the Super League Dream Team event and you can check out the rest here:
Flanagan is no stranger to brilliant podcasts lifting the lid on untold stories which is why he has organised a great event where Jamie Peacock, Adrian Morley and Sam Burgess will all tell previously untold tales from their glittering careers as part of the Gods of League: The Enforcers event taking place prior to the World Cup in Warrington, Halifax, Leeds and Hull.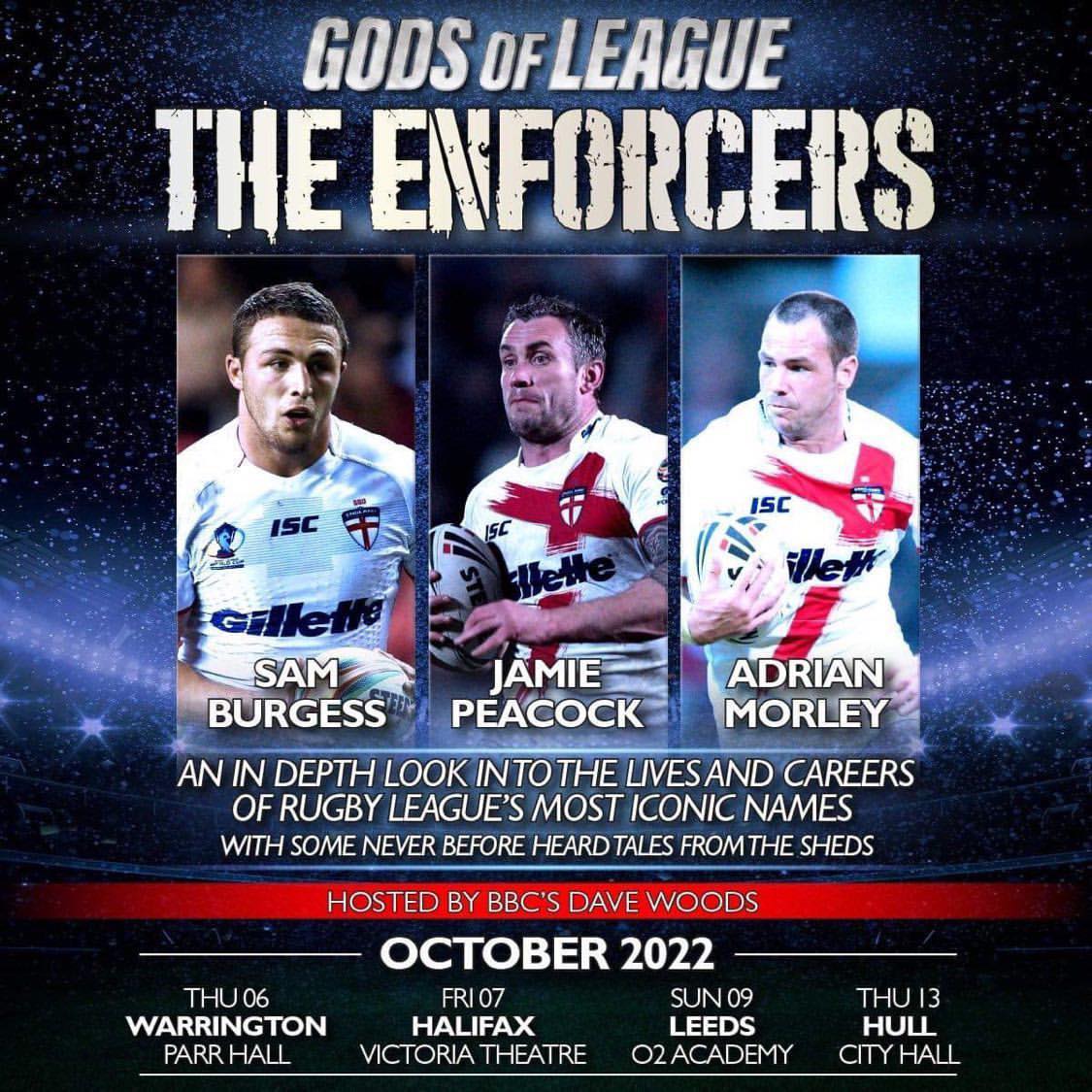 You can buy tickets for this terrific event here.