Sonny Bill Williams has been pictured with two Leeds Rhinos stars as his boxing career continues to heat up.
The former New Zealand cross-code star is good friends with Rhinos man Bodene Thompson, but he was also pictured with fellow Leeds forward Mikolaj Oledzki and Huddersfield Giants man Ricky Leutele as the quartet met for a quick catch-up.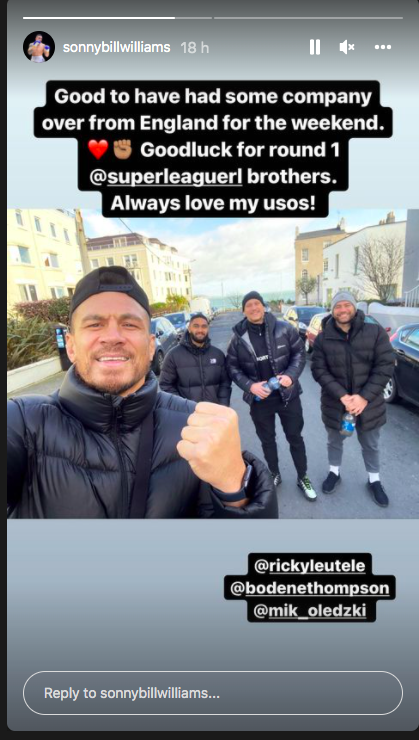 Williams, whose only foray into Super League came in 2020 with the Toronto Wolfpack, will head back into the boxing ring in late March as he takes on former AFL star Barry Hall in a much-anticipated fight.
It does, however, mean that Williams has squandered the opportunity for an $8 million payout after seemingly ignoring an approach by former Cronulla Sharks giant Paul Gallen for two fights later in the year.
It is the first time in his career that he has focused only on boxing, with his rugby league career ending last year after he confessed he couldn't keep up his injury-free fitness.
"I know Barry Hall is a very hard man and his debut proved he has a tonne of skill, but he is inexperienced in the ring and nowhere near my class level," Williams had previously told the New Zealand Herald.
"I finished rugby and rugby league, and before I walk off into the wilderness with my family, I said to my wife that I think I want to give boxing one more crack, just to scratch that itch.
"It's great to see Barry here, it's great to line up two athletes who are here to win – it's a 50/50 fight and it's going to be a great night.
"I think for me, this journey – I have said before I want to have 5-10 fights. In order for that to come to fruition, I have to beat Barry and I have to beat him convincingly. No stone will be unturned in this journey."