With Bradford still undecided on where they will play next year, and the prospect of staying at Odsal looking less and less likely, we decided to look at six possible venues the Bulls could end up at next season.
1. Valley Parade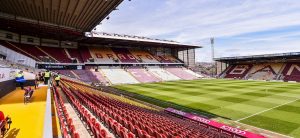 The home of footballing neighbours Bradford City is the obvious first choice for Bulls owner Andrew Chalmers. With a capacity of over 25,000, it would be able to support Bradford's loyal fanbase and more, while there would be no issue in facilitating Super League attendances should the club be promoted.
There does, however, seem to be a stumbling block in the way. League Express reported this week that Bradford City don't own the stadium and would likely demand a six-figure contribution towards it's running costs, which the Bulls probably wouldn't be willing to pay. This may force Chalmers and co. to look elsewhere.
2. Horsfall Stadium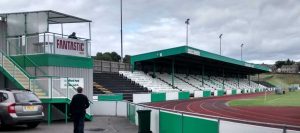 The Bulls' likely second choice is home to Bradford's second-most famous football club, Bradford Park Avenue. Council-owned Horsfall is much smaller, able to host a crowd of just over 3000, but would mean the club are able to stay in the city of Bradford.
Park Avenue are also in discussions with the Council about raising the capacity to 4000 to meet National Conference regulations, which the Bulls could offer to facilitate.
3. Cougar Park
Should an agreement to move to one of the previous two stadiums prove unsuccessful, Bradford will be forced to look outside of the city for a home. One of the nearest rugby league towns is Keighley, with Cougar Park offering a potential option.
Keighley Cougars have had financial problems of their own over the past 12 months, so a deal with the Bulls could work well for both clubs. The Cougars ,however, already ground share with Division One North football club Steeton AFC, which could throw up logistical issues.
4. Tetley's Stadium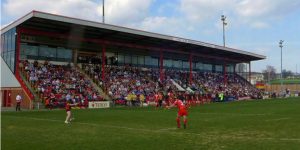 Another rumoured move could see the Bulls move in with Championship rivals Dewsbury at the Tteley's Stadium. There has reportedly been contact between the two clubs already, however any possible deal is still in its early stages.
It's also very unlikely a ground share with one of their local league rivals would go down well with the Bradford faithful. The Bulls fans are very proud of their club and its history and would, no doubt, be rather unimpressed if they were to forced to move in with their neighbours.
5. Nethermoor Park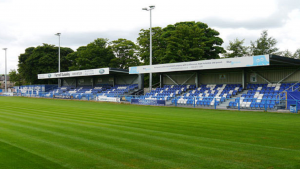 This is a bit of a left-field suggestion, but the little-known Nethermoor Park in Guiseley could prove a handy option. Home to semi-pro National League North side Guiseley AFC, the ground is a mere 11 miles away from Odsal, making it one of the closest stadiums outside the city.
It boasts a respectable capacity of 4000, which is probably just enough to squeeze in a set of home and away fans, and would probably turn out to be one of the cheaper options out there.
6. South Leeds Stadium
Again, a bit of a long shot, but not completely inconceivable. You would imagine almost everyone involved with the Bulls from the top to the bottom would be against a move to the city of their arch rivals nut if it's the best for the club, it may have to happen.
The South Leeds Stadium, or John Charles Centre for Sport, is a top class complex with 4000 capacity multi-sports stadium as its centrepiece. It is also, of course, the home of League 1 club Hunslet RLFC. In similar fashion to Cougar Park, it would mean a ground share with a League 1 club, however this one brings with it the assurance of excellent facilities.
If we've learnt one thing, it's that the Bulls have next to no chance of securing a stadium without a ground share, and aren't short of options despite their reluctance to relocate away from Bradford. Their decision will come down to two main aspects – money and logistics. They need an affordable arrangement that won't land them in hot water again, however it is equally as vital that they don't stray too far away from their current home and risk alienating fans.