ROGER MILLWARD CARRIES ON WITH BROKEN JAW
Sam Burgess bravely played 79 minutes of the 2014 NRL Grand Final for South Sydney with a fractured cheekbone that would have removed most mortals from the field of play. Such was his desire to see the job through and help the Rabbitohs win their first Grand Final for 43 years. Physically, the great Roger Millward was much smaller than Burgess but his heart was just as big. After 15 minutes of the all Hull Challenge Cup Final in 1980, Millward's first appearance at Wembley in a brilliant 15-year career, the Hull KR captain-coach was hit late by Hull FC hooker Ronnie Wileman. The impact broke his jaw but there was no way Millward would leave the biggest stage of his career. He got up, carried on and played the rest of the match and even slotted over a drop goal in the second half. It may not have been the Hall of Famers' greatest ever performance, but it has gone into legendary status in East Hull and was the personification of bravery and commitment to a cause he was desperate to succeed at. Succeed he did and Millward received the Challenge Cup from the Queen Mother as his beloved Hull KR defeated arch rivals Hull FC 10-5. It was his final first team game.
MARTIN OFFIAH FULL LENGTH TRY
I felt honoured to witness the unveiling of the new statue at Wembley Stadium in 2015 which depicts five rugby league heroes. Martin Offiah attended the unveiling and whilst one of the greatest wingers the game has ever seen scored so many wonderful tries in his career, it is the one he scored for Wigan in their 1994 Challenge Cup Final defeat of Leeds that everyone remembers. Every player wants to perform heroics on the biggest stage of the game, few succeed but Offiah certainly did. This try could quite easily go down as one of the greatest of all time, not just in Challenge Cup Finals, and was the personification of Offiah as a rugby league player. It combined strength to break through the first line of the Leeds defence, pace to take him beyond the rest of the defence into the wide open spaces of Wembley and awareness of the position of Leeds full back Alan Tait who he beat on the outside, seemingly, effortlessly. It is a beautiful sight to see Offiah in full flow running at such speed with such little effort to score one of the great tries of all time.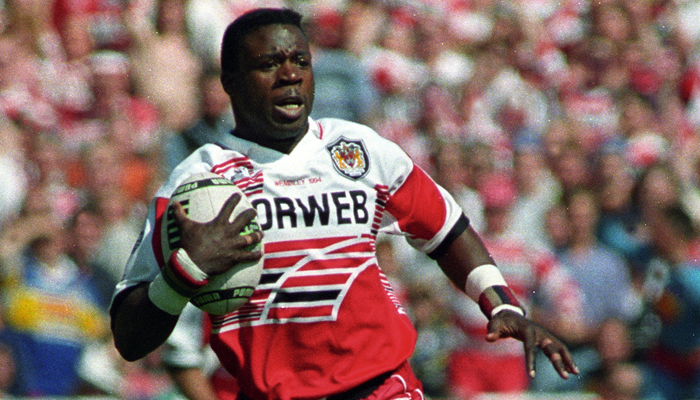 FIRST WEMBLEY HAT-TRICK
The 95th Challenge Cup Final in 1996 was the 61st to have been held at Wembley and in all of those previous finals, no player had ever scored a hat-trick of tries. In a game that is now more synonymous with the travails of Bradford Bulls full-back Nathan Graham, who failed to handle a barrage of Bobbie Goulding bombs in the second half, it was his Bulls teammate and New Zealand international Robbie Paul who would become the first man to score three tries in a Challenge Cup Final, albeit on a losing side. His first two tries were nothing out of the ordinary but his hat-trick try was true individual brilliance. Paul took the ball on the burst from 60 yards out and used his pace to hit the gaps in a tiring Saints' defensive line before brilliantly changing direction to round Saints full-back Steve Prescott and dive in under the posts. Although Paul has since been out done by Leroy Rivett, who scored four tries for Leeds against London Broncos in 1999, and another Leeds winger Tom Briscoe, who scored five tries in the resounding 50-0 win over Hull Kingston Rovers in 2015, it will always be Paul who is down in the history books as the first hat-trick scorer in a Challenge Cup Final.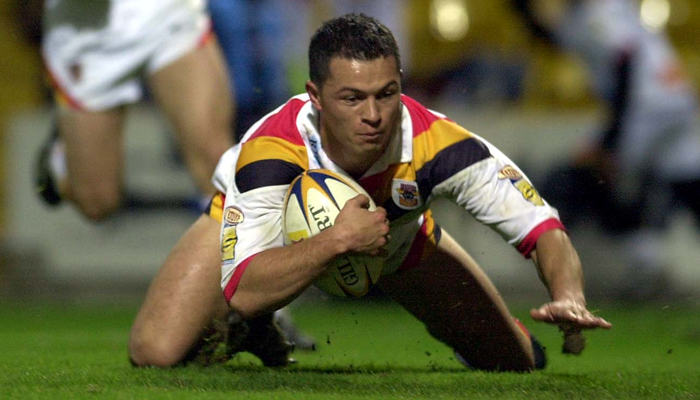 BRETT KENNY'S BRILLIANCE
The 1985 Challenge Cup final between Wigan and Hull FC was the greatest final ever – no question. It was full of great players scoring great tries and two of them in particular are amongst my all-time favourite tries. I had the pleasure of meeting the legendary Brett Kenny last year and you could not meet a more down to earth man. It was a pleasure to share a few beers with him and talk to him about his contribution to this final. The try he scored was breath-taking. Watch it back and look at the depth of the attacking line. Scrum-half Mike Ford does a run around with Graeme West before looping a brilliant pass for Kenny to burst onto and hit a gap in the FC defensive line. That's it – head back, looks for the full-back, backs himself and rounds Gary Kemble for a wonderful try to give Wigan the lead. Right on half-time Ford and Kenny were involved again. Ford linked with Kenny who sent out a long pass to centre David Stephenson who got the ball to his winger Henderson Gill which set him free on a lung bursting 70-yard full-sprint to the line, once again Kemble was left grasping at thin air. The big grin on Gill's face makes it all the more memorable. Wigan would eventually win 28-24 to lift the Challenge Cup, with much of it down to the brilliance of Kenny.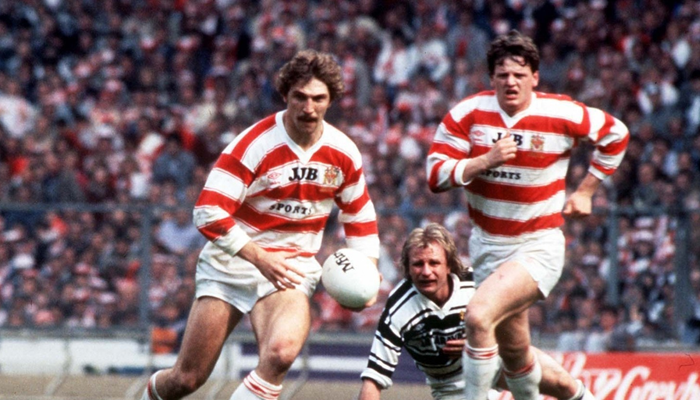 PAUL COOKE WINNING TRY
After a brilliant 34-8 destruction of favourites St Helens in the semi-final four weeks earlier, Hull FC went to their first Challenge Cup Final for 20 years as underdogs against Leeds Rhinos. Coached by John Kear and led from the front by New Zealand international Richard Swain, Hull were expected to make up the numbers against 2004 Grand Final winners Leeds Rhinos. However, mid-way through the second half the underdogs 18-12 lead was extended to 7 points by a Danny Brough drop goal which seemed to be the shock the Rhinos finally needed to get themselves out of first gear. Converted tries from wingers Mark Calderwood and Marcus Bai gave the Rhinos a five-point lead heading into the final few minutes. However, Hull born Paul Cooke took a firm hold on proceedings. The ball went to the right with Cooke stood on the left side of the FC attack, in a planned move the ball was immediately switched back to Cooke who dummied from 10 yards out to go between two Leeds defender to score a brilliant try; Brough converted to give FC a 25-24 lead. I was in a packed pub in East Hull and the place erupted with joy. FC held the Rhinos out for the last few minutes to record a famous victory.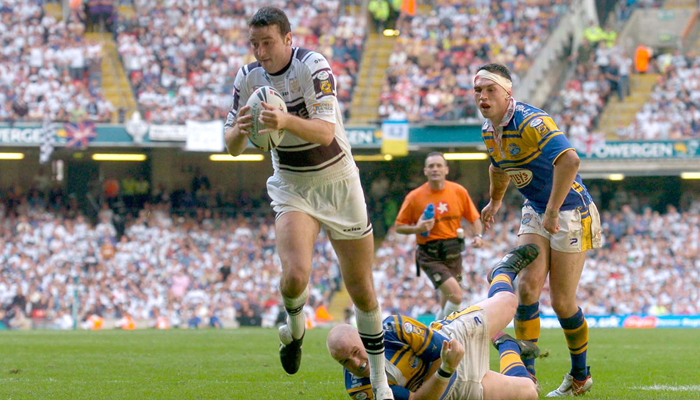 PINKNEY KICKSTARTS THE MIRACULOUS UPSET
Nick Pinkney was a Hull-born prolific try-scoring winger when he played for Sheffield Eagles in the greatest upset in Challenge Cup Final history. Pinkney scored the first try after just four minutes of a final that Wigan Warriors were overwhelming favourites to win. However, the Eagles were never going to lie down and a positive early start was what they needed to give them the confidence that they could win the cup for the first time in their short but proud history. Pinkney gave them that perfect start when he rose above his opposite winger to collect a perfectly placed Mark Aston cross-field kick to score his 22nd try for the Eagles in just his 38th appearance for them. Not only was it an important try for the Eagles, but it also won me a tidy sum as well as I had picked Pinkney as the first try scorer of the match – thanks Nick!! It is well documented that the Eagles went on to upset the odds to record a brilliant 17-8 victory to lift the Challenge Cup for the only time in their history.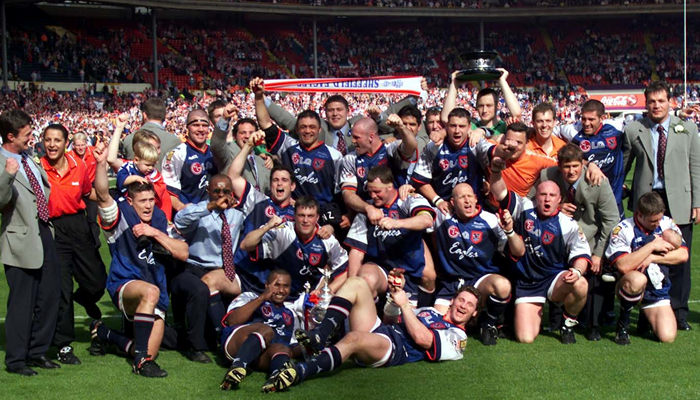 *Credit Varley Picture Agency