Talk about nostalgia, I don't think I've ever had such a massive mix bag of emotions in such a short period of time.
So last week I drove to Catterick to start a week build up training for the first round of the Challenge Cup and hopefully be selected to represent the Army.
When I was in the military there wasn't a Rugby league team for women and it only came into fruition toward the latter end of my career, I never attempted to join the team due to a neck injury sustained playing in the Army Rugby union team.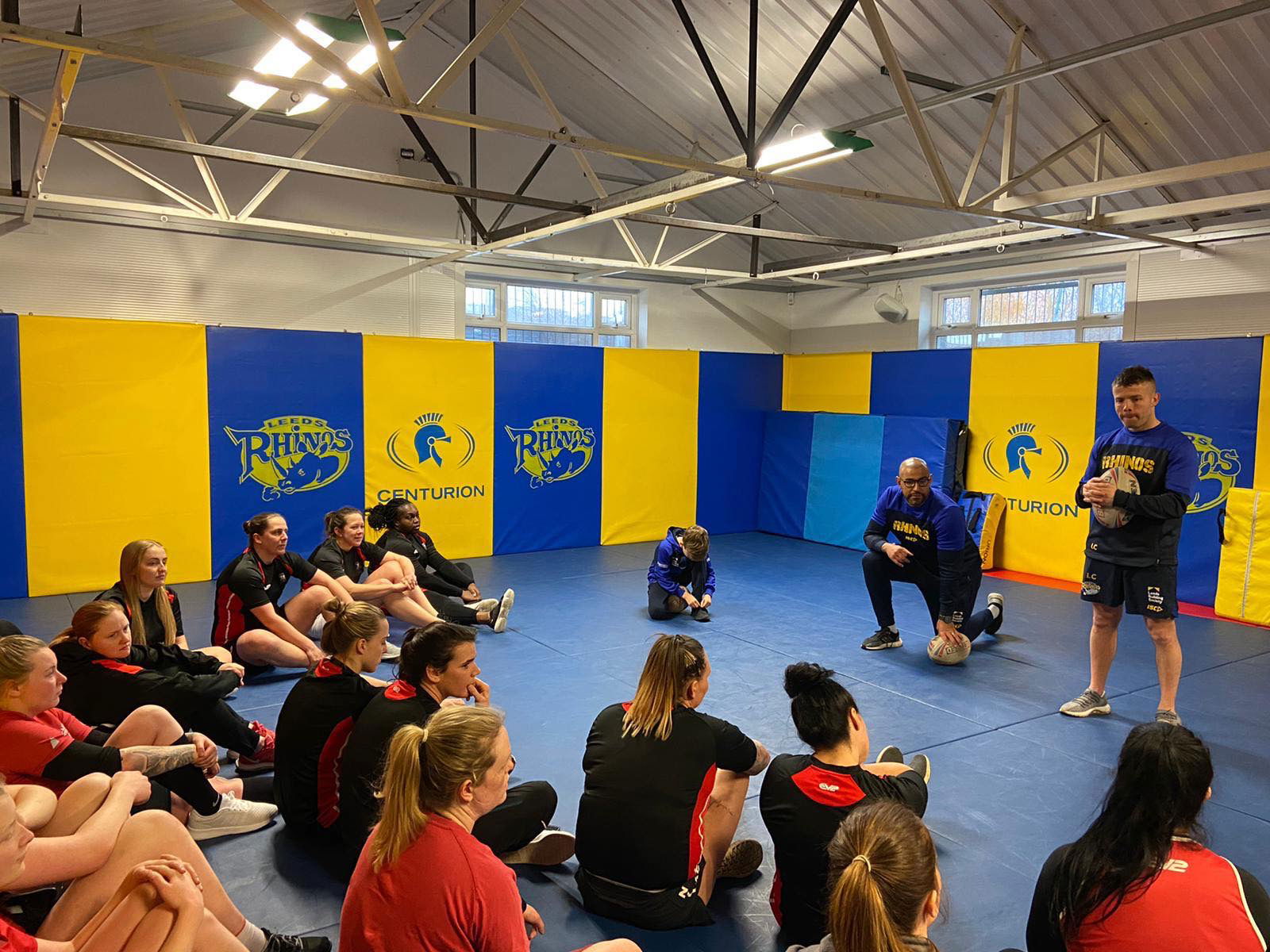 The week started with an initial brief by the staff, head coach Woz Broadley spoke of his intentions moving forward for the team and introduced the impressive amount of background staff that he had personally chosen to develop the team within his five-year plan.
Thereafter, all us newbies introduced ourselves in the form of an ice breaker with a few funnies to literally break the ice.
What impressed me most, was the structure of the training week, a very thought-out training plan flowed with ease from gym work, S&C to defensive and attack drills.
Broadley had also arranged some mock games against the Army's infantry team who had a game that week so that they too could have some real opponents.
Playing trap and stop with the infantry was one of the most exhausting training sessions I've had to date.
Our first day out on the pitches, saw a detailed and pertinent warm up take by Strength and Conditioning Coach Sgt Danny Roberts, the players were broken down into two groups.
The previous team members dusted of some cobwebs with Broadley and the newer members of the team were brought back to basics with England performance player, Sgt Carrie Roberts.
She took us through some well thought out defensive drills, her instruction was clear and concise, ironing out imperfections before she set us free to join the other team members.
Defence is always a physical and exhausting part of training something that can never be skipped as tackling techniques should always be practised even for the more experienced players.
The remainder of the week was set out with training, set moves and plays, team bonding, more S&C, foam rolling and stretching techniques and many more vital components to the team captains run out.
Unfortunately, our opponents pulled out of the first round so we were left with all the training and eagerness to play but sadly no team.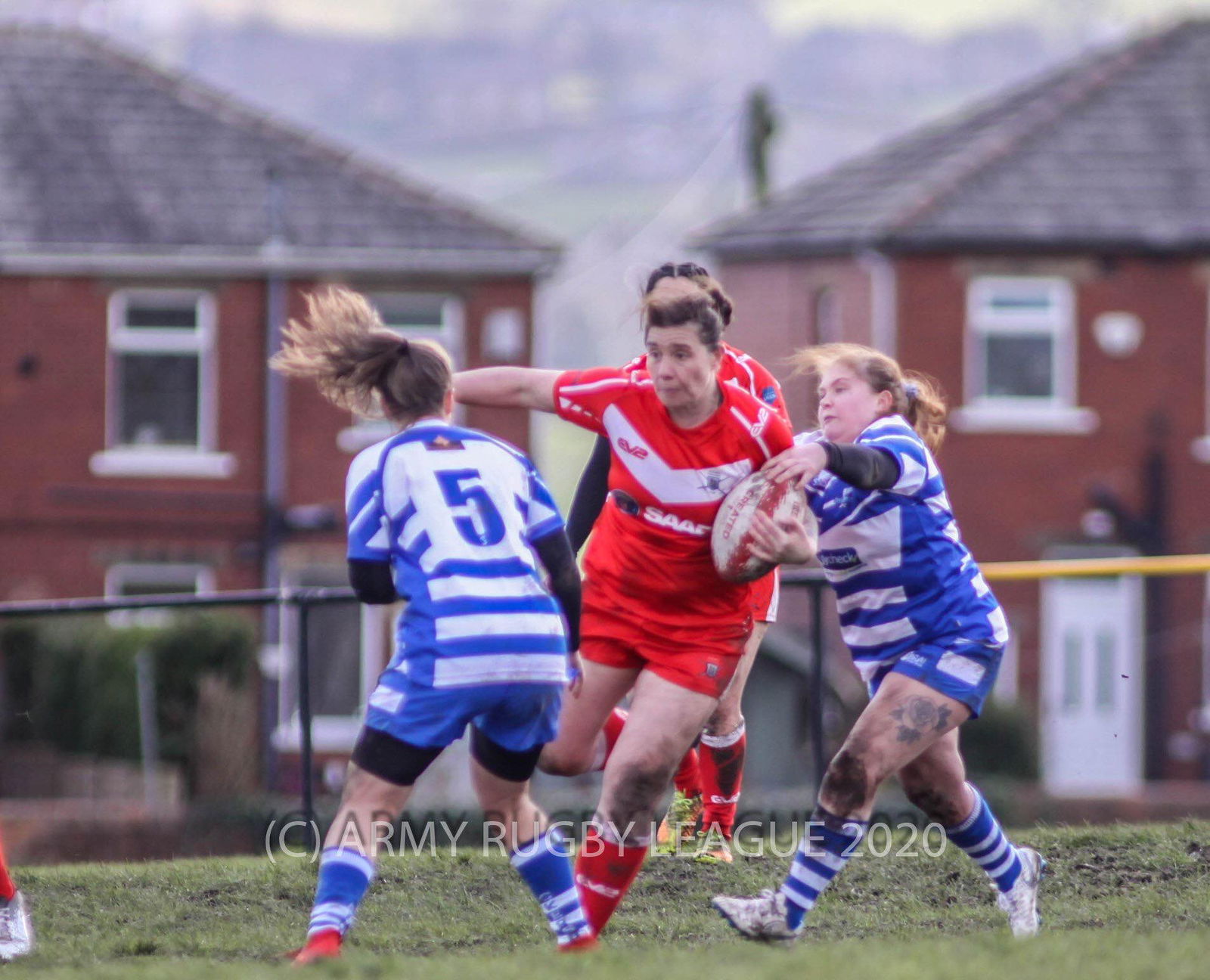 Luckily for us, Halifax Ladies' opponents had also pulled out. So after some quick thinking from myself, we contacted their Head Coach Martina Greenwood and a friendly was arranged at Halifax's ground.
That Friday we were invited to Leeds Rhinos training facilities and Headingly to watch Leeds take on Warrington.
Leeds Rhinos legends such as Lois Forsell, Chev Walker and Women's team coach Leon Crick, put the team through our paces in the tackle room.
Later that afternoon we were privileged to meet Jamie Jones-Buchannan who presented us with his motivational speech and a tour of the facilities.
I found the tour rather emotional and pertinent for team bonding, I have sat and watched Jamie speak on many occasions of his passion and encouragement for the women's games, I find his energy endearing and urge any team if their need some motivation to listen to him and his journey.
The day before the game, Broadley read out the squad. I had made it; the number 12 jersey was mine!
I'm not going to lie I was shocked, it has been eight years since I left the Army, although I have kept myself physically robust and fit, the thought of training with women half my age and at their level of fitness worried me.
But it was like I'd never left. I was welcomed with open arms by the team captain Emily White and vice Carrie Roberts, they maintained a perfect harmony and promote a heathy environment for the team which literally can't be taught.
I felt like I was back home to the place, were I belong, stood shoulder to shoulder with my sisters in arms.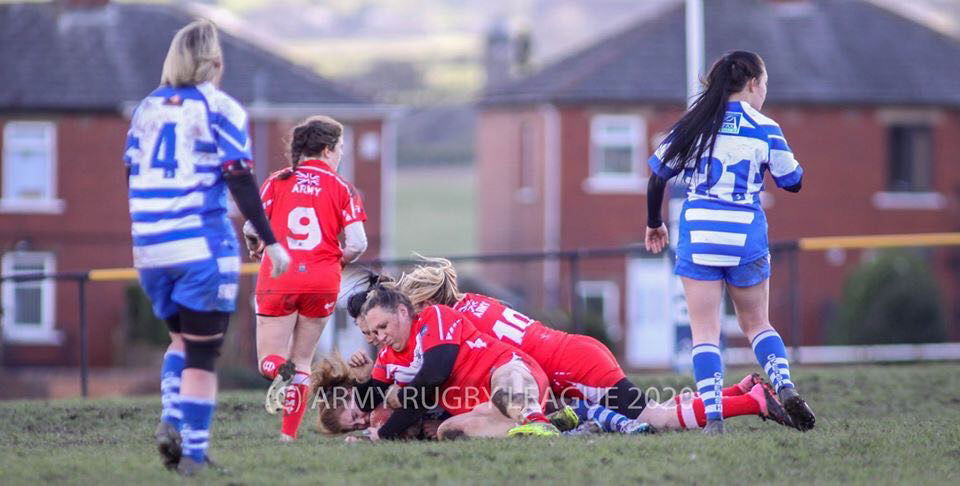 Sunday saw me cross the white line wearing the famous red jersey with the crossed swords and lion emblem with pride, like I did almost 18 years ago for the Army Rugby Union team, What a self-achievement!
I would like to thank every single one of the women I trained and played with that week. I'd like to thank all the background staff for their hard work into making these training camps possible.
I'd like to make a huge thank you to Head Coach Woz Boradley for given me the opportunity to be back with my military family and I'd also like to thank Halifax women for their hospitality and arranging a game at the last minute.