When the RFL first announced the idea of Super League licensing system back in 2005, there was certainly a lot of scepticism met from the lower league of RL. To be honest it all sounded great on paper. An attempt for English Rugby League to compete with the likes of the NRL and improve the overall quality of teams within the Super League – not just from a financial standpoint but also in terms of stadiums and facilities.
Between 2009 and 2014, the Super League teams operated under this concept of licences. The RFL set about a certain criterion to be awarded a license to gain entry into the Super League.
Was it as successful? mostly no. The licensing system had its strengths and weaknesses. Some would argue a smaller licensing period of two years over three, while others suggested a longer period of five years would have been much better. This would allow teams to establish a much better foundation and build, whilst at the same time not having to threat about the chance of relegation.
If licencing was to work and keep the Super League a closed shop like the NRL, could the SL take inspiration from competitions such as the New South Wales Cup? A salary capped semi-professional league, with a Grand Final in a big stadium. Also, a structure that could quite possibly bring with it the competitiveness, credibility and prestige that was missing from the old licencing system. And what about the possibility of TV rights for more Championship games to further expand the sport and bridge the gap between the Super League and Championship even more? Recently we have seen the new channel, FreeSports TV showcasing Toronto Wolfpack's home games in League 1 – which is certainly a great starting point to build from.
There is no question the game has come a long way since moving the season to summer rather than winter. However, you look at the Bradford Bulls problems and similarly Salford, who were rescued from financial meltdown by Marwan Koukash. Wasn't licencing supposed to prevent issues like this happening? Possible procedures or even safeguards should have been put in place for clubs that were having financial difficulties or were at a loss. It could be argued the Bulls' problems were down to their own mismanagement, but surely this should have been spotted way sooner.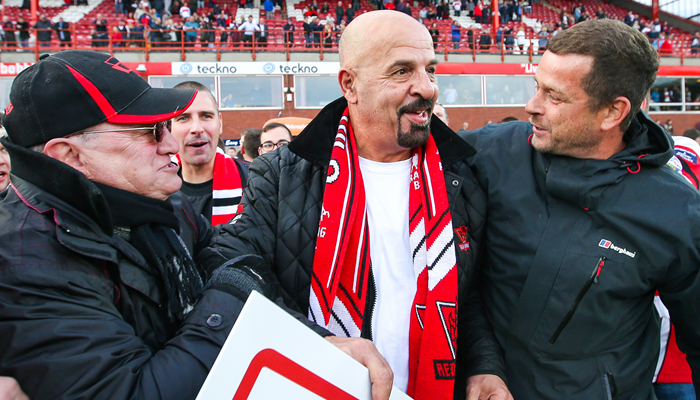 It was announced in 2013 that the RFL had chosen to scrap licensing and bring back promotion and relegation for 2015. The one thing that the culture of British Sport has been built on and what made it so captivating was that drama of promotion and relegation battles. You look at many sports in this country that include promotion and relegation, how many exciting and dramatic moments has there been that have kept people on the edge of their seats? Surely, that is in some way what the RFL are striving for? But does that excitement of fighting to stay up outweigh the loss financially of a club succumbed to life in the Kingstone Press Championship?
The pressure of trying to gain promotion and relegation takes its toll on teams, especially when there are people's jobs on the line. Clubs are spending too much money to gain promotion or survive relegation, but if you look at most sports in today's world, it's a business-like nature and investing will always bring a calculated risk. It's just a question of whether someone is willing to take it and see it through.
The Licencing system certainly had the potential to work well in the Super League but in use was fundamentally flawed. If certain safeguards were put into place to help clubs having financial troubles then maybe problems such as that of Bulls' could have seen quicker and a possible solution may have even been found.
The existing Super League format all just seems rather unnecessarily convoluted in attempt to make things more exciting. Moving forward, the idea of promotion and relegation could be best but possibly without this complexity of the Super 8s and Qualifiers. A solution could be to just have the top two of the Championship and bottom two of the Super League be automatically promoted and relegated respectively, or even have them compete against each other to keep the much converted Million Pound Game. Prior to the Super 8s we had an eight-team play-off system but that needs to be reduced to six or even four. Now yes, it doesn't exactly sound like an exciting and dramatic concept but sometimes the simple way can be the best way. The fact that only four teams instead of eight are in with a chance of making the final could certainly make for more competitive Rugby with clubs vying for that exclusive spot.
It is a case of picking a structure that will help the RFL compete with the NRL and their quality of players, then the key must lie mainly with player development. The NRL put a lot of their attention into this and the platform that the younger talent is given. Take for instance, the Holden Cup and the exposure it receives. You look at players such as Danny Richardson at St Helens and James Batchelor at Wakefield. Both seen as great prospects for the future. Imagine the benefit these guys could have if they were playing on regular basis in a competition like the Holden Cup which would help them develop. Maybe it's time to provide that platform for younger talent here and start investing more into the grass roots part of the game.
The main thing is that we keep people entertained and improve the quality of the sport. The only way we can do that is to ensure young players are not wasted because of the pressure of the current structure. The future of Rugby League depends on the youth, they are the future and we must strive to make our game a more attractive proposition.