Ahead of their Round 15 Super League clash against Salford, Huddersfield's Sam Wood was labelled by interim Giants boss Luke Robinson as a 'coach's dream'.
It came at a time where several players were returning from injury and Wood, who served as the club's go-to utility man, was one of the unfortunate players to miss out on the match-day side.
"He's a bit of an unsung hero is Woody," said Robinson. "He's played really well, put his hand up and done all the right things for the team."
In the 16 games Wood played for the Giants last year, he appeared six times on the wing, three times at centre, twice at loose forward and once in the second row, as well as coming off the bench four times. He also played a fair bit in the halves during his academy days.
A player so versatile is a valuable commodity for a coach to have, although Wood himself says he's hoping to shrug off the 'utility' tag.
"I do enjoy having that role but to a certain extent I'd really like to make a position my own," he says. "Shifting about, it can be the best thing ever and it can also be the worst thing ever because you're moving all the time and you don't get any consistency with positions. But then again you are playing.
"Last year I was playing a bit of middle and stuff like that, which benefitted the team when we were short on players. But if I'm honest I'd really like to nail down a starting centre or back rower spot."
His path to those positions won't be without its challenges, though, especially with the Giants recruiting well in both areas.
The likes of Ricky Leutele, Josh Jones and Joe Greenwood have all arrived at the John Smith's Stadium, but the 23-year-old knows exactly what he needs to work on to challenge them for a place in the side.
"Physically your size can take you so far but you need to be able to do the demands of that position as well," adds Wood, who stands at just over six foot three inches. "It's alright being tall but if you can't catch, pass and do the other things it's not really any use.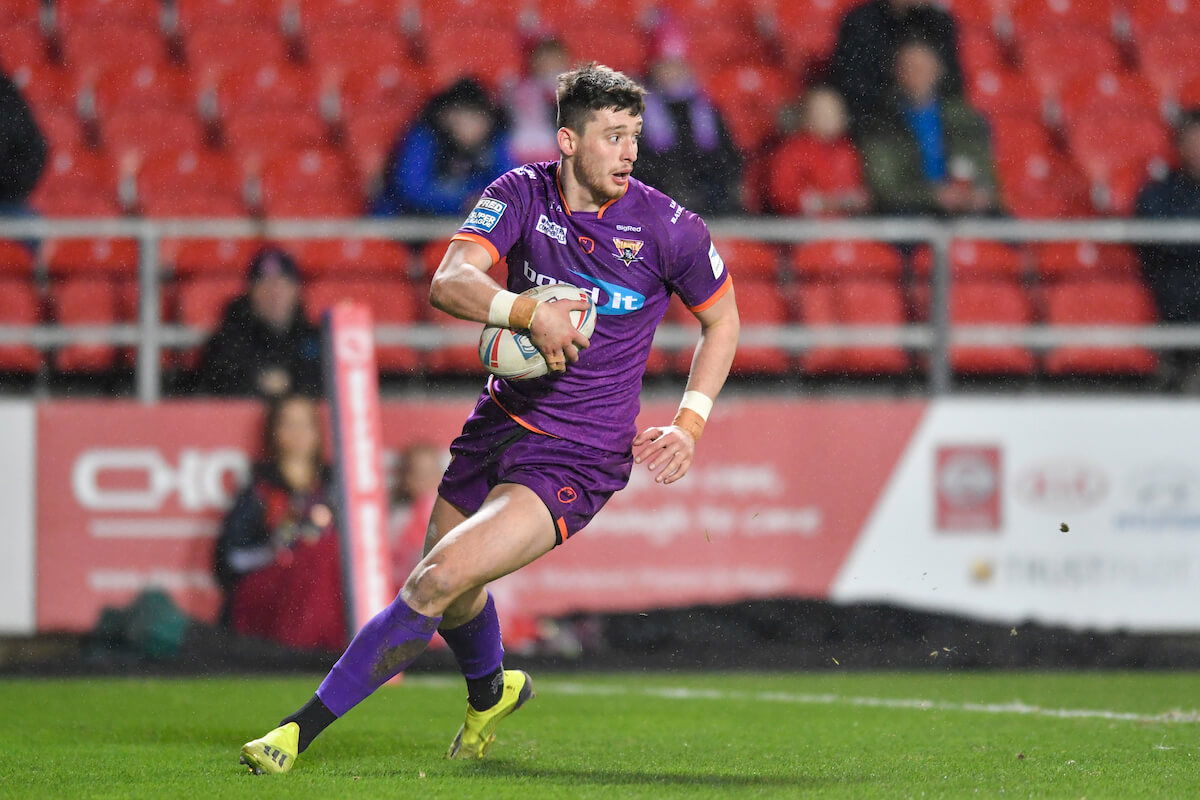 "I've just been trying to get my basics right and be consistent. Getting those things – being error free, consistent with line-running, the one percenters that the average fan might not notice – really nailed down, I hope that just improves my game.
"I spoke to Ian (Watson) and he touched on those sorts of things early on at the start of pre-season, where he said, 'I'm looking for you to be a centre (or) back row player this year'."
Last season was a breakthrough one for Wood, at least in a Super League sense. In 2019 he enjoyed a fruitful year on loan at Batley, cementing a regular spot in the Bulldogs' side and scoring six tries.
"That was probably one of the biggest years of my life," Wood says. "The year before I'd come off the back of three knee injuries and was sort of in and out of the side. I was lucky enough to play a few times throughout that season so I got maybe nine or 10 games.
"It's frustrating like it is for a lot of players, when there's an opportunity there to be playing and you're picking up injuries, and you know if you weren't injured you'd be playing. It's not great when it happens but you've just got to crack on with it, there's no other way around it really.
"But off the back of three knee injuries I needed some consistent game time and I played 26 games under Matt Diskin that year. So in terms of game fitness and shaking rust off, getting some consistency it was absolutely massive.
"The physicality isn't to be shaken at in the Championship because it's a physical competition. A little bit slower in terms of game speed, but in terms of physicality it's right up there.
"2020 wasn't great for a lot of people in terms of the world's standpoint, but I played nearly 20 Super League games which is my highest amount in Super League terms and consecutive appearances. So I loved last year.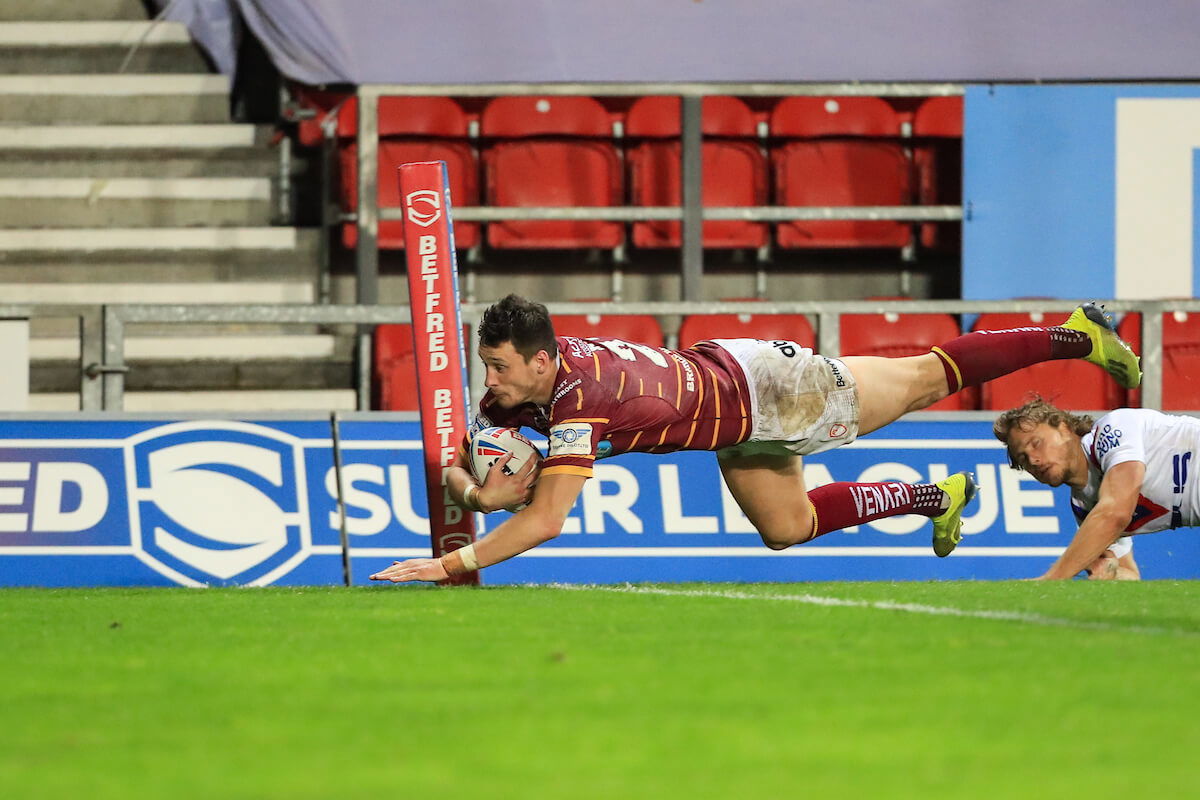 "In terms of enjoyment, you don't get better than playing week-in, week-out so it was absolutely outstanding from a personal point of view.
"You can never rule out injuries – we play a really physical game. But the work I put in in that season at Batley and my pre-season before last year, I hope that was a reflection of why I got so many games."
Wood is hoping to carry that consistency into this season, albeit under new management.
New boss Ian Watson is now at the helm of a Huddersfield squad full of talent and potential, and Wood makes no bones about what he and his teammates are aiming for in 2021.
He continues: "(Watson) has recruited really well in signing Ricky Leutele in my position. Leroy (Cudjoe) is looking as sharp as ever, Jake Wardle got our Player of the Year last year.
"These are all people who are playing in my position, so it can only make me a better player to push these players and to try work myself into the team.
"If I don't play, there's three really good centres in front of me and two of us are going to have to miss out. So in terms of our strength in depth and our squad, it's looking really well.
"With our team goals, we're shooting quite high. Watching other teams lift trophies at the end of the year, like Saints (in Super League) and Leeds lifting the Challenge Cup last year, it hurts as another player – you want to be doing that with your teammates around you."
"We want to be successful, we want to be stood at the end of the year lifting trophies."