Sam Tomkins is the one man in British Rugby League that supporters love to hate. I've been on the terraces with fans giving him all sorts of hammer and cheering like their team have just scored the winning try when he makes a blunder or even slips. But I have a funny feeling that he may get his revenge in 2018.
When Tomkins came on the scene under Brian Noble at Wigan in 2008 he was like dynamite, making seasoned pros look like amateurs. With his slender build he was deceptively strong and could easily go the length of the field in the blink of an eye. After that he continued to improve over the next few years and in moving to full-back under Michael Maguire, he was able to get the ball in space and create things for himself and those around him. Also flourishing on the International scene he was the complete package and only second to Billy Slater in the rankings for world's best full-back in my opinion. He was box office viewing and often had running battles with those on the terraces, partly because their team just could not handle him.
In the 2013 Super League season there were big rumours of Tomkins trying his hand in Rugby Union and he even made a try scoring appearance for the Barbarians. Thankfully he chose to turn down the big bucks and head Down Under to test himself in the NRL. Leaving as a double winner with Wigan and still in great form. I for one was hoping he would go down there and show the Aussies a thing or two and do us proud. Unfortunately things didn't work out that way over the two years he spent out there, spending too much time on the treatment table with various injuries. When he did play he struggled to live up to his billing and in the end decided to come back to England at the start of 2016 with his tail between his legs having not done what he set out to do.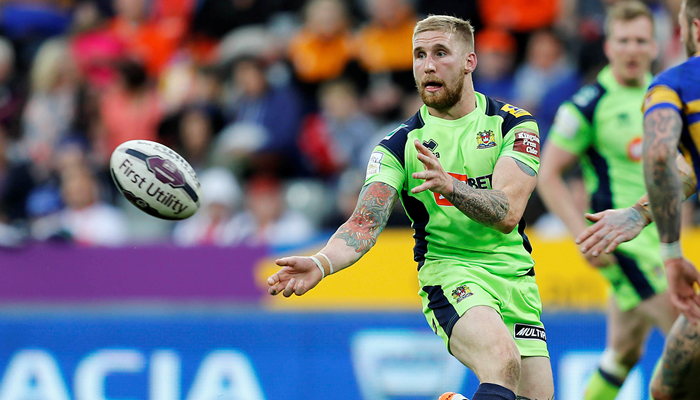 His return to Wigan has been difficult so far with 2016 been a total wash out and only a handful of appearances. In 2017 it was a slow start which began on the sidelines again, but as the season drew on we started to see glimpses of the of the Sam Tomkins we all knew and (some) loved before his NRL move.
In 2018 I have a feeling we are going to see him back to his best firing on all cylinders. He may not have the blistering pace he once had, but he still has all the tools to take the game by storm again. With a possible move into the halfbacks on the cards he will be in the hub of the operation and could forge a brilliant partnership with George Williams if Shaun Wane decides to go down that route. If he plays predominantly at full-back then I see him causing defences problems out wide with his incisive runs and clever kicking game at the line. Then there's his exclusion from Wayne Bennett's England team that will have hurt him, especially with Zak Hardaker being unavailable. I believe this will fire him up immensely and being the winner he is, he will come out to prove all the doubters wrong both in the game and on the terraces.
I'm backing him to make a massive impact this season and if it all comes together for him, he could be up in the running for the Steve Prescott Man of Steel award again at the end of the year.