Second play fourth in Super League this week, as the high-flying Devils take on another surprise package in Wakefield Trinity – here's my combined XIII of both teams.
1. Gareth O'Brien – Salford Red Devils
A fairly easy choice to choose the former Wolves half-back in this team; since his switch to the Red Devils and into the full-back berth he's really come into his own. O'Brien has managed to avoid the injuries for the most part and because of this he's mustered up a consistent run of quality performances, leading to six tries, 11 assists and eight clean-breaks.
2. Ben Jones-Bishop – Wakefield Trinity
The rejuvenated former Leeds favourite has been in incredible form this season scoring 14 tries, as well as making 17 clean-breaks. It was important to 'Bish' that he showed his full potential after being shelved at Leeds in favour of Tom Briscoe. He's definitely done that, helping his side to a top four place at present.
3. Kris Welham – Salford Red Devils
A 50/50 choice between Welham and Trinity's Bill Tupou, but I felt Welham just edges it with a string of impressive performances, particularly recently where he's made plenty of metres to go along with the usual tries and assists. He compares favourably to Tupou with three more assists, a single try and four more clean-breaks. Interestingly, Welham is comprehensively ahead of Tupou in the metres stakes by a solid 600m.
4. Junior Sa'u – Salford Red Devils
Another devastating piece of the Red Devils attack, Sa'u has matched Welham blow for blow and a bit more, with seven tries, eight assists and 11 clean-breaks. He's already highly rated and this season he's really shown why, putting in quality displays for Salford.
5. Mason Caton-Brown – Wakefield Trinity
Caton-Brown makes the team as Tom Johnstone is injured. He's been an adequate replacement in the light of a horrible injury to the very talented Johnstone. 'MCB' has had some solid performances, including a hat-trick of tires in the game that Johnstone suffered his injury. He has scored seven tries and made 11 clean-breaks in what has been a successful season thus far for the former London Bronco.
6. Robert Lui – Salford Red Devils
Assist machine Lui has been in inspired for the Red Devils as they rocket towards a top two finish, four points clear of third placed Leeds. He's made 16 assists and 14 clean-breaks as a clear indication of his influential impact of the attacking structures at Salford.
7. Jacob Miller – Wakefield Trinity
Miller, like Lui, has become something of an assist machine with 11 so far, adding to five tries of his own. Miller has made 42 tackle-busts – the second most on his team. This stat is incredible because it shows, despite his small stature, he can use his strength to cause havoc in the opposition defences. His recent injury is a huge blow for Trinity but he makes the team on his performances so far this season.
8. David Fifita – Wakefield Trinity
Fifita has been in superb form for Trinity this season, no more so than last time out against Wigan, when he left the Warriors' pack crumbling under immense pressure. He's made 58 tackle-busts and 1807 metres, an average gain of almost eight metres. The likes of Garry Scofield have criticised Fifita for being lazy and poor in defence, but he's proved them resoundingly wrong.
9. Kyle Wood – Wakefield Trinity
Wood makes the team for being an absolute rock in defence – with 469 tackles. His defence has been the cornerstone of what Trinity has done so well; turning brilliant defence into even better attack.
10. Craig Kopczak – Salford Red Devils
The former Bradford and Huddersfield enforcer has been in consistent form, notching up 438 tackles, 1413 metres – an average gain of seven metres per carry. And he avoids the annual naked run after scoring three tries this season so far. It says a lot about Kopczak that he's now showing his full potential, which he was expected to reach earlier in his career at Bradford, after an indifferent time at Giants, proving hard work pays off.
11. Ben Murdoch-Masila – Salford Red Devils
The Red Devils' best player this season, without doubt. The powerful forward is oozing confidence at the moment and is up there with Junior Moors from Castleford as the best second-rower in the Super League. He's scored ten tries this season – the most on his team – and made nine clean-breaks. Those stats alone prove to us what we know what him – he's unstoppable when given any sort of opportunity.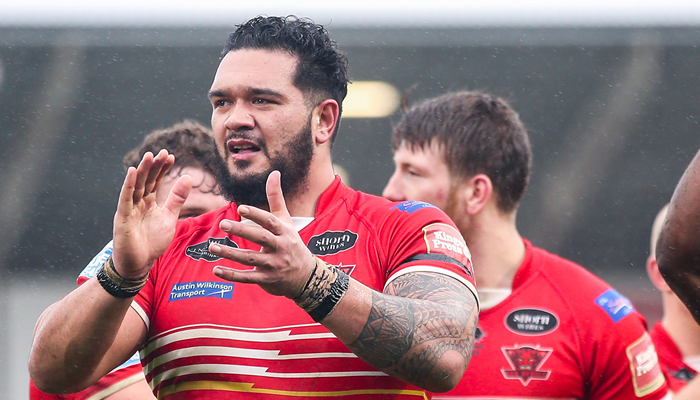 12. Tinirau Arona – Wakefield Trinity
Statistically the performances of Arona are not entirely doing the man justice as one of the lead forwards in the competition. He's made almost 1,300 metres and an impressive 511 tackles – indicating his defensive capability is much stronger than his ability in attack.
13. Mark Flanagan – Salford Red Devils
A player in fantastic form for the Red Devils, showing his true potential after being discarded by Saints earlier in his career. Defensively he's superb – hitting up 471 tackles, the most on his team –  adding to three try-assists. It's important for Flanagan to maintain this form and not to become a one season wonder.