The theatre of international sport doesn't get any better than what was witnessed at Hamilton last weekend. New Zealand and Tonga have set the bar high for drama, excitement and rugby league excellence. The prelims are over and the World Cup moves into the serious stuff now – knockout footy. There are some cracking though potentially lopsided match ups starting up in the Top End in Darwin with Samoa taking on the might of the Kangaroos. Have faith, back yourself and believe. It's the quarter finals, it's who dares wins!
Australia v Samoa
On paper this looks to be a mismatch as big as Junior Paulo's thighs. The Kangaroos have waltzed through the Pool matches with ruthless authority without ever clicking into top gear, while Samoa scraped past the courageous Bravehearts on points differential. Which Samoa will turn up? The fearless team which stretched Tonga or the side who took Scotland lightly and nearly paid the price? Samoan fans will hope the former as if it's the latter this will be a light training run for the Aussies. The Kangaroos welcome back Billy Slater and Michael Morgan into the side that clinically disposed of Lebanon. This not only adds a touch of class but reunites the unrivalled combination of the Melbourne Storm's Big 3 in Cameron Smith, Cooper Cronk and Slater. As the massive Samoan forwards tire the Kangaroos will look for inside balls for Slater to sizzle through the ruck. If that door is shut they'll hit the edges and pound away with their power game via Boyd Cordner and Matt Gillett. Luckily for Australia, David Klemmer and Aaron Woods can play after both had been reported for separate incidents. Not surprising with the form of the RLWC judiciary you'd have to decapitate someone to cop a suspension it seems. The Kangaroos will appreciate having Woods and Klemmer in the pack as they need their size to combat the Samoan big boppers led by Herman Ese'ese and Junior Paulo. For Samoa to win they must dominate the middle and give their talented backs some quality ball and field position. Ben Roberts has been recalled at halfback and his kicking and running game has to be top notch to peg back the Australians. The refereeing style is a major factor as the Kangaroos slow the play the ball down to snail pace, Cameron Smith being the master manipulator of this and the man in the middle can help Samoa if he cracks down. Don't hold your breath as Smith has been ruling the ruck for over a decade. If Samoa brings the right attitude they will match it with the Kangaroos but their fatal flaw is they won't go the full 80. Australia always does and will pull away in the final quarter for a comfortable victory.
Australia by 26
Tonga v Lebanon
The Tongan juggernaut rolls into Christchurch to take on a brave but battered Lebanon. The Cedars have impressed with their resolute defence and will need every ounce of heart to take down Tonga. Brad Fittler's men fight hard and will look to get in the face of the Tongans and frustrate, stifling the freewheeling footy that flows off the back of the forever rolling forward wrecking balls, Andrew Fifita and Jason Taumalolo. Lebanon's problem has been points, scoring them. To challenge Tonga their key men Michael Lichaa and Mitchell Moses must fire and play out of their skins. They're both carrying niggles but it's a World Cup quarter final, they'll play and give it their best shot but at best it's a side loaded with all the firepower of a chick pea shooter. After the seismic shift in international rugby league Tonga set off with their awe-inspiring display last week, coach Kristian Woolf's task is to bring them back down to Earth and focussed on the game plan. It's a simple but extremely effective blue print. Pound down the ground relentlessly through the ruck then unleash the duel dangers on either side, Michael Jennings and Daniel Tupou on the left and Konrad Hurrell and David Fusitu'a on the right. Potency, power and poise, it's a lethal cocktail and potentially World Cup winning combination. Add devastating bench impact from Ben Murdoch-Masila who cut the Kiwis to shreds and the Cedars part timers will be clocking up over time repelling raids on their red zone. If Tonga keep their shape with the halves controlling as Ata Hingano and Tui Lolohea are doing so wonderfully, they'll leap Lebanon in one almighty single bound. Jason Taumalolo has been the player of the tournament thus far and the Tongan Superman wears the cape well. Sit back and marvel at his majesty.
Tonga by 34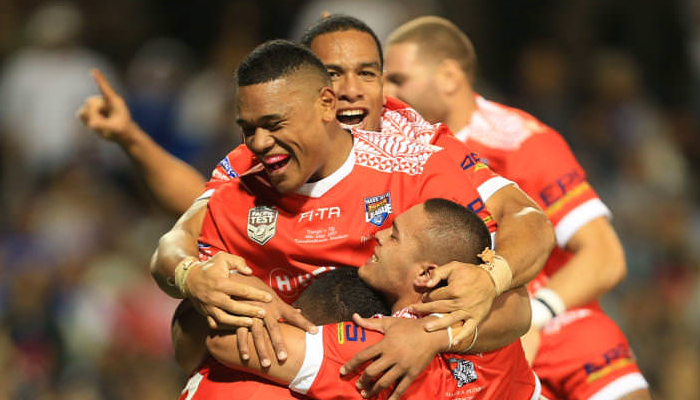 New Zealand v Fiji
Wellington has been shaken by mini-Earthquakes this week and the shockwaves will continue Saturday night when these two sides collide. This clash is expected to be the closest contest of the quarters featuring plenty of thrills and spills. Everywhere you look there are players capable of big hits, flashy flick passes with talent and pace to burn. The Kiwis loss to Tonga has handed them an extremely tough passage to the final but they have the side and squad to navigate the rough waters ahead. David Kidwell has reacted to the defeat and recalled Te Maire Martin and benched Kodi Nikorima after he was treated like a Tongan welcome mat last week. Poor Kodi spent so much time flat on his back looking at the clouds he was giving regular weather reports to the Bureau of Meteorology. It was raining men, unfortunately for Kodi rather large Tongan men with big boots and palms the size of Boris Johnson's head. Danny Levi has also come in for Thomas Leuluai no doubt to scoot out of dummy half off the back of the offload King Marty Taupau. Kapow not only packs dynamite he possesses silky skills. New Zealand's defence wilted last week and needs to be tight as Fiji will test them from all angles and parts of the paddock. Fiji, while not as intimidating as Tonga, are just as threatening in attack. The Fijians gorgeous gospel singing lulls you into a Heavenly state of bliss then BANG! Kick off comes and all of a sudden you're confronted with Ashton Sims and Viliame Kikau coming at you with fire in their eyes about to send your World Cup dreams to Hell. The backs led by Akuila Uate and Suliasi Vunivalu have quite rightly attracted all the headlines but the Fijian forwards have set a great platform and they'll need to step it up because taking on the Kiwis is a massive mark up from their Pool opponents. Expect a huge game from Fiji's enigmatic five-eighth Jarryd Hayne who has had the pipe and slippers on for the opening three games just dishing the ball out to the speed merchants. It's time for the Hayne Plane to take off as Fiji won't have the finesse to finish off the Kiwis if he's grounded. Shaun Johnson and his Kiwi cohorts were stung last week. They'll rebound and set up a sensational semi-final showdown with the Kangaroos.
New Zealand by 12
England v Papua New Guinea
The tournament organisers and draw have done England a massive favour as they head to the cool surrounds of Melbourne a world away from Port Moresby. Imagine the colour, noise and excitement, not to mention the heat and humidity if the Kumuls had been handed a home quarter final! James Graham's face would have been as red as the cross of St George on his jersey. Knowing Graham's character he would have thrived on such a challenge. England are warm favourites and with good reason. They are building and gaining combinations and rhythm. Yes they were sloppy in the second half against France but that can be excused as Wayne Bennett tinkered and gave his squad a run. The opening onslaught was slick and the experiment with Gareth Widdop at fullback was a wicked success and he's been selected again as custodian. Widdop's wizardry with the halves Kevin Brown and Luke Gale worked a treat and Bennett has kept that combination and brought back in Josh Hodgson at hooker to complete a classy spine. One of England's best against the French, James Roby is the unlucky man benched, but he'll play a crucial role and watch his darts from dummy half through the ruck as the Kumuls wane. As expected talisman Slammin' Sam Burgess is back adding power running, demon defence and size to an already imposing pack. Alex Walmsley will tower over the Kumuls and was huge off the bench in impact and frame. Walmsley will make monster eating metres and give time and space for the likes of Jermaine McGillvary to strut his stuff. The Kumuls are an exciting side who love to chance their arm but they need to lay a strong foundation. You need to earn the right to throw the ball about and they can be erratic and impatient which is fatal against strong defensive units like England. PNG's champion five-eighth Ase Boas returns replacing the excellent Lachlan Lam who was dynamic on debut. Boas will try to ignite the explosive outside backs and if they complete their sets at a decent rate they will trouble England. Nene Macdonald and Kato Ottio can motor and their match up against Kallum Watkins and John Bateman could be crucial but only if the Kumuls contain the English momentum. The result hinges on the PNG pack. They have a massive mission trying to hold back the 'Wall of White' and the English will be too big and too strong to use the old league adage. It's a shame that Garry Lo and Ryan Hall – the two tanks – are on opposite wings but you can only hope they collide at some point. Hunker down in a bunker if they do! England are primed to peak in performance in the final and will seek to set the tone for the titanic tussle with Tonga next week. This is a World Cup, England expects and England will deliver.
England by 22
Enjoy the footy and gamble responsibly and if I was a gambling man I'd wager we'll be seeing more Test match rugby league in the future. This World Cup has produced some sensational moments but what Tonga and New Zealand showcased was something special. This was a line in the sand moment where international rugby league took a great leap. A so-called second tier nation defeated a top tier for the first time but it was not only the way they did it, it was the story behind it. The Tongans are playing for love not money, for pride in their country, their jersey. The graciousness in defeat by Kiwi skipper Simon Mannering saying how good it was for international league, and in victory by Ireland's Liam Finn as he lamented the hard luck Wales have endured this campaign, and how Ireland want to play more spoke volumes for the global game and the players desire to spread the gospel. There feels like there is a power shift in international rugby league, a movement towards more matches, respect and responsibility to grow the game. We've set a course we can't back away from. Onwards and upwards!
Why can't there be an international window where we hold an annual European Six Nations a la union and here in Australia while State of Origin is running hold a Pacific Four Nations series concurrently with Australia playing the winner at the conclusion of Origin. Make the Kangaroos jersey the ultimate reward for Origin superiority. How's that for respect? It would need the blessing of Super League and the NRL – and a huge leap of faith – but imagine how good it would be to witness the magical scenes at Hamilton last week on a more regular basis.
They say I'm a dreamer but I'm not the only one. As the great dearly departed John Lennon sang "Give League a chance" or was that Yoko fluffing her lines?!?
Cheers,
Jock