Since the sensation of Zak Hardaker's misdemeanour which saw him left out of Castleford Tigers' Grand Final team, rumours have been abound about how Daryl Powell replaces the former England international, if indeed he has to!
First things first, let's deal with whether the Tigers supremo has to replace Hardaker at all. The simple answer to this is YES, of course he does. Hardaker has had a number of chances in his career at previous club Leeds and internationally with England; his main offences involving drugs and assault. At his best Hardaker can be unplayable, he is a very talented rugby league player, of that there can be no doubt whatsoever, unfortunately what is also not in any doubt, is that he has off-the-field problems which are ruining his career.
So how do Castleford replace this wayward star? Who would fit the bill to prove a big hit with the Mend-A-Hose Jungle faithful, but also stay on the straight and narrow?
The last 24 hours have seen claims on social media that Jamie Shaul of back-to-back Challenge Cup winners Hull FC is being touted as a replacement; the man who many said should have been Hardaker's replacement in the England World Cup squad. This is frankly a ludicrous idea, with the regard that Lee Radford holds Shaul in, and another 3 years on his contract at the KCOM Stadium, and being part of an upwardly mobile Black & Whites side. This just looks far too fanciful and, having effectively wasted £150,000 on the signing of Hardaker from the Rhinos, one question would have to be could the Tigers really afford the sort of transfer fee that Radford and Hull would demand for arguably their best strike player?
A much more realistic target for the Tigers could be Salford outside back Niall Evalds, with Marwan Koukash now having left the club in the control of a community group, the Red Devils no longer have the mega-bucks to play with that they had before, so a cheeky offer from the Grand Final runners-up could well be very tempting to both the community group, and the 24-year-old. With his blistering pace, excellent timing and vision, and his finishing ability which saw him grab 15 tries in Super League this year, he is one who could possibly fit the bill for Daryl Powell.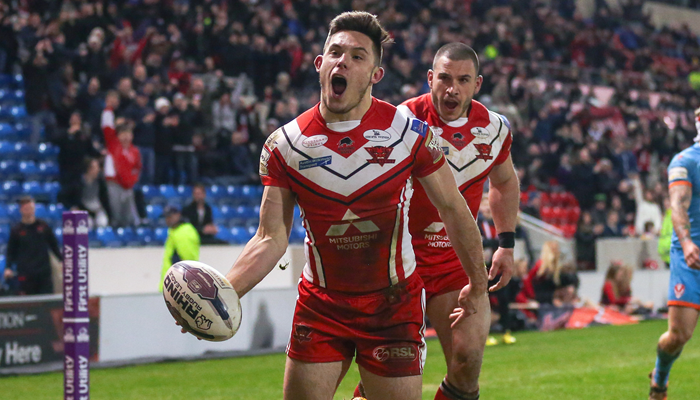 One that could be a bit left field would possibly be Matty Russell at Warrington, with the Wolves losing players right, left and centre. Joe Westerman, Ashton Sims, Peta Hiku, Kurt Gidley to name just a few, and a new coach who will have new ideas, and new personnel in mind, this could be just the right time to tempt the former Wigan man with an offer. Having played at both Wembley and Old Trafford, and internationally for Scotland, Russell does certainly have the pedigree needed to replace a player of Hardaker's experience.
One rumour which does keep turning up is that Wigan could be ready to make an offer for newly crowned Steve Prescott Man of Steel Luke Gale, with their need for a recognised goal-kicker, and needing an able half-back to supplement his England teammate George Williams. This could have some legs to it, but would Castleford possibly consider a swap deal, for Morgan Escare, or even Sam Tomkins? I don't see Tomkins being allowed to leave the DW Stadium again, especially not to play for a Super League rival club, but Escare could quite easily be tempted, particularly if Tomkins is blocking his path to first team action. It would all depend on how desperate the Warriors would be to get their hands on Gale, and whether Castleford would allow him to leave, although if you look at Daryl Powell's record of replacing star players, there would be little doubt he could do it again if Gale were to leave, and Castleford would not exactly be short of players who would be willing to fill Gale's boots for them.
Another thought has been that current Tigers half-back Ben Roberts could move to full-back for the 2018 season, this could be possible, with the Tigers having recently signed Jamie Ellis. However with him being the wrong side of 30, would this just be a temporary fill-in, after all we're talking here about a replacement for a man who had another four years to run on his deal? Yes it could be an answer for now, but it certainly isn't a long-term fix, of that I don't think there can be much doubt.
Super League's top try-scorer this year Greg Eden could also move to full-back, and sign a winger, with possibly someone like a Greg Johnson, or again Russell, being an option to slot in on the wing. Certainly Eden tried his best at full-back in the Grand Final, but he looked nothing like the threat he posed on the wing in the rest of the season, having spent time at full-back with Hull KR and Huddersfield Giants it would seem a simple solution, however I would now go so far as to say that he is an out-and-out specialist winger, full-back is not the position for him.
Castleford could also target Widnes full-back Rhys Hanbury, although again with him being the wrong side of 30, this would also smack of a temporary fix. What Hanbury offers however is bags of experience, know-how and even at the age of 32, he still has that strike ability that can change a game, he may be a dark horse, especially with Powell's ability to get the best out of players of a certain age, such as the likes of Luke Dorn, Ben Roberts and Andy Lynch.
The other option that cannot be ignored is the impending World Cup. Usually these tournaments are a great shop window, and I expect this one to be no different. The one name Castleford may look at, if he puts his stamp on the tournament early, could be former Hull FC and St Helens full-back Shannon McDonnell, who is in the Ireland squad. He may not be first choice with Wakefield Trinity full-back Scott Grix in their line-up, but if he can get some game time, McDonnell is the classic sort of player that DP always seems to make a good job of, a player with ability, who maybe hasn't had things the way he would like them since being forced out at the KCOM Stadium by the emergence of Jamie Shaul.
What we do know is, when he needs to, Powell can usually pull a diamond from the rough, and he probably will again, my advice to you reading this is, watch THAT space!