Huddersfield forward Owen Trout says he's enjoying the competition between the Giants' forwards and is aiming to cement a regular spot in Ian Watson's side.
The 21-year-old was a sporadic feature towards the back end of last year, stringing together six games in the final two months of the season, but his path to the first team has been made more difficult in 2021 with the Giants recruiting strongly in the pack.
The likes of internationals Josh Jones and Joe Greenwood, Australian Luke Yates and Super League winner Jack Ashworth have all joined but Trout says he isn't letting that dampen his ambitions.
"It makes it tougher to get those shirts and I know waking up week-in, week-out it's going to be tough in training sessions, but in the long run it's going to benefit me and make me a better player," he said.
"Training's got a lot more intense, which is obviously a good thing getting us ready for the season. I can feel myself being a lot fitter and a lot stronger.
"I feel like we're all becoming part of one team. Obviously it's a bit tougher this year with us not being able to go on team social events and stuff like that but when we do see each other, everyone seems to be on the same page in training.
View this post on Instagram
"At the minute, I see myself more as a middle three. I just want to be playing as much as I can so whether that be at prop, loose forward or second row, I'm not bothered. Just as long as I'm playing and getting some minutes under my belt.
"We're all going for one aim and that's to play as many games and get that starting shirt."
Trout arrived at the John Smith's Stadium from Leeds at the start of last season as part of a swap deal that took Kruise Leeming to the Rhinos.
He was always touted for big things at Headingley but, in hindsight, believes the leap of faith across West Yorkshire was needed in order to take his career to the next level.
He added: "When my agent first spoke to me about it (the move), it was something that was really alien to me. I'd only known Leeds.
"But when I got told they'd offered me as part of the swap deal with Kruise, I knew that if I did stay at Leeds it would be a dogfight to try and get in the squad.
"And obviously with Huddersfield putting my name forward as one of the people they'd want, I knew that I was wanted here and I could make my mark on the team.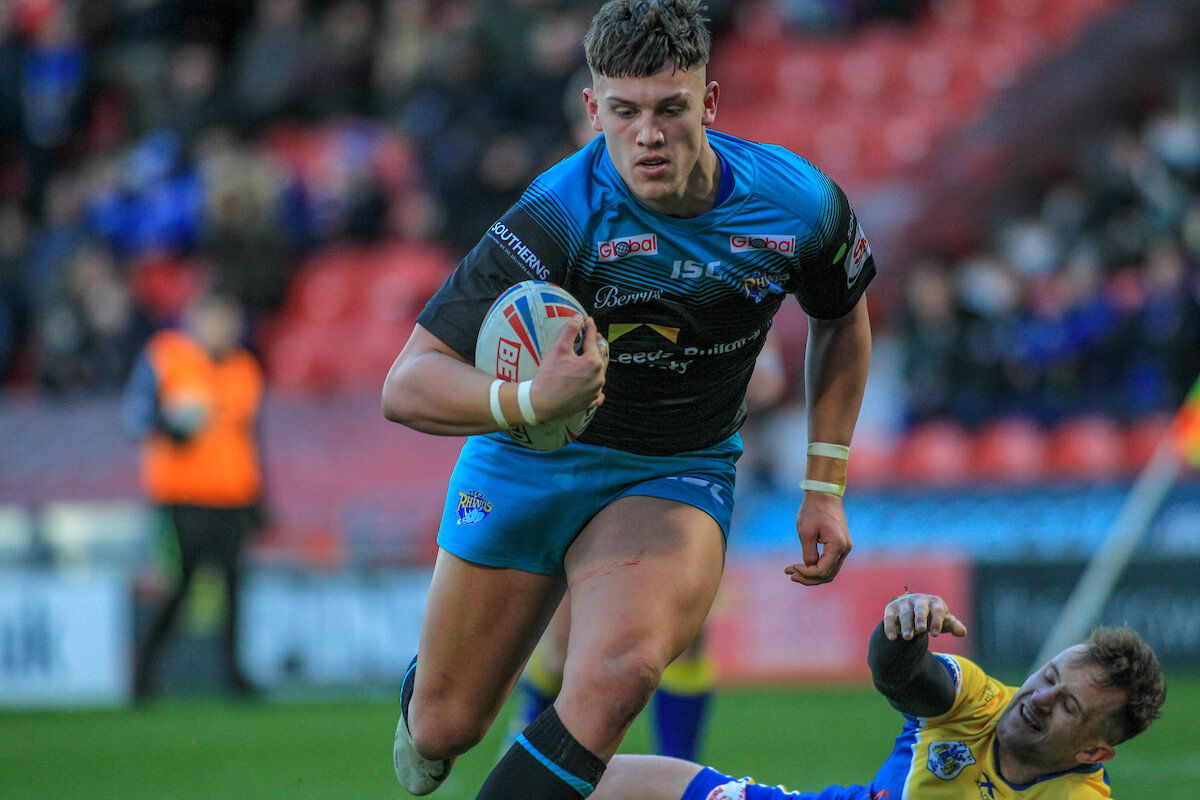 "I felt like for myself and my career, it was the best option and it was my time to move on from Leeds and pursue my career at Huddersfield."
The move not only offered increased game time but also reunited Trout with Giants assistant – and last year's interim head coach – Luke Robinson, who he'd worked with in the England academy system.
Robinson is renowned for his work developing young talent and it seems those traits have rubbed off on Trout, who has taken on a mentorship role himself.
"When we played Yorkshire versus Lancashire, he was my coach," Trout continued. "So I'd already had a chance to speak to him then.
"You can tell he wants homegrown players coming through the ranks and playing Super League, so it's good to be getting pushed by him.
"I try putting myself in as like a leader of the young lads. (I'm) just trying to help out where I can really because I know when I was starting out in my first or second year in the first team environment, it's tough sometimes.
"Especially just getting your body used to it, used to the flow of things. It's always good being able to tip up people like that because when they're fighting for my position when I'm a bit older, that's just going to make me a better player."