Queensland v New South Wales
The showdown to bring the house down has arrived. One of the best Origin series in memory will reach its crescendo in the cauldron that is Suncorp Stadium, in front of a full house of cockroach hating Queenslanders raucously trying to lift the Maroons to their 11th series win in 12. The football has been open, enthralling and exhaustingly tough, both sides going at each other like Manny Pacquiao hammering Jeff Horn in the now famous 9th round in the Battle of Brisbane. Like 'The Hornet' QLD got off the canvas in Origin II and landed the decisive blow via Jonathan Thurston's brilliant conversion, the final act of his majestic Maroon career.
Who will land the knockout blow here in the epic series finale? The games have been so good Origin III doesn't need a cracking tagline to promote it and draw viewers in. This match will smash ratings records, but some bloke in a ponytail in marketing at League Central will come up with a name snappier than his suit. I personally like the tagline "An epic of epic epicness" from the film Scott Pilgrim vs The World, the Maroons hope the intimidating atmosphere will affect the Blues and bring on the tagline from The Fly "Be afraid. Be very afraid", while the Blues will be hoping Andrew Fifita mimics Predator 2 "He's in town with a few days to kill". Channel 9 just couldn't be bothered trying and have just called it 'The Decider', simple but effective – maybe Freddie Fittler came up with it?
Once again, a lot of the pregame talk has revolved around Jonathan Thurston. Origin I it was "will he play", Origin II was "will he play", Origin III has been "he's not playing, who's playing in his position?" If Thurston was playing I would have no doubt QLD would be favourites to win this game, his aura is worth half a dozen points in this arena. His absence has evened up the scales, potentially tipped them the Blues way.
The major talking point was would Daly Cherry-Evans be picked even though he is out of favour with senior Maroons, the QLD wall went up and they try keep it secret squirrel and deny he is. DCE is in career best form and was told by selector Darren Lockyer if he played a man of the match performance against the Warriors – which he did – he'd be picked. DCE was still snubbed, oops sorry, not picked because he's a 7 not a 6, even though Thurston was a 7 playing at 6, Walters now saying if he's playing like this next year he'll definitely be picked… come on Kevvie pull the other one mate it plays Carly Simon's "You're So Vain". DCE's cards are marked. He is the Stuart MacGill of QLD, a bit different, not one of the boys. MacGill was a wine connoisseur while all the other lads were lager louts, his partner may not have had blonde hair as well which would have been the last straw! DCE may be a different cat but he was a far better prospect to place on the bench than Ben Hunt who was running around for Ipswich in the Intrust Super Cup a couple of weeks ago.
The Blues have had, yet again, a controversy free preparation naming the same 17 for three games in a row, unheard of during this period of Maroon dominance. Usually the Blues are up to their third different halves partnership by now. Jarryd Hayne was the player under the microscope after an underwhelming Origin II, his second half particularly poor, but Laurie Daley has shown his loyalty by retaining Hayne. Loz has faith in Hayne's ability in big games, even more faith than the Hayne Plane has in himself – no that cannot be right, just as much faith, yeah that's better. Hayne has responded with two impressive showings for the Titans since Origin II albeit in his preferred position as fullback.
The main concern for the Blues is the massive injury cloud hanging over skipper Boyd Cordner and fellow backrow starter Tyson Frizzell. I cannot believe NSW would even contemplate these two playing in an epic decider not at 100 percent. Cordner will be pushing it to be ready in time, while Frizzell is busted! He carried injury into Origin II and played well but has since picked up another. Any weakness at this elite level will be exposed, the Maroons will target any suspect players the way the Blues hammered Thurston in Origin II. If Cordner and Frizzell play and perform poorly, it's on Daley's head.
Kevvie Walters made some massive calls in the selections for Origin II which were spot on, though Tim Glasby was initially slow he eventually caught up to the frenetic speed of Origin playing a fine second stanza. In selecting Cameron Munster at five-eighth for this game, Walters is on the money again. The Maroons will play with the NRL leading Melbourne Storm spine, by far the best team in the competition and the smoothest running. To play Munster at six beside Cooper Cronk and Cameron Smith and linking with Billy Slater both on the outside and carving through the middle on the inside, was a no brainer, to have the super slick Storm combination is a tremendous trump card.
Michael Morgan would have done a brilliant job at five-eighth but he is a bigger body and better hole runner than Munster. His defence is more robust and he showed with his flick pass to Dane Gagai for the match levelling try he has all the attributes a centre must possess. Morgan has been inspirational for the Cowboys in Thurston's absence and he won't let the Maroons down. He'll line up against Josh Dugan and Morgan will feel comfortable in that match up.
NSW left side is a major weakness featuring James Maloney and Jarryd Hayne who are both liabilities in defence. QLD's classic Origin II comeback materialised down that NSW left channel, Dane Gagai profited scoring the double that garnered victory and set us up for this decider, sorry 'The Decider' – thanks again channel 9! Will Chambers opposes Jarryd Hayne and while Hayne is respected as a big game match winner at this level, Chambers has more than matched him. Hayne has scored two tries though and is a huge factor with the ball, if he can fix his errant defensive reads Hayne can turn game breaker and match winner again. Hayne's erratic form has people questioning whether his best days are behind him, this is the Hayne Plane's opportunity to fly!
The Blues dreams will again hinge on the monstrous frame of the human wrecking ball Andrew Fifita. He ruled Origin I but was expertly shut down by QLD in Origin II. Never far from the headlines, Fifita will be extra-motivated by racist issues rearing their ugly head from a Brisbane Pub. On top of that, the big fella knows he was quiet in Sydney and wasn't shy about letting team mates know he wanted more ball and management know he wasn't best pleased with being cooped up at Star City casino! Is that a first for a footballer?!? Maybe he buggered up Baccarat or lost Pai Gow in the translation?
Adding oxygen to the fire in his belly, Fifita is having a running battle with Josh McGuire which heated up in Origin II with rumours of a nasty expletive laden tirade aimed at Fifita. These two bulls will lock horns and the added spice of this being a winner takes all decider makes their duel compulsory viewing. I'll give Josh McGuire some free advice: Don't poke the bear! Fifita is a match winner and proven big game player. He is a massive key to the Blues fortunes. QLD will patrol the ruck tighter than a fish's proverbial. Failure to hold Fifita will bring the lightning speed of James Tedesco into play and he'll strike in a flash.
Tedesco v Billy Slater is a mouth-watering match up, has there been two faster fullbacks on the same pitch in Origin? Slater has had the usual QLD Origin training injury scare, hurting his ankle. The Maroons love throwing in one of those red herrings. Mind games are popular north of the border, must be the humidity. I'll guarantee Slater will play, his ankle would have to dislocate itself 180 degrees to miss this momentous occasion. For Teddy and Billy the Kid to make an impact though, the forwards must gain momentum and superiority.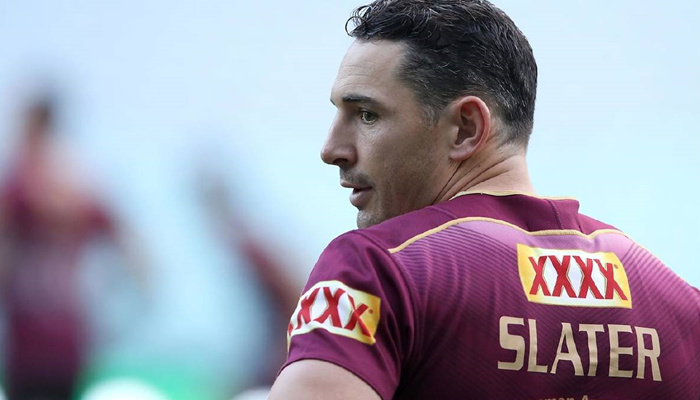 There are key contests across the park, who wins these battles within the battle will decide the series. Game management has been one of the main issues that could determine the outcome. NSW went away from the middle of the park where they were dominating the Maroons. For some reason, they began shifting the ball wide on the left, where Jarryd Hayne and Wade Graham both had shockers. The Blues forgot they were in front with the series theirs for the taking and they panicked. Laurie Daley has insisted this is Mitchell Pearce's side but Pearce is not an organising half, so it falls upon James Maloney to take control of the Blues and steer the side. Nathan Peats is raw at this level and playing a simple role, distribute the ball quickly and tackle anything in a Maroon jersey. Peats is not Cameron Smith and won't be expected to escalate to Smith's influential heights.
Without JT, the Maroons luckily have Cameron Smith and Cooper Cronk who will step up and control the game and apply the squeeze to the Blues. Smith is the ultimate puppet master and has been relatively quiet by his lofty standards in this series. Watch Smith rise for this cracker of a contest, he'll be in everything wrestling Woods, flopping on Fifita, dashing from dummy half, ruling for the referees, awarding 40/20s! This will be a Storm driven game plan and style, there are six Storm players in the Maroons squad. Kevvie Walters won't try and re-invent the wheel. Smith and Cronk both stood up when the game was on the line in Origin II, as the Blues diverted from their plan, game management is a crucial area where QLD have a massive edge.
Adding motivation for the Maroons after saying a premature farewell to Thurston, it is possibly the final Origin outing for Cronk and maybe Billy Slater as well. Cameron Smith is not exactly Contiki trip age either, he's heading towards his final Origin moments as well. The end of the living legends will be a massive turning point for QLD Origin into the future and a forceful factor in firing up the team and the fans in the full to the brim stands.
QLD's best has been Dane Gagai, but it's hard to win an Origin series from the wings, so the halves and forwards need to match Gagai's excellent output. Matt Gillett has had, for him, a quiet series. It is time for him to explode. The whole Maroon forward pack must lift to match the Blues speed and power. Fifita and Aaron Woods lay the platform, then David Klemmer and Jake Trbojevic blast off the bench. NSW have dominated three of the four halves of Origin yet it's all square.
Are the Blues scarred from blowing their chance in game two? Nerves hit them, can they conquer the butterflies and make history? To win the series by winning away twice in Brisbane would be an amazing achievement.
Have the QLD legends got one more heroic performance left in the petrol tank and douse NSW dreams and stall the Blue Dynasty? Can they create a final magic moment to be marked down in Maroon mythology a la Jonathan Thurston?
The Blues believe this is their time. The tide is gradually turning blue, but the era of Maroon dominance is not quite at an end.
QLD by 4
Enjoy the footy and remember gamble responsibly.
Both coach's futures may be hanging on this result. Laurie Daley has had plenty of chances but two games with no JT and no series victory could spell the death knell for Daley at this level. I hope not as Daley has transformed the style the Blues play, they're playing tough footy that's also attractive! Kevvie Walters has been under the kosh from all sides and there's been talk he's out of a job if QLD loses. Wayne Bennett is hanging around like a seagull waiting for a raw prawn to escape a trawler net. Who'd be a coach?!? If JT plays I think QLD win his but absence brings lady luck and the officials into play, let's hope they aren't the determining factor.
This series has been everything that's great about State of origin: thrilling, captivating and controversial. It deserves a fitting finale.
May the best team and the best state win.
Cheers,
Jock