St Helens narrowly missed out on a Grand Final place last season after THAT dramatic semi-final against the Castleford Tigers where Luke Gale slotted a golden point drop goal to break the hearts of all connected with the club. They themselves had an attempt to win it, but that went way wide from Matty Smith's boot, which reflects Saints' key problem from last term.
The Red-Vee didn't start Super League XXII in the greatest of forms under club legend Kieron Cunningham, and eventually he got the sack and they recruited in Justin Holbrook from the Sydney Roosters.
Then fortunes changed under the Aussie and Saints began a run of form which seen them climb back up the table and reach the play-offs at the expense of fiercest rivals Wigan, but the club who are usually short of half back choices actually couldn't find their best fit.
Half back pairings at St Helens over the years have never been a problem with the likes of Tommy Martyn and Bobby Goulding and the more recent Sean Long and Leon Pryce, but since the deportation of the latter two they have been a bit thin on the ground.
Smith and Theo Fages were the two that got the nod quite regularly last season with young prospect Danny Richardson throwing his hat into the mix on occasions, but with the mid-season signing of marquee player Ben Barba arriving left Johnny Lomax being thrown into half's contention.
Lomax has had spells at half back earlier in his career before making the number one shirt his own, but with the likelihood of Holbrook not starting his marquee player is slim. The World Cup tour will only build the experience on his already capable shoulders going into the new season, and the being a local lad the shirt will mean just that little more than most.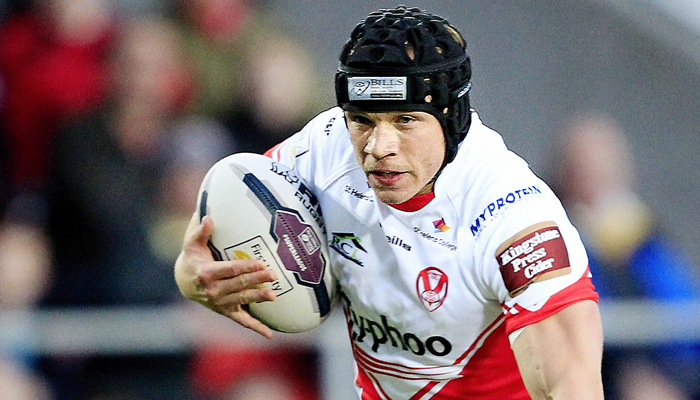 He is a flare player and he has that talent in his locker which gives him the ability to pull something out of the bag or try something spectacular when needed.
The rise through the ranks of young hotshot Danny Richardson is eye catching, and very similar to Lomax's promotion to first grade rugby. He has shown on many occasions this season that he has the intelligence and skill to be one of the best half backs around in the near future.
I think with young players – especially English – that we seem to rest hopes and give them a big order to follow from a young age and they quite often burn themselves out early, but I think this young lad will go far. His charisma and resilience shown this season when Cunningham dropped him after a defeat to Wakefield, where he gave a penalty try away, he returned to the squad and dug deep and trained hard to fight his way back into the first team as a stronger player.
Theo Fages is certainly regarded quite high in the pecking order at the club with not only just the players, but the fans too. The French captain is a known for his small physique, although he is not one to shy out of a tackle and his kicking game is second to none in the squad with his pinpoint accuracy and creative style of play, which makes him hard to leave out any side.
Matty Smith returned to Saints after his long successful stint with the Wigan Warriors, which left him with a lot of making up to do to the clubs faithful following, although an inconsistent performance ratio hasn't helped him in that regard.
Albeit he is a seasoned professional and his honours speaks for itself, but I think with the recipe Saints are after this season, he may find himself being on the interchange, or the 18th man a few times.
As you may be able to tell, I'm one of those not convinced by Matty Smith for a half back slot but maybe an interchanging hooker is ideal for him, who knows, but he's out of my half back equation already.
So this leaves me with three, Richardson, Lomax and Fages. I think Fages with the kicking game he owns and his ingenious play, hands down must be on the field at kick off without a doubt.
Richardson is a ferocious talent and as I stated earlier, he will be a great of the game, but I just can't help to think that relying on his shoulders is too early for his education of the game and a more suitable role of interchange, where he can play most games to learn valuable knowledge, is the best fit for him especially under the guidance of Smith and Fages.
So, this leaves me with second choice, Johnny Lomax, and he's too high of a quality player and possess too much calibre to be left on the bench or not even the squad. His world cup experience can really take him to another level this season and that won't do player or club any harm.
Whatever Holbrook decides to do with the half back pairing at Saints this year will certainly be under the spotlight, but he has a couple of formulas up his magic sleeve, and it will be exciting to watch.