I'm sure you're all familiar with the story by now, but for those who aren't, England are scheduled to play New Zealand in Denver on 23rd June. Earlier this season, the game was in jeopardy as the NRL and RLPA (Rugby League Players Association) in Australia drafted a letter outlining concerns over the altitude and heat of Denver as well as other concerns like player burn-out and insurance in the event of a player getting injured.
Most of the concerns have been shot down. Both the England and New Zealand doctors have pointed out that the altitude shouldn't have any adverse effects on players. It's also been pointed out that Denver isn't as high as Johannesburg, where Super Rugby and international Rugby Union are played regularly without incident.
It was pointed out that while the NRL may be concerned about the heat, the average high temperature in Denver in June is 28 degrees, and there are plans to have drinks breaks if needed. On the other hand, an NRL game this season saw Manly and Parramatta play in 39 degrees with no drinks break.
New Zealand Rugby League has also taken steps to answer the insurance issue, stating that they'll insure their players to the same standard NRL clubs do for State of Origin and international games, plus a bit more to reflect travel to America.
Technically, the NRL can't do a thing about this game. It's not up to them. That being said, if they refuse to release their players, it will be hard to see how this game could go ahead. Yes, a Kiwi team could be put together from the New Zealanders in Super League and few Americans would know the difference, but I can't see the promoters being okay with that.
The response to the NRL's stance has mostly been fans and former players pointing out all the ways that they're being narrow-minded, and putting pressure on the NRL through social media. Plenty of England and New Zealand NRL players have publicly said they want to play. England coach Wayne Bennett, who don't forget is also the coach of Brisbane Broncos, has said he wants the game to go ahead.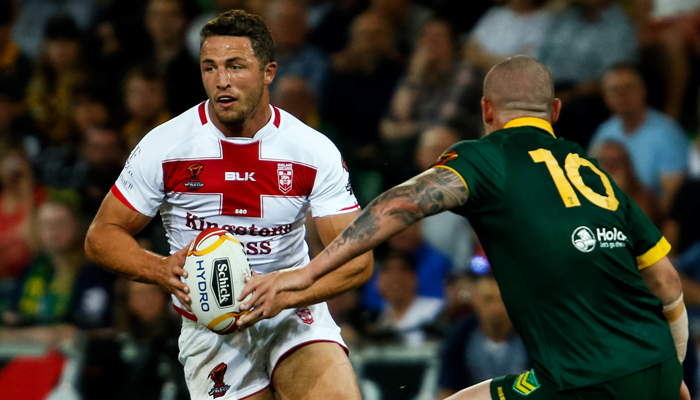 It seems that the NRL have backed off for now, and that this game will go ahead. However, the argument will still rumble on over the games scheduled for 2019 and 2020 as the NRL still aren't happy with the idea of some of their players travelling to the USA mid-season.
I can't help feeling that trying to pressure or shame the NRL into allowing their players to play in this game is the wrong approach. I think a more effective approach would be to point out all the ways this game could end up being good for them too.
This game is a fantastic opportunity to introduce Rugby League to one of the most lucrative markets in the world, and get the ball rolling in building the profile of the game in the USA before they co-host the 2025 World Cup.
This is also a chance to make the American public associate the word rugby with the 13-player code rather than the 15. Rugby League is perfectly suited to the American audience; its big hits, skill and structure have enough similarities to American Football for people to be able to pick up the basics quickly.
That could be great news for both Super League and NRL. If this game is a success then hopefully the American sporting public will want to watch more, which is when both leagues can take the opportunity to direct fans to watching their games.
Super League may have a slight advantage in America, with talk of teams from Boston and New York entering the English leagues soon. While Salford and Catalans' plan to move their Good Friday game to the USA this summer was rejected; there's still a possibility that another Super League game will be played there this year.
But, in a somewhat ironic move, the NRL is talking about staging a game in the USA next season. What better way to pave the ground for an NRL game in the USA than an international game where a lot of NRL players are going to play? Especially if there's a little bit of joined-up thinking and the NZ Warriors are one of the NRL teams that come over to play, as US audiences may remember the players from the international game.
Drawing a line way into the future, and you can even dream of the USA hosting ANZAC tests, England v Australia or other internationals, perhaps even State of Origin games. Maybe America could become a regular host for the World Club Challenge. Two champions facing off in order to be crowned the world champions is exactly the sort of sports story that gets Americans engaged.
Get it right and having a foothold in America could lead to increased commercial rights, TV rights and merchandise sales for both Super League and the NRL. How can they say no to that?
Lots of the NRL and RLPA's concerns don't hold water, but the one about players having to potentially play a league game shortly after returning from Denver is perfectly reasonable and more may have to be done regarding scheduling if this game is to become an annual occasion.
But that's why the tactic the RFL and NZRL should take is to remind the NRL that a rising tide lifts all boats. Tell the NRL they should get out of the way and they won't listen. Show them that this game can end up benefitting them in the long-term; and they may well listen.