Thrills, spills and some coaches getting chills. Round four of the NRL saw the Broncos and Raiders play out a thriller, Panthers and Sea Eagles shut outs, the Roosters flexed their muscles while the Storm bench pressed the Tigers. The Sharks and Cowboys wobbled but still won while the Saints continued their march inside the Top 4.
The Water Cooler – Ten Talking Points
Razzle Dazzle Roosters
Unbeaten, top of the table, a fit squad with great depth, the Chooks are cooking with gas. It has been a brilliant start to the season, especially compared to where they were this time last year. The potent attack is matched by punishing defence, it is a perfect mix but lapses in concentration and poor ball control mean there is room for improvement, a scary thought. Fans are frothing as they can smell something is brewing in Bondi, the latte's are going down swimmingly.
Lethal Latrell
How good is this kid going?!? Latrell Mitchell is a superstar in the making. He is part of the Roosters lethal left edge that is tearing teams apart. Size, speed, strength, silky skills, Mitchell has it all and he has the confidence to boot. A Greg Inglis doppelganger he has all the ability to, one day, match GI's glittering accomplishments. Imagine how better he'll be when he actually learns to pass the ball backwards to Daniel Tupou? Related to two-time Wimbledon champion Evonne Goolagong Cawley, genius in his blood, is it any wonder Latrell is acing opponents every time he laces up.
Don't Panic
Four games in the Canberra Raiders sit at 1 and 3. Looks are deceiving as two of those losses have been by a solitary point on the road to the Queensland leviathans, Cowboys and Broncos. The much-vaunted attack is spluttering at times but when it clicks is the NRL's most dangerous. Pleasing has been the Green Machines mean defence. They hung tough against the Broncos, scrambled courageously, held their line impressively and nearly pulled off an improbable victory. Errors are the Raiders Achilles heel and Sticky Stuart will hope the passes do just that, stick, and when they do look out. Raider's fans keep calm and don't panic!
Barrett's Boys Blast Bulldogs
Manly fans came to Lottloland hoping last week's big win over the Cowboys wasn't a flash in the pan. They left with smiles wider than Trent Barrett's after the Sea Eagles blew the Bulldogs away, shutting them out. Manly were magnificent as they battered the Bulldogs back across the bridge with brilliant attacking footy. Daly Cherry-Evans shone, back playing like he was when he signed his mega deal, Tom Trbojevic ignited the turbo jets making breaks for fun but all this attack came off solid defence – they've given up 8 points in two games – and offload after offload! Good times are returning to the northern beaches, great for their fans and great for everyone else – they can nearly hate Manly again!!
Plan C Des?
Troubling times at the Bulldogs, usually when they are beaten and not playing well they normally give everything and have given their conquerors a run for their money. There were worrying signs in the manner of their capitulation on Saturday afternoon. They weren't just beaten the Dogs were pounded. Des Hasler has reworked his men's clunky style in an attempt to find fluency but played like they all had man flu. Keep faith and stick to this new style or wipe the slate clean and start again? With only one win and the Broncos coming to town next week, things have to click fast or there'll be a race between the board and Des on who shops his CV around first.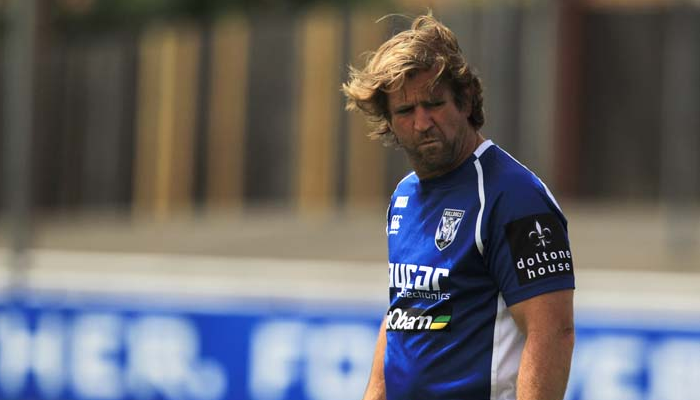 Revive the Five
Teams giving away repeated penalties in front of their sticks so they can reset their defensive line has become an annoying trend, and it needs to end. This stunts the momentum of the attacking team who routinely take the easy two points on offer. Referees call over the offending teams captain, giving him the tough talk – the one they practice in the mirror at home all week pretending they're Travis Bickle in Taxi Driver – that always ends in the limp "the next time you know what action I'll take", cue tumbleweeds blowing through town – nothing happens. Referees are loathe to use the sin bin as they realise reducing a team for 10 minutes is game altering. Bring back the 5-minute sin bin! Referees will hopefully use it more often and hopefully end this blight on the game.
Hess is Best
We're hitting late March so a lot of talk begins to steer towards State of Origin. Talk turns to Origin bolters, well mark Coen Hess down! If Queensland is looking for a damaging backrower who can come off their bench and make an impact, look no further. The Cowboys young gun is only in the run-on side due to Jason Taumalolo's suspension but it won't be long before he is a regular starter. Hess is blessed with the ability to sniff out a try and scored a crucial late double against the Titans. His strike rate of late putting him into try scoring machine category!
Soft Tiger Underbelly
Welcome to the world of NRL coaching Andrew Webster! The Tigers came out all fired up and it was smiles all round at Leichhardt as the Tigers flew out to a 14-0 lead against the league leading Storm! "This interim coaching gig is pretty good, maybe I could make a career out of this?" Webster mused. Unfortunately, he is the interim coach at the Wests Tigers, a team and club in turmoil. A mirror image of last week once the Storm found their rhythm in attack the Tigers turned pussy cat, rolled over and wanted their tummies rubbed. Their ruck defence was invisible and the Storm raced through massive gaps up the middle on their way to victory. As part of the Super Hero rounds the Tigers jerseys were Rocket Raccoon (who, what, why? Yeah I don't know either, I'm so last century!) According to Dr Google two of his characteristics are he's an expert marksman and master tactician, maybe the Tigers board could make him an offer to coach and then Rocket could shoot whoever is supposed to be defending the ruck!
Woeful Warriors
Oh dear me, they're doing it again. The tipster's nightmare strike again. On paper, it's a top notch outfit but thus far the Warriors are stinking the joint out. They were terrible against the Dragons, dropping balls, throwing poor passes, missing tackles. There are excuses like Kieran Foran's late pull out, Roger Tuivasa-Sheck still gaining game time but there are cracks in this team's game that may be unrepairable. Shaun Johnson's golden boot winning form occasionally rears its head but he is not producing that type of quality often enough for the Warriors to threaten the top teams regularly. I wouldn't completely rule them out as Foran's return should improve the Warriors but they are leaving themselves a lot of work to do.
Dragons Defy
Another week of doubters, another week of defying the critics! The Dragons are motoring at the moment, and made mincemeat out of the Warriors. Mary McGregor must be ecstatic at the output of his fighters, battler's is too disrespectful a description with what they're producing and I am applauding their opening salvos of the campaign. Every player is doing his job and doing it very well. Talking Origin bolters add Paul Vaughan's name to the NSW list, he has relished the move from Canberra. Josh Dugan displays the reasons he makes rep teams each match and was one of the Big Red V's best. The most plaudits I'm handing out this week are to the much-maligned Gareth Widdop. The Englishmen had a season to forget last year but has started 2017 on fire. No Benji Marshall means Widdop is the man and he is thriving. "In Widdop we trust" is the Dragons motto. I'm starting to believe, I may even tip them for once next week.
After the Tigers bid adieu to Jason Taylor it was nice to get back to the footy. It's still early days but some sides are beginning to stamp their authority on the Tour de NRL. It's beginning to spread out as some sides prepare to make a break and pop out of the pack, while some have dropped to the back of the peloton. The leader's yellow jersey is currently worn by the Roosters, but there are plenty of mountains to travail, pot holes to avoid and flat tyres to change on the long bumpy ride to glory.
Who will ride into Homebush, the Paris of Sydney's west on the first weekend of October? Stay tuned.
Au Revoir,
Jock