DUI, assaults, court appearances, drug busts, betting scandals, factional brawls… no it's not another episode of Australia's Hardest Prisons it's the NRL off-season! No other game can gain front and back page traction like our wonderful game of rugby league. Thankfully the NRL season is nearly upon us and our brave weekend warriors can take the headlines for the right reasons, fabulous freakish footy!
We've already seen some brilliant preseason fodder with the Nines, All-Stars and World Club Challenge leaving some fans giddy with anticipation of an exciting season ahead and some fans bracing themselves for a long season. The Sharks are the defending premiers and have 15 other teams trying to reel them in, OK 13… apologies to Dragons and Knights fans but I'm already writing you off. On the positive side for their parochial supporters, I tipped the Tigers to win the spoon in '05 and look how that turned out, and for the Knights it can't get any worse… can it?!?
Off the field the bunker surely must improve. The button pressing monkeys have been eating NRL approved superfoods and the goji berry muffins with chia seed have improved their vision and decision making according to the overpaid bean counters at League Central.
Fox Sports are starting a new 24 hour dedicated league channel and the groans from wives could be heard all over the eastern seaboard and it wasn't excitement from the announcement. Lawyers are rubbing their hands with glee at the prospect of divorce rates skyrocketing.
Closer to the field, coaches beware, you have four week's grace to register a win before Ivan Cleary's name gets associated with your job.
Now let's run the rule over the teams, starting with the 2016 defending premiers!
Cronulla Sharks
No team gone back to back since Broncos 92-93 or 97-98 if you want to count Super league, no one counts that unless you're the Broncos. Teams find it near impossible to climb the mountain again especially after Cronulla's post GF performance last season. Mobile breath testing units were stationed in a 5-km radius around the Shire over Summer like a shark net.
The squad is basically intact minus Ben Barba for over-zealous enjoyment of the title win and, the loss that may hurt them most, Michael Ennis. Attack will again be the major focus especially without Barba. Can they score tries? Wigan held them comfortably to one score in the World Club Challenge. Paul Gallen is going around one last time and motivation to 'do it for Gal' will push the Sharks close to the mountain peak again.
Player to Watch: Andrew Fifita – how he reacts to his Kangaroo and Churchill Medal snubbing could set the tone for the Sharks season.
Predicted Finish: 4th
Melbourne Storm
Sandhill runs in 40degree heat, spending 10mins in a snake pit, water boarding – kick off will be a relief after a preseason spent in Craig Bellamy's torture chamber. Being a Storm player is as much mental as physical, Bellamy tests every aspect and is sorting out the wheat from the chaff via his new TV show "I'm an NRL player, get me out of here!"
Every year we wonder if this is the year the Storm's greats age and fall off their perch. Cooper Cronk and Cameron Smith are league's Benjamin Button getting younger as they age, a bit like Warney whose face now has less wrinkles than when he retired, he must use Oil of Olay. Bellamy constantly reinvents and reinvigorates this side. If Cameron Munster shines at five-eighth, they could become even more dangerous. If fit, Billy Slater will give it everything in, perhaps, one final tilt at a title. A fairy tale triumph that may prove beyond even the genius of Bellamy.
PTW: Josh Addo-Carr – on the end of this backline with his speed could score a bagful.
Predicted Finish: 5th
Canberra Raiders
Last year's surprise packets no longer flying under the radar. Only just missing out on a GF berth, can they go one better and make the big dance? The Raiders were far tighter in the finals just letting in 2 tries a game and tempered their risk for reward play that entertained everybody. Continuing in this vein and they're in this up to their horned hats.
The pressure is on their halves to step up. Aidan Sezer needs to do more running, and the Raiders need a fully fit Blake Austin. The coal train has arrived in the nation's capital, big Dave Taylor has disembarked and been given a chance and could be the X factor off the bench that ignites the Raiders. The squad will be fit and Ricky Stuart will have them pumped to go all the way. They'll go very close again.
PTW: Shannon Boyd – went from bench player to a Kangaroos jersey and played top notch in the Four Nations. This man mountain will have grown a foot from that experience – if that's possible! – and want to continue that form on and make his Origin debut for the Blues.
Predicted Finish: 3rd
North Queensland Cowboys
One of the best rosters in the NRL, no weaknesses even in losing one of the JTs cubed – James Tamou. Time is running out on the great career of the JT – Jonathan Thurston – and he will be wanting to finish with another championship ring. Talk of Matt Scott leaving and the departure at season's end of young genius Kalyn Ponga will rush the push to the summit.
Injuries probably hold the key to the Cowboys season as you know what you're going to get from them. Forwards rolling down field where Thurston and Michael Morgan then pull rabbits out of their Akubra's. If Thurston can survive another draining season and steer the Cowboys to a top 4 position, look out!
PTW: Kalyn Ponga – his Nines form has everyone licking their lips hoping to see him play with the big boys. He probably won't even start in the side but is too good to stay out especially as the Cowboys only have him for this year. Paul Green's use of him will be interesting, imagine Ponga coming off the bench up against tiring big boppers.
Predicted Finish: 2nd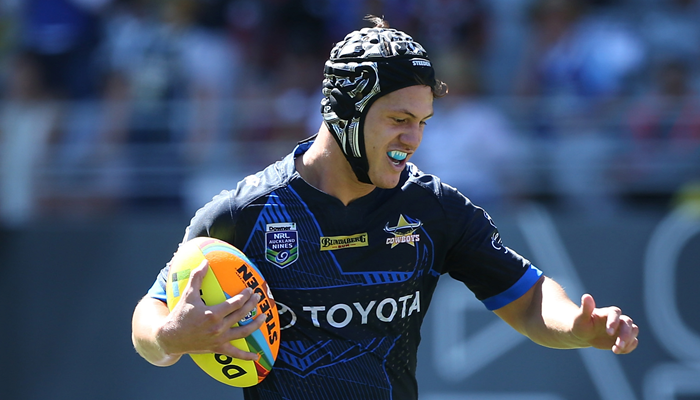 Penrith Panthers
Equal title favourites with the Melbourne Storm. Made the Nines Final with a no name squad shows their depth. The Chocolate Soldiers are chock full of talent and brimming with confidence to go all the way. The big question mark is the halves. Will Nathan Cleary suffer the dreaded second year syndrome? Will Te Maire Martin fulfil his undoubted potential? Will Trent Merrin find shorts that fit him?
Anthony Griffin has a squad with amazing depth, a great mix of youth and experience, toughness, speed and skill across the park. The Panthers have all the ingredients to be right in the mix come the first weekend in October but we all know you need a slice of luck as well. Set the oven and let the Footy Gods start cooking.
PTW: Bryce Cartwright – moves back to the pack and won't have the pill in his hands as often which may limit his influence on proceedings. I'm working on the quality over quantity theory. He's quality.
Predicted Finish: 1st
Brisbane Broncos
A tale of two Benny's. Ben Hunt has been hunted and gathered by the Dragons for 2018. He will want one last big year at Red Hill to take the title that was so nearly theirs in 2015. Wayne Bennett has historically shunted players who choose to shun the club. This won't happen as the cupboard is bare when it comes to quality halves.
Corey Parker's retirement and Jarrod Wallace's defection down the highway to the Titans, gives the young Broncos forwards their chance to shine and they have talent to burn. Fans, and Bennett, will be hoping their insipid display in the World Club Challenge against Warrington was a blip not an insight into the future. Has the ultimate supercoach lost his touch and influence? I'm going out on a limb (and nodding slowly), Broncos fans book a holiday for September.
PTW: Ben Hunt – leaving for the Dragons at season's end for a fistful of dollars, will he mentally be in the game or counting coin? Sherriff Bennett doesn't accept excuses, they are unforgiven and ole Clint will hang him high if Hunt doesn't perform. The pressure valve just went up to 11!
Predicted Finish: 10th
Canterbury Bulldogs
Rumblings of discontent over Summer at Belmore. It's a huge year for the Bulldogs, the coach in particular. Des Hasler is under the cosh. A passive exit last season didn't go down well with fans and boardroom alike. The squad hasn't been drastically altered so they must improve markedly with what they have.
The Dogs massive forward pack always snarls the Dogs into position but the halves continually misfire. Josh Reynolds and Moses Mbye must deliver better last tackle options and direct the side with authority or Dessie will be in the dog house. Head down to your local pet store and place one on lay-by Desmond.
PTW: Sam Kasiano – just because I love watching the big fella! Such skill and agility for a big man. A fitter and slimmer, OK less big, version could be a one man wrecking ball game turner. Newly married, this Bulldog will be wearing a honeymoon smile like a Cheshire Cat as well, it's a crazy combo worth keeping an eye on!
Predicted Finish: 14th
Gold Coast Titans
Mark them down as the dark horses of this year's competition. Jarryd Hayne and Konrad Hurrell were late arrivals in 2016 and have now had a full preseason to work on combinations. Kevin Proctor has come up from Melbourne and will be a star on the edge.
Add a fit Kane Elgey to the mix and the Titans have a roster that could make big dents on the NRL. The Elgey, Ash Taylor combo is potentially the most exciting thing to come to the Glitter Strip since Meter Maids were introduced. They scraped into the finals last season and have the potential to go top 4, but it's a such a tough tight competition, a finals spot will be their aim for starters.
PTW: Jarryd Hayne – was a mixed bag in his comeback but big things will be expected now he has cast aside dreams of becoming the new boss of Celebrity Apprentice (damn you Schwarzenegger!) and chosen rugby league as his passion for this season.
Predicted Finish: 8th
Wests Tigers
The Robbie Farah saga is finally done and dusted and long suffering Tigers fans can now consider a potentially bright future. The last remaining embers of 2005 now extinguished. At their best the Tigers can put teams to the sword. On song, the big 4 – James Tedesco, Mitchell Moses, Luke Brooks and Aaron Woods could propel the Tigers into the finals but they will need their team mates to lift.
Jason Taylor has freed the side of the Farah yoke and we will find out if it was Robbie holding the side back or Taylor's pride and prejudice. A poor beginning to the season could see Taylor receiving the dreaded 'full backing of the board'. Ping! Jason there's an email in your inbox…
PTW: Luke Brooks – has had potential, and the next Joey Johns tag, hung around his neck for years but it is now time to deliver.
Predicted Finish: 13th
New Zealand Warriors
Warriors fans are getting in a tizz with the news Kieran Foran has been green lighted for an NRL return in round 3. Roger Tuivasa-Sheck, Foran, Shaun Johnson and Issac Luke, it's a spine to make you tingle! RTS looks in great nick in the trials and new coach Stephen Kearney has surprised even Tuivasa-Sheck in making him captain.
The problem with the Warriors is history. Perennial disappointers, having the NZ test spine may not be enough. They've had spines like jellyfish. On paper, they could win the comp, they could also collect the wooden spoon. They always promise so much, now fulfil it. Finals at the very least is the pass mark. The Shaky Isles to see finals footy and give the trophy a shake (note to self: do not put first born's life or house on this).
PTW: Kieran Foran – a massive gamble has been taken on him… by the Warriors not by Eddie Hayson! Call off the dogs, NRL Integrity Unit! At his best Foran will be the perfect foil for Shaun Johnson. His cool calm play will allow Johnson to do what he does best, spontaneously play what he sees in front.
Predicted Finish: 6th
St George Illawarra Dragons
Over achieved last season to finish just outside the 8, the Dragons will over achieve this season by not ending up in the bottom 2. The massive fan base must lie in bed dreaming it's 1960, the Illawarra half must lie in bed and wish they'd merged with the Sharks. An attack that was stuttering at best, may struggle even more now first choice half Drew Hutchison has unfortunately gone down. Mary McGregor may as well throw in youngster Jai Field as they await Ben Hunt's arrival, they have nothing to lose and vital experience can be gained.
A strong back row is their strength and they must hope players like Tyson Frizzell, Joel Thompson and Jack De Belin stay fit and healthy. The one thing the Dragons do is compete on every play but that bouquet is really like being given the 'Most Improved' award in Under 12s – #battlers. Enjoy watching the finals.
PTW: Gareth Widdop – had an ordinary season in 2016. It didn't get much better in the Four Nations and he will be looking to bounce back to form. If he doesn't, the wooden spoon could be looking for a new home.
Predicted Finish: 16th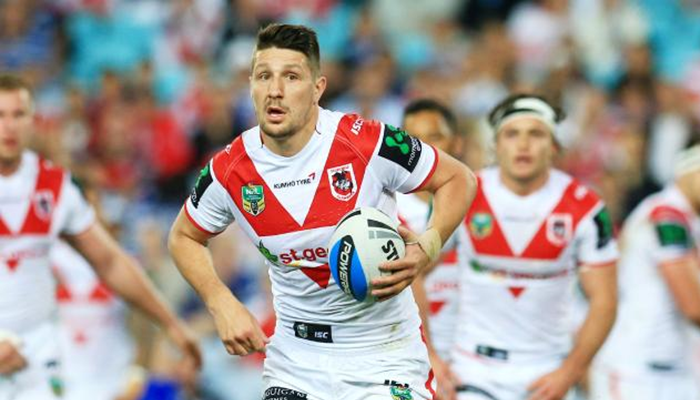 South Sydney Rabbitohs
The Bunnies misfired in 2016, until finding form way too late. Fans will be excited hoping Greg Inglis will take his late season burst into 2017 and the sight of him strapless and not limping in the All Stars was refreshing for all fans. The Burgess boys backfired last season and I'm expecting Sam and George especially to be back to their battering best. Adding the two Robbie's, Farah and Rochow, to the forwards will strengthen this team immensely. Rochow is an astute buy, he will only improve within a better playing group.
Constant whispers of player unrest with Michael Maguire will beat like jungle drums if the Bunnies have another poor start. A renowned hard taskmaster he'll have the players primed to rip and tear, hopefully into the opposition not Maguire himself, after a long hot Summer boot camp. I think the camp paid dividends, breathe easy Mr Maguire.
PTW: Robbie Farah – will look strange in cardinal and myrtle. He has all eyes on him and Damian Cook breathing down his neck. Farah's creativity around the ruck takes pressure off Adam Reynolds but can he fit into the Maguire playbook as he was accused of failing to do so at the Tigers under Jason Taylor?
Predicted Finish: 7th
Manly Sea Eagles
Missing out on the finals last year didn't sit well with Manly. They have reacted brilliantly in the player market. The forwards have been overhauled and new buy Curtis Sironen looks ready to go. Blake Green at five-eighth is Manly's gain and the Storm's loss. Green could be the buy of the year. He will compliment Daly Cherry-Evans wonderfully and take the pressure off DCE. The other bonus is it pushes Dylan Walker back into the centres where he is already looking a threat in the trials.
Injuries cruelled the Sea eagles last season and have again caused waves at Manly. Unfortunately farewells to the great careers of Brett Stewart and Steve Matai have been brought forward due to injury. Manly tried in vain to get their injuries ticked off by the NRL as new ones, not pre-existing, to free salary cap space. Matai's neck problem was attempted to be written off as a paper cut, Stewart's chronic knee was replaced with a severely swollen eleventh finger. Nice try, worth a shot. The Sea Eagles will soar but not high enough to win the competition. Failure to make the finals again for Sea Eagles coach Trent Barrett will have the vultures circling.
PTW: Tom Trbojevic – was a standout at fullback last season and Manly will lose nothing with Stewart retiring and Trbojevic again at No1. His game will only improve with more NRL exposure and Manly could be finals bound yet again if Tom Turbo takes off.
Predicted Finish: 11th
Parramatta Eels
Playing for points again, how surreal! The camaraderie and character built during 2016 will have served the club well and bear fruit this season and beyond. Brad Arthur deserves massive credit. Fans will hope Corey Norman has left all the drama behind and get back to doing what he does best, lighting up the footy field. This Eel was electrifying last year on and off the field and will be again, hopefully just on the field.
The courts will decide whether Semi Radradra continues to stay on the paddock deep into 2017. With France calling he will be desperately trying to depart the NRL with a title. Speaking of the French, the Bevan version could dominate the highlights reel from fullback. For all these players to weave their magic, the forwards must do their bit. Potentially the Eels Achilles heel.
PTW: Clint Gutherson – has been given the chance to continue in the five-eighth role he inherited following Kieran Foran's well documented off-field issues. How successful Gutherson is could mirror how successful the Eels are.
Predicted Finish: 12th
Sydney Roosters
What a difference a year makes. This time last season injuries combined with Mitchell Pearce failing his dog handling course spectacularly railroaded the Chooks season before it began. Now they are Nines champions with a good mix of youth and experience. Whether Michael Gordon and Luke Keary are good buys, when you have Latrell Mitchell and Connor Watson already in your squad, only time will tell. What it does show is the Roosters have good depth.
Expect a far better showing in 2017 but the key will be defence and attitude. Both were lacking at times and no doubt been remedied to some degree by Trent Robinson. The Chooks will bounce back but how high will they bounce? The ball may need inflating.
PTW: Connor Watson – was a late season find for the Roosters and dynamic in the Nines. He has to be in the 17 somewhere and if coming off the bench, his speed and spark could do plenty of damage from dummy half.
Predicted Finish: 9th
Newcastle Knights
Just when you thought it couldn't get any worse after last year's wooden spoon. Their best forwards in Robbie Rochow and Korbin Sims jump ship and then Jarrod Mullen B Sample comes back looking like it was swapped with Lance Armstrong's. A tough season ahead just got a whole lot tougher. The Knights membership pack should come with complimentary tissues.
Now there's rumours swirling of shipping the side off to Ipswich, now that's enough to bring any hardened fan to tears! On the positive side the Knights looked good at times in the Nines, unfortunately for them, they'll be playing sides that have 13 on the field. Expect better performances, exciting attack and a few more wins but it will be another rough year.
PTW: Jamie Buhrer – has not only come into the side, he's now captaining it. Surrounded by stars at Manly, he'll find it much harder here, surrounded by youth who'll be looking to him for guidance. He'll flourish and lead by example.
Predicted Finish: 15th
Seriously it's easier to pick the winner of the Melbourne Cup than place these teams from 1-16. The NRL is such a tough competition and it will come down to injuries, suspensions, fatigue and a whole lotta luck!
Honestly other than the Knights and the Dragons, throw a blanket over the lot and see who comes crawling out first.
For mine, it's a Penrith v North Queensland GF with the Panthers lifting the trophy! Out west they're gonna party like it's 1991, which it still is in some parts.
That's my look at this season's NRL who is your pick?
Enjoy the footy and remember gamble responsibly.
Cheers,
Jock Strap