Rugby league is a puzzling beast and throws up many conundrums. Why do some teams play like champions one week, chumps the next? Why does the bunker take fifteen replays to confirm a decision that was plain to see after one viewing? How can Shaun Kenny-Dowall grab a towering bomb and score a ripper try then one set later drop the ball without anyone within cooee of him? Why do players with mountains of education programs taught to them still stuff up? What was going on with Mitchell Moses socks last week? I still can't work it out. Why did Moses part his socks?!? Maybe they were leg warmers? WTF!?!
More puzzling is trying to work out winners from these cracking NRL contests!
Melbourne Storm v Brisbane Broncos
Billy is back! Sightings of Billy Slater on the footy field have been as rare as Craig Bellamy cracking jokes in the coach's box, but when he does the assistants know their place – laugh heartily then turn back into drone mode and get straight to work on their laptops. This is the match of the round. The Storm have made their now routine, fast start to the season. Will Slater's return throw their rhythm off? Cameron Munster at fullback has been superb as has Ryley Jacks at five-eighth. Munster now shifts into 6. I dare don't doubt master coach Bellamy, if Billy is picked it is because Bellamy knows Billy is ready. The Slater v Darius Boyd sideshow will be compelling viewing. The Broncos have been super impressive. Queenslanders have chips on their shoulders the size of Sam Thaiday's melon. The Broncos have been picked by some pundits to miss the finals and they will love proving the doubters wrong. Wayne Bennett, the master manipulator will play on this all year. Both sides play up tempo so the ruck is crucial, the winner of this area will prevail. Cameron Smith controls the ruck better than any player of any era.
Storm by 8
Canterbury Bulldogs v New Zealand Warriors
The Bulldogs are struggling and haven't done themselves any favours by taking this home game to Dunedin on the South Island of New Zealand. A big university town, the former school teacher Des Hasler will hope the intelligent surrounds will rub off on his bumbling mutts. There were some good signs in the stirring comeback last week but at least 3 tries were a direct result of Rooster turnovers not brilliant Bulldog attack. They are looking better with the ball though and will ask questions of the flimsy Warriors defence. Injuries to Will Hopoate and Kerrod Holland will test the Dogs depth. The Warriors fell away in the second half, not a surprise as the Storm just grind away until you mentally disintegrate (cue for potential Bellamy joke). The Warriors forwards are the key here. They know the Dogs are desperate for a win and the battle will be on from kick off. Shaun Johnson will love showing off his skills to the uni students in the crowd, expect plenty of shoeys downed, reckon there could be a few tries in this one. Let's face it they're students, it's Friday night, they'll drink whether there are tries or not! Beers and tries will flow.
Warriors by 4
Gold Coast Titans v Parramatta Eels
The marketers are crying onto their power point presentations. Jarryd Hayne is injured and will not play in the highly anticipated and promoted match against his former club, home and one true love Parramatta. No Hayne, no gain – in ratings and crowd attendance. The Titans won't lose too much without Hayne, he has not been at his best since his return to the NRL. He's upset the apple cart since his, much heralded, arrival. The Titans lost rhythm and structure and it will be interesting to see how they play. Injuries have bedevilled them thus far, but if they can keep 17 players fit for 80 minutes they're a big chance. The Eels won't care Hayne is not playing, most of the team never played with him. It was more one for the Eels fans to vent their spleens. No Hayne and more importantly for Parramatta no Corey Norman! A hamstring complaint has ruled him out. Norman is in career best form conducting his troops like a maestro and his team mates are singing from the same song sheet. It now falls to Clint Gutherson to take the baton to steer the side around the paddock and stop the trombone player appearing in the string section. The Eels had been humming along but without Norman I think it will be the Titans belting out the team song in the sheds at fulltime.
Titans by 6
Newcastle Knights v South Sydney Rabbitohs
After popping their cherry can the Knights dare to dream and manufacture back to back wins? The confidence gained by the young bucks will be immeasurable. Every Knight will have a spring in their step at training this week but they must come back to Earth quickly. One Knight soaring above all is Nathan Ross, he is performing heroics week in, week out and has become a cult favourite in Newcastle. Ross enters the dressing room wearing glasses and tailored suit from the Gentlemen's Outfitters, disappears into a cubicle and reappears as the Ross Dog the Novacastrian caped crusader, flying past hulking props, exhibiting the power of a monster truck and leaping over tall wingers in a single gravity defying bound to score tries that seem super human. The Bunnies are hopping into the Hunter hoping to hold the kryptonite. The Rabbitohs were firing on all cylinders last outing, and expect more free flowing footy with Cody Walker at the forefront. Sam Burgess is warming into his seasons work nicely and constantly pokes through the advantage line giving Souths momentum. The double hooker tactic is working wonders off the back of this, Robbie Farah's guile and Damian Cook's blinding speed will cause the Knights problems. The Knights ruck better be tighter than a fish's proverbial or the Rabbitohs could run riot.
Rabbitohs by 12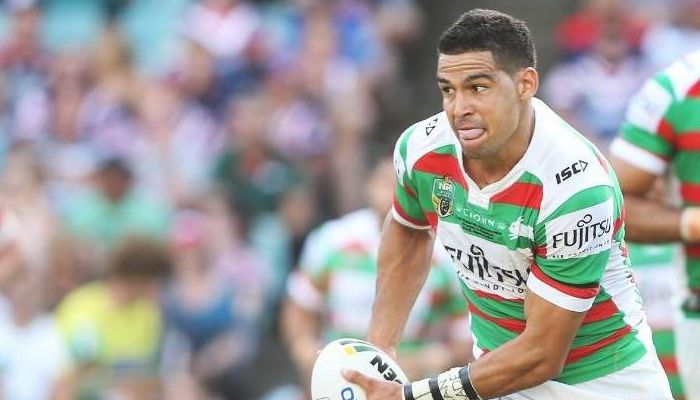 Penrith Panthers v Sydney Roosters
Both sides are in form and playing attractive football. The Panthers exploded at the back end of the first half versus the Tigers and never looked back. Their centres were exceptional, Tyrone Peachey was unstoppable, pound for pound one of the strongest players in the NRL and just a pure footballer. While Dean Whare was whucking whantastic in bagging a double. Blake Ferguson's injury leaves a hole out wide that Anthony Griffin will try to exploit. The Roosters have started the season well but their startling second half fade outs and errors are worrying with ball control the major concern. Maybe they need to do some mental imaging with one of the team psychologists that are on the books at each club. There is more back room staff than players these days! If the Chooks can picture the ball is an overpriced latte they surely will not spill it. Bryce Cartwright left Campbelltown in a moon boot last week but amazingly is a potential starter. The image makes fans anxious but players live in the nanny state that is life in Australia and the NRL, players get put in a moon boot for a grass burn! They would have bubble wrapped Carty but Cricket Australia has the mortgage on it, using it all on pace bowler Pat Cummins. Even if Cartwright doesn't play, at home, the Panthers will send their fans into orbit.
Panthers by 2
North Queensland Cowboys v Manly Sea Eagles
Two golden point games in a row, let's go the trifecta! The Sea Eagles fly north to battle the Cowboys in a showdown of the stupendously silly sponsor stadium names! Manly make the trip from ludicrous Lottoland to 1300SMILES… apparently, it's a dental practice franchise, I feel I need root canal or a lobotomy dealing with this. At home, I'd usually say North Queensland are a lock against Manly but they have a major crisis looming. Jason Taumalolo will miss the next two games after a shoulder charge – didn't miss either! Alex Glenn must have thought a Mack truck had snuck onto the field, but no Jason was cranky. Injuries have reared its ugly head up in the tropics and torn through the side like a cyclone, Lachlan Coote has hurt his calf, Antonio Winterstein has broken his arm while in tragic news Matt Scott has done his ACL. The odds of both the Cowboys and Queensland winning just lengthened. Wunderkind Kalyn Ponga will get a start at fullback and the league world is salivating at the prospect of seeing this bloke playing with the big boys. The Sea Eagles capitulated at home against the Eels and are lucky they find the Cowboys in disarray. Trent Barrett has a decent squad at his disposal but must begin getting more out of them or his position becomes shaky. His coaching career is in its NRL infancy but the Manly board is notoriously short on patience and long on turbulence. Manly might have Daly Cherry-Evans but the Cowboys have Jonathan Thurston. Who will walk out of 1300SMILES beaming?
Cowboys by 3
Canberra Raiders v Wests Tigers
It's the Tigers turn to venture south to take on the Raiders and the visually spectacular Viking Clap. Sources tell me this week's ex-Raiders legend blowing the Viking Horn is Joel Monaghan who has requested the horn be smeared with peanut butter. I assume smooth not crunchy. Big news out of the Tuesday teams is the return of Canberra's captain courageous Jarrod Croker. The Raiders looked a bit flustered without his calming presence and just seeing his name on the team sheet with Elliott Whitehead moving into his preferred back row position gives the side a settled and threatening look. X factor alert, the Coal Train is back in the NRL! Dave Taylor's inclusion provides impact and thrust off the bench. The Tigers bared their teeth in round one, then suddenly looked toothless and need to hit back from last week's thrashing. Look to Mitchell Moses and James Tedesco to carve through the middle. In the corresponding clash, last year, the Raiders thrashed the hapless Tigers 60-6 with the lethal Leipana combination of Jordan Rapana and Joseph Leilua running rampant. The Raiders errors have cost them possession and is the reason why they are pointless. They will be fired up but need to harness that energy to gain dominance and rhythm before unleashing the rollicking Raider ball all league fans love! I hope Jason Taylor packed spare underwear as by fulltime he will be wearing the brown trousers.
Raiders by 18
Cronulla Sharks v St George Illawarra Dragons
Derby day down the Shire. It doesn't normally matter where either team is placed on the table or how they are travelling, both get up for this one. The Shark shack will shake when these sides collide. Cronulla were sensational in their disposal of the Raiders, this was the premiership winning Sharks, not the fumbling team from round 1. Valentine Holmes has been named on an extended bench further strengthening the strike power but this may mean moving Jack Bird back to the centres, a shame for him as he was fantastic and looked right at home as custodian. Dragons fans initial burst of hope for season 2017 was quickly pricked by a tepid round 2 performance. Their forward pack is strong and needs to win the opening salvos or their fate will be decided. Gareth Widdop has shown vast improvement on his 2016 form but cannot show anything behind a beaten pack. Southern Sydney bragging rights are at stake. Will the Dragons be smoking shark for dinner or will they get fin slapped back over the Captain Cook Bridge?
Sharks by 10
One final query: Why is my 4 years old daughter leading our family tipping competition, giving Dad a bath?
That one I can answer, if you follow my tips you'll know why! It's early days I keep telling myself, just stick to my processes.
PS she is nearly 5!!
Enjoy the footy and gamble responsibly. Good luck tipsters.
Cheers,
Jock