Hayne's getting booted, no hang on Henry is getting punted and now it's ultimatums at ten paces. First Henry then Ash Taylor caught the disease and delivered his to Titans HQ! The Gold Coast board had their chance to finish this off but instead of throwing Henry under a bus they threw everyone a dummy and walked off at half time for oranges and no doubt a meeting with their accountants – who's cheaper to offload?!? Thank God the footy is back on to save us from endless muck raking as I'm over all the palaver. Speaking of the Titans, they must somehow get their minds on league and open this crucial Round 24 taking on the power of Parramatta.
Parramatta Eels v Gold Coast Titans
Will Jarryd Hayne play against his old team? No, he won't, as he has been ruled out with an ankle injury, I think he dropped his wallet on it. It's a shame as there is no better way to respond to all the haters than playing a blinder against your old club and leave egg on everyone's face at the same time. Commiserations Jarryd, at least you're free now to sit in the coach's box with your good mate 'King' Henry. The Eels have great motivation to win this and win well. An ordinary performance last week combined with the race for the Top 4 will bring the best out of the Eels. Parramatta's powerful back row need to lift, they were insipid last week potentially a tad arrogant. You can't just walk on the pitch expecting to notch an easy two points in this competition. The Eels got their pants pulled down and will hit back, after hopefully shifting their shorts back up. Bevan French returns which settles the side and adds electrifying speed. Ash Taylor taking on Mitchell Moses is a wonderful match-up of two wunderkinds and Taylor will need to play a pearler to drive the Titans home in this one assuming he can dodge all the distractions. Rumours abound that Neil Henry has lost Taylor, the dressing room and his job next week. I've got more bad news for you Neil you're going to lose this match too, heavily.
Eels by 26
South Sydney Rabbitohs v New Zealand Warriors
"Glory, glory to South Sydney!" It won't surprise anyone to hear this famous winning song reverberating around ANZ Stadium at the final whistle. The Bunnies are playing such attractive footy this past couple of weeks, even Madge Maguire is humming along and tapping his feet. Twinkling his toes the most is Alex Johnston, who is excelling at the back. Sam Burgess has been moved into the engine room to accommodate boom youngster Cameron Murray, a look to the future and Slammin' Sam won't care what number is on his back, he'll punch out ridiculous numbers against this mob. The Rabbitohs are sparkling in the twilight of the season and should have no problem accounting for the Warriors aka The Walking Dead. The Warriors are playing zombie football with no heart and no soul. It shows with their defence, the Raiders rolled right through them last week with ease. Attitude is everything and the Warriors seem either incapable or unwilling to put the effort in required to stay in the contest. Stephen Kearney looks flustered in every post-match presser as if he's run out of ideas to unlock the Warriors undoubted potential. I don't usually agree with the American President but maybe Kearney needs to borrow Donald Trump's "Drain the Swamp" mantra to reinvigorate the squad for next year and get Jake the Muss to take them for boot camp as the Kiwis once were warriors but are now weeping willows.
Rabbitohs by 16
Brisbane Broncos v St George Illawarra Dragons
This is a massive match for the Dragons and could be the game that settles their season. The Dragons win last week has them nestled on the edge of the Top 8 but they have a great for and against. A big Bronco bucking will be damaging on many fronts, points differential one of them. The Broncos are in brilliant form and if they continue their golden form could rack up a big win. Right across the board the Broncos look man for man too strong for the Dragons, especially their speedy backs. The centres James Roberts and Tautau Moga are both in blistering form and if they get some clear air, look out. In saying that if Dragons rookie Matt Dufty cuts loose you'd love to see James Roberts trying to run him down. It'd be a fantastic foot race. The Dragons forwards must step up to the plate and try to knock the Broncos off their game and out of the park. Knowing the Dragons will come out breathing fire the old master Wayne Bennett won't bother saddling up, he'll ride these Broncos bareback Putin-style ready to rock! The Broncos will begin at breakneck speed putting the Saints on the back foot. The excellent Broncos bench will keep the pace at full throttle and the Dragons won't be able to go with them.
Broncos by 20
Newcastle Knights v Melbourne Storm
Having won three on the trot, the Knights have already performed above and beyond anything Nathan Brown and the fans could have dreamed of. To make it four on the bounce and knock off the ladder leading Melbourne Storm is the stuff of miracles. The Knights belief will be tested here as this a huge step up in class. The Knights are playing confidently and have nothing to lose, no one expects to them to win and if they can get off to a good start they're a half decent chance here. The Storm are coming off a bruising clash against the Roosters and could be slow out of the blocks. In a massive boost they welcome back the genius of Cameron Munster and Tohu Harris is named on the extended bench. At full strength the super Storm is quite a sight, there are no weaknesses. As long as they stay focussed they'll carry on their winning ways, the only way the Storm can lose is if they get lost on the way to the ground. Don't be surprised to see Nathan Brown out early Saturday morning in his camouflage gear sneaking around town switching all the street signs around. Instead of turning the signs around maybe Brownie can turn the table upside down?
Storm by 8
Sydney Roosters v Wests Tigers
This will be an entertaining match. Both sides were good last week. The Chooks pushed the Storm all the way while the Tigers chased down the Sea Eagles. For the Roosters a third loss in a row and they're suddenly a chance of catapulting out of the Top 4 after momentarily eyeing off the minor premiership before their wings were clipped in consecutive weeks. Jake Friend and Boyd Cordner were solid in their return and in a massive bonus, Michael Gordon is back. Flash will be welcomed back but Connor Watson's stunning display against the Storm may have Nathan Brown pencilling him in at No1 next season for the Knights. Watson moves back to the bench, an area the Roosters have a big advantage over the Tigers. Ivan Cleary's magnificent men lifted at Leichhardt and may find it hard to back up those heroics. Both team's big issue is they rarely play for the full 80 minutes. Ivan Cleary has until next season to work on that but Trent Robinson needs to find the answer now if the Chooks are to go deep into September. Key man Mitchell Pearce drifts in and out of matches and his game management goes missing when the Roosters need it most. This is where Jake Friend stands up and his influence on this side is huge. The Tigers main man James Tedesco will be out to show his team mates for next year what they have coming but all Teddy will have coming at him is a steady stream of red, white and blue. It'll be a tricolour try fest!
Roosters by 16
North Queensland Cowboys v Cronulla Sharks
Board up the windows, lock up the animals, stock up and hunker down in the bunker – this is going to be a clash of cyclonic proportions. This will be a knock 'em down, pick 'em up then slam 'em back down again blockbuster. Both sides need to win this game big time. The Cowboys more so as they are perilously positioned in 8th spot and with the footsteps of the Raiders and Dragons echoing louder and louder, the Cowboys cannot afford to falter. The Sharks are clinging onto 4th place by the tip of their dorsal fin and Shane Flanagan will want to witness a lift in intensity to maintain faith in his sides fortunes in their quest for back to back premierships. They were poor last week, the forwards looked flat and if they don't bring the right attitude up north, the Cowboys big boppers led by Jason Taumalolo will send them packing back south bruised and battered. Injuries have cruelled the Cowboys chances in their past two games but have opened the door for young gun Kalyn Ponga to return on the wing. Ponga's fancy feet could drive the Sharks old war horses to despair. Paul Gallen will be knackered trying to collar this young colt, but if he does get a grip, Kalyn 'duck and cover'! The Cowboys have been gallant in defeat and can take great confidence out of their losses. Te Maire Martin is back to renew his partnership with Michael Morgan and their battle opposite James Maloney and Chad Townshend could settle this showdown. Even though they've lost their past two I think the Cowboys are travelling better than the Sharks, who are in danger of dropping into deep water.
Cowboys by 7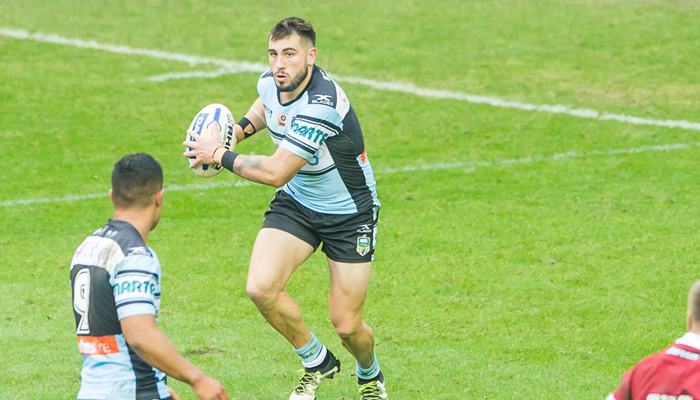 Canberra Raiders v Penrith Panthers
The match of the round and the crunch game of the season. The Raiders are walking the premiership tight rope, one slip and they're gone. The Panthers have won six in a row and have clawed their way into 6th spot. Another win and the Top 4 is within reach, a defeat and they're caught in the traffic jam trying to squeeze into September. The Green Machine are raging red hot at the moment. Ricky Stuart's Raiders have finally found their mojo and marching in unison, everything is falling into place. The forwards led by the barging bookends Junior Paulo and Shannon Boyd are blasting holes for Josh Hodgson to weave his magic. Blake Austin and Aidan Sezer are seizing the moment and momentum, shifting the ball when it's on out to their flashy flankers or running rampant. The Panthers may be winning but strangely don't seem to be playing as well as they can. There is still inconsistency in performance and the run on side. Peter Wallace is out with a broken hand causing more disruption but the Panthers are resilient enough to roll with the punches. They are a dangerous unpredictable beast and if Reagan Campbell-Gillard and James Tamou can contain the Canberra forwards, they have the young generals in Nathan Cleary and Matt Moylan who can marshal the troops and unload the strike power out wide. This will be played at finals intensity and the side that handles the occasion and settles best will triumph. The desperation has brought out the best in Canberra this past month and the raucous home crowd will roar the Raiders home.
Raiders by 8
Canterbury Bulldogs v Manly Sea Eagles
I fear for the Bulldogs. The impending fire sale of players to fit under the salary cap for next season, combined with the guillotine swinging above Des Hasler's head, on top of constant sniping from fans in the Kennel and boardroom bickering has the famous Bulldog spirit at its lowest ebb for decades. It's a dog's breakfast at Belmore. The Sea Eagles got the shock last week from the Tigers that may spark their season. Trent Barrett won't accept that second half drivel and players as proud as Daly Cherry-Evans and Blake Green will not excuse any repeats. They will see this match as their chance to get their playoff push back on track. Marty Taupau and David Klemmer will attract attention like mammoth magnets, seeking each other out like guided missiles. Roughing Manly up is the Dogs only chance to cause an upset but it won't happen. The Sea Eagles have too much at stake to get caught up in any shady shenanigans. The halves combinations are a complete mismatch in class, DCE and Green in a different stratosphere to Matt Frawley and Chase Stanley and the motivation to win of the clubs, planets apart. The Sea Eagles have every reason to get in the grind and dig in, while the Bulldogs are just looking for a hole to hide in. Doggies fans might want to look away, expect a horror show.
Sea Eagles by 30
Enjoy the footy and remember gamble responsibly. If you were going to have a flutter, plonk some dosh on Neil Henry walking the plank next week. Henry may want to take a magicians course now he'll have some spare time as his presser trying to convince all and sundry that he and Jarryd get on marvellously and everything at Titans HQ is hunky dory, that it's all a media beat up is the biggest load of baloney I've ever heard. Neil you are not tricking anyone, pull the other one you clown it yanks a 30 foot handkerchief out of your top pocket.
Enough of this circus I'd rather sit back and just enjoy the brilliant rugby league on offer. If you are time poor and can only watch one game get your peepers in front of the Raiders Panthers mega match! It's going to be a corker!!
Cheers,
Jock