After having their brand dragged through the mud coming out looking they'd been shagged through a hedge backwards the NRL will be thankful the start of the season is on the horizon and we can watch some footy, real footy too not the trials which mean diddly squat. Heads up, if your team went well in the preseason trials settle down.
The reigning premiers the Sydney Roosters are aiming for consecutive titles, a feat not achieved since the Brisbane Broncos won in 1992-93. Though if you count the Broncos Super League victory in 1997 (most people seem to disregard this and only want to remember the Newcastle Knights glorious maiden premiership in the ARL that year) they went back to back in 1997-98, still 21 years ago proving how difficult it is. Can the Tricolours triumph again, or will the summit prove too hard to reach?
Here's your club by club preview to season 2019.
Brisbane Broncos
Though they have lost experience via the retirement of Sam Thaiday and the Cowboys snaring Josh McGuire and Jordan Kahu, the Broncos boast the best young talent in the NRL. With Matt Gillett and Jack Bird returning from major injuries they will be like new signings that incoming coach, Anthony Seibold will look to guide the baby Broncos to the finals, experience come September may be an issue. The major concern will be whether halves Kodi Nikorima and Anthony Milford have the game management to steer this undoubtedly talented team all the way. The Broncos look the goods can they deliver when it counts? The club wanted Seibold badly, bridges were burnt, friendships damaged, come the end of September we'll know if it was all worth it.
Key Buy: Anthony Seibold – after taking the Rabbitohs to the penultimate weekend of the season in his rookie year, will he suffer second year syndrome? Seibold favours open footy and the club swap with the stodgy Wayne Bennett may release the shackles and unleash the attacking artillery of Milford and James Roberts.
Key Player: Kodi Nikorima – must take the reins and own this side or it'll be back to the bench with young gun ex-Rooster Sean O'Sullivan waiting in the wings. Hard to win a premiership without a top-notch number seven, over to you Kodi.
Player Watch: David Fifita – last year's boom rookie has all the elements including incredible speed for such a big man to take the next step, regular first grader and shock Origin selection. This kid is the real deal.
English Alert: Andre Savelio, Herbie Farnworth (development player)
Predicted Finish: 4th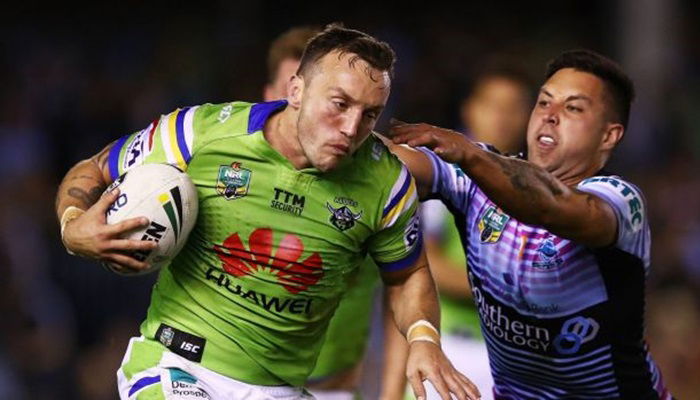 Canberra Raiders
The Green Machine have a sleeker version rolling out for 2019, shedding bulk, streamlining their side to improve mobility around the ruck, a fatal flaw in the Raiders failure to fire last year. The second highest points scorers from last season know they can get across the stripe and it is their defensive structures that control their fate. Failing to hold leads down the stretch cost them monumentally the past two years and coach Ricky Stuart has reacted by shifting fullback Jack Wighton to five-eighth to join Aidan Sezer in the halves. Can Sezer provide guidance down the stretch? If he hasn't learnt to close out games the Raiders will bomb out again. Expect an improved side that will be in the mix to return to the finals for the first time since 2016.
Key Buy: John Bateman – the hardened international Englishman coming off a fantastic Super League season winning with Wigan, Bateman will add starch to the Raiders defence on top of a high work rate. I'll back him to do the business, once he gets a taste for the NRL pace he'll thrive.
Key Player: Josh Hodgson – coming off an ACL injury the new Raiders co-captain will have regained confidence and speed and relish playing off the faster pace the more mobile pack should provide. Hodgson has all the skills to break any defence wide open and a cagey kicking game to boot.
Player Watch: Nic Cotric – with Jordan Rapana out for the first three months and Wighton moving to the halves, Cotric is a beast who has the responsibility of getting the Raiders sets rolling, is safe in the air and a classy finisher. Don't be surprised if he gets a shot at fullback at some stage.
English Alert: John Bateman, Josh Hodgson, Ryan Sutton, Elliott Whitehead
Predicted Finish: 9th
Canterbury Bulldogs
Though the Doggies have lost their pack leader David Klemmer and the Morris twins to relieve salary cap pressure, it isn't all doom and gloom, but the immediate future isn't bright. They have recruited well with limited funds, boasting strong forwards and are banking on youth out wide, partly forced on them due to cap pressure, but depth is a major issue. Scoring points troubled Canterbury last year and will continue to be a big problem the Doggies lack teeth in the red zone. Kieran Foran at his best is world class, Lachlan Lewis will benefit playing alongside him and all Dogs fans will cross their fingers Foran can stay on the paddock. Either way the Bulldogs will finish closer to the Dog house than the penthouse.
Key Buy: Dylan Napa – after the video nasties all the focus will be on the ex-Rooster, but all this noise may bring out the best in Napa. The bit player in the Chook pen will be viewed as one of the top Dogs and he'll want to let his big hits do the talking and become a leader.
Key Player: Kieran Foran – Putting all their eggs in Kieran Foran's basket is a real risk, surrounded by youngsters, if the Kiwi stays fit the Dogs may surprise but if his suspect body cannot withstand the rigours of another rough NRL season there'll be no finals footy and few victories.
Player Watch: Corey Harawira-Naera – CHN could be a brilliant buy for Dean Pay. Expect more game time than he got at the Panthers and he could be a game breaker. Run the lines and Foran will put CHN through the gaps.
Predicted Finish: 15th
Cronulla Sharks
A strong squad dripping with X factor but are there too many cook's spoiling the attack? The Sharks best player of 2018 Valentine Holmes may be gone but Matt Moylan returning to the custodian position could be a winner and give the Sharkies a bigger bite than last season's side. Add in the wrecking ball Andrew Fifita, Josh's Morris and Dugan in the centres and the enigmatic star recruit Shaun Johnson, rookie coach John Morris has some football team to work with, but can he structure a framework for all the artists to create inside while also dealing with the offbeat personalities of Fifita and Dugan? The Sharks will be worth watching this season, it could be rocks or diamonds, but totally bedazzling!
Key Buy: Shaun Johnson – with Chad Townshend calling the shots, SJ will be released from game management and given licence to roam. At his best he'll send the Shire into sheer ecstasy. We will have a good reading after this season on whether Johnson's star still shines or is waning.
Key Player: Andrew Fifita – we all know what this man can do when he is on, he is a genuine game breaker and match winner. Can Fifita funnel all his energy into a full season of consistent brilliance?
Player Watch: Matt Moylan – says he prefers five-eighth but is back to his best position in the No1 jersey. He can light up the NRL and propel the Sharks towards the playoffs and if Cronulla make it that far, anything is possible.
Predicted Finish: 7th
Gold Coast Titans
A hard side to pin down, Garth Brennan has at his disposal a squad that at their best could rattle the best sides and enjoy finals footy or they can crumble in a screaming heap. The forward pack is very strong and workman-like but maybe lacks a bit of pace. Ash Taylor could have up to three different players line up beside him in the halves showing their depth, but a lot of pressure piles on the shoulders of Taylor, he'll need a solid six beside him, and a sensational platform set by the Titans big boppers to bounce off. Not sure if the Coast have the cattle to produce a golden season.
Key Buy: Tyrone Peachey – initially reluctant to move north The Peach is the type of player every team needs. A natural footballer who can play anywhere, his enthusiasm, strength and skill will lift the Titans and light up the Glitter Strip.
Key Player: Ash Taylor – the superstar of the Titans, Taylor runs the show with aplomb, he just needs to be more consistent if the side is to make a shock September appearance. This could be the season Taylor makes the leap into the top echelon of playmakers.
Player Watch: Bryce Cartwright – it is make or break time. Garth Brennan has shown a tremendous amount of faith in Cartwright, the ability of this bloke is limitless, but if he continues to dish out dire displays Brennan's patience will wear thin. Let's hope the Carty Party gets cracking because at his best he is a superstar and a head turner.
Predicted Finish: 12th
Manly Sea Eagles
The array of attacking options is astounding, from Tom and Jake Trbojevic to Daly Cherry-Evans and Martin Taupau, the Sea Eagles can slay any side. The problem facing Manly is last year they had a defensive line leaking like a colander and it's this area where the returning Des Hasler will focus his energy and algorithms. Professor Hasler will bring a football brain as big as his bouffant and a steely resolve to every training session but will it transfer onto the field? The northern beaches brigade faces a mighty sand hill to climb having questionable depth and an ordinary start to 2019 losing Tom Trbojevic for a few weeks and Dylan Walker for an unknown period.
Key Buy: Kane Elgey – the Sea Eagles have been searching for someone to accompany DCE in the halves ever since Blake Green departed. Elgey should fit in well at Manly as he can be a danger in attack but a turnstile in defence.
Key Player: Tom Trbojevic – hopefully an early season injury heals quickly because Tom Turbo is an excitement machine all NRL fans love to watch motoring through opposition defences. If Manly are to be the big movers of 2019, it will be off the back of this turbo charged speedster, and his magic combination with older brother Jake.
Player Watch: Albert Hopoate – another of famous father John's sons to make the jump to the NRL, Albert has inherited the trademark Hopoate qualities – speed, skill and remarkable strength. Des gave Albert's famous brother Will, now a star at the Bulldogs, a shot as a teenager, now its Albert's turn.
Predicted Finish: 13th
Melbourne Storm
This amazing club are gunning for their fourth straight Grand Final appearance and don't doubt them. They are only without champion fullback Billy Slater from the squad, though will miss his brilliance. The Storm weather change better than most with the best coach in the business, Craig Bellamy at the helm and his on-field general Cameron Smith continuing to influence the side. Holding great squad depth, the Storm has all the tools plus the genius that is Cameron Munster. They'll be thereabouts again this year, even if Father Time catches up on Smith, Cameron they have Smith, Brandon a young raging bull, a Kiwi international, ready to roll.
Key Buy: Cameron Smith – (a bit of a cheat as they haven't really bought anyone so Smith's renewed contract wins the day as 'key buy') the old bugger isn't getting any younger and will pass a record 400 NRL games this season unless he pulls a calf otherwise known as old man's disease. Still the oil that makes this mega successful machine runs smoothly and smartly.
Key Player: Cameron Munster – with Slater gone and Brodie Croft still finding his feet at halfback, the pressure falls onto Munster to deliver. He wants to play fullback but with no genuine six Munster is going nowhere, a pure footballer it doesn't matter what number is on his back Munster is a match winner.
Player Watch: Brodie Croft – the super talented halfback struggled after being tagged the next big thing at the beginning of last season. A year wiser and coming off a bright end to 2018 expect Croft to lock in the number seven, especially with Jahrome Hughes replacing Slater at fullback, and Croft will be at the forefront of the Storm's push for yet another Grand Final appearance.
Predicted Finish: 3rd
New Zealand Warriors
Shaun Johnson's departure across the ditch has brought a gloom to the land of the long white cloud but it may be a blessing in disguise. We will find out a third of the way into the season whether the Warriors were a one-man team or being held back by a reliance on Johnson's inconsistent brilliance. It has put an anvil of weight onto Blake Green's shoulders, luckily, he is one composed dude, and if the Warriors can continue with the defensive structures that delivered finals footy last year for the first time since 2011 there is enough experience in the pack and strike power in the backs to win more games than they lose with Roger Tuivasa-Sheck primed to play a captains knock.
Key Buy: Leeson Ah Mau – not a superstar but a real pro. Ah Mau played solid footy at the Dragons and his no nonsense all effort displays may be just what the Harlem Globetrotters of the NRL need.
Key Player: Blake Green – must stay fit and at 32 is no spring chicken. A quality organiser his game management will steer this super talented side around the park, but he'll need one of the rookies beside him to fire.
Player Watch: Chanel Harris-Tavita – while Adam Keighran looks like getting first crack to partner Green, don't be surprised if Harris-Tavita gets his chance later in the season. Highly skilful he has some outrageous qualities to not only survive but thrive in the NRL if the chance arises.
Predicted Finish: 11th
Newcastle Knights
The buzz around the Hunter is growing louder. Nathan Brown has gone big in the market and assembled a squad that has the Knights anointed the dark horses of this year's premiership. David Klemmer, Tim Glasby and James Gavet have added beef to the pack while Jesse Ramien adds massive strike power and potential to the backs. The diamond of the coal fields is of course Kalyn Ponga who has moved into five-eighth and his transition and partnership with Mitchell Pearce could hold the Knights fate. If Ponga allows Pearce to direct the show it will free the young genius to produce and make the Knights a box office hit! Finals footy looks well within reach, can they go deep into September? Are the Knights the Tigers of 2005? Patience will be required though as this side has had a huge turnover and could take time to gel especially Ponga, whose success a season could ride on, expect a slow start and late finals fling from the Knights.
Key Buy: David Klemmer – the Klemminator wanted a sea change and this could be a match made in heaven. The new Chief of Newcastle will love leading the Knights charge, his immense presence sure to inspire his fellow forwards, and give the brilliant Newcastle halves time and field position to work their magic.
Key Player: Mitchell Pearce – no it's not Kalyn Ponga, the key player is the much-maligned Mitchell Pearce. Ponga will only be able to razzle dazzle if Pearce plays the general. It was no surprise the Knights season went south last year when Pearce was injured.
Player Watch: Jesse Ramien – could be the buy of the season. Strong as an ox and almost unstoppable close to the line, Ramien is all brute strength and speed. It is a dangerous concoction that you don't wanna mix with.
Predicted Finish: 10th
North Queensland Cowboys
They may have lost the immortal Johnathan Thurston but have recruited excellently bringing speed and forward depth, though the late loss of Ethan Lowe to the Rabbitohs was a big blow. Injuries cruelled the Cowboys in 2018 and expect them to be one of the big improvers this season. With no JT to rely on watch a fully fit Michael Morgan retake the reins that steered the Cowboys into the 2017 GF. Paul Green has all the elements to work with – a forward pack to die for, excellent halves and an improved pacier backline. If the Cowboys can implement a more attacking game plan and chance their arm, NQ are only heading in one direction – up!
Key Buy: Josh McGuire – it was going to be Ben Barba until… well you know the story. McGuire is a fantastic pick up and his experience and toughness fits the Cowboys like a glove. He also brings an aggressive winning attitude that the hardy North Queensland fans will fall in love with.
Key Player: Michael Morgan – with no JT and Barba flicked it falls to Morgan to lead the team, a role he grew into magnificently in 2017 before Thurston's comeback and injury ravaged Morgan's season last year. At his best he is all class and watch Morgan and the Cowboys rebound into title contention.
Player Watch: Jason Taumalolo – benefits greatly from lock forward Josh McGuire joining as it pushes the boulder with shoulders onto an edge where his size, step and brute strength will terrorise opposition players, particularly halves who will be double bagging it downstairs facing the Tongan tornado from 10 yards away.
Predicted Finish: 6th
Parramatta Eels
You can look at the Eels two ways: one – facing a difficult season with a youthful spine hoping they'll cope with the rigorous demands of the NRL otherwise they'll battle to win more than a handful of games, or two – a no-lose situation, where no one expects them to do well so have a free hit and may shock some sides. Brad Arthur is a very good coach and he'll relish this challenge, he's giving the youngsters a crack, instilling trust and faith in them and has wrapped around them a security blanket of hardened campaigners. After the wooden spoon the only way is up… unless they collect another one.
Key Buy: Blake Ferguson – the winger of the year last season, the ex-Rooster has joined an Eels side hoping he'll mimic their old cult hero Semi Radradra getting their sets off to explosive starts setting the tone giving the Eels momentum and Mitch Moses time. A quality buy he can only improve Parramatta.
Key Player: Mitch Moses – now Corey Norman is gone and a rookie is beside him in Dylan Brown, it falls on Moses to become the boss. He talks the talk now has to walk it. Moses is a marvellous talent who will want to show fans that 2018 wasn't who he really is. Can he handle the pressure cooker of the NRL?
Player Watch: Dylan Brown – massive wraps on this kid, so much so, the Warriors threw the bank at him only to be rejected. For the Eels to rise through the ranks, Brown must succeed, but fans require patience, give the young fella time to find his feet and the blue and gold army will be rewarded.
Predicted Finish: 16th
Penrith Panthers
A squad dripping in talent, a lot of it local products, topped off with star NSW Origin Blues pairing halves in James Maloney and Nathan Cleary. When you look at the top teams you always sneak a peek at their benches to gauge depth and quality when picking the better sides and the Panthers tick all the boxes. For all their brilliance the Panthers have shown to be either hot or cold and it's on the halves to drive the side through the rough patches and find the consistency that can take the Panthers all the way. Unlock that key and Penrith should be pushing for a premiership.
Key Buy: Ivan Cleary – back at the foot of the mountains, dealing with Gus Gould again and his own son Nathan. One of the smartest brains in the business, Cleary should be able to navigate both these issues. He's always wanted to coach Nathan, here's his chance. Can they combine to claim the big prize?
Key Player: Nathan Cleary – a classy halfback that holds all the tools in the kit bag, but is he good enough to take the Panthers to the next level? Yes he's played Origin but was steady rather than brilliant but alongside James Maloney that may be all he needs to be. Under his father's influence he may rise to become even better.
Player Watch: Jack Hetherington – if this kid can control his aggression he could be anything. There is no fear factor in Jack, he only has one gear – full throttle and if he can put together a good bunch of NRL games his confidence will rise to the next tier.
Predicted Finish: 5th
St George Illawarra Dragons
Will the Jack de Belin court case affect the Red V or galvanise them? Neither, I think they'll just go professionally about their business and the Dragons are lucky they have a powerful pack of forwards to choose from, excellent leaders in Gareth Widdop and James Graham and a strong coach in Paul McGregor. The Dragons could go either direction this year, a great spine full of X factor, excellent bench but there are doubts over the strike power out wide. The Dragons have the ability to reach the heights of the top echelon but also there are question marks over whether they can mix it with the big boys and could fall short. A lot depends on how their new spine gels.
Key Buy: Corey Norman – at his best, Norman is scintillating but will he sink or swim in 2019? Knows this is the year and the Dragons, the club he has to fire at or his NRL career could fizzle. His recruitment has caused shifting of the spine but if it comes off could make the Saints sing as they have more X factor than in recent seasons.
Key Player: Gareth Widdop – a remarkable talent and his move back to his old stomping ground of fullback won't worry the classy Englishman one iota. The switch allows Widdop to roam at his whim and gives Mary McGregor the great option of moving Widdop back to the halves, when Ben Hunt moves to hooker mid-game and Matt Dufty comes off the bench.
Player Watch: Zac Lomax – a fabulous footballer, young Lomax is expected to start on the wing for the Dragons and with St George lacking a major strike weapon in the centres don't be surprised to see Lomax moved in during the year as he knows the way to the try line.
English Alert: James Graham, Gareth Widdop
Predicted Finish: 8th
South Sydney Rabbitohs
Fell one game short of a Grand Final appearance last year add master coach Wayne Bennett, a sprinkle of his magic dust and the Bunnies can take the next hop. Souths faltered when the heat was applied and when it comes to a high stakes finals shootout Ole Clint doesn't blink. Bennett can apply the polish to the halves Cody Walker and Adam Reynolds that could make Souths shine. The Burgess boy's love Bennett and I think they'll produce huge seasons, watch Cameron Murray explode, he is top drawer, and could be an Origin bolter. The Bunnies bench may be a tad light on and this could hurt them but this is where 80 minute players like Sam Burgess and Murray are gold. A top four finish is well within their grasp, they'll be aiming higher.
Key Buy: Wayne Bennett – the Rabbitohs thrived under the open attacking play that Anthony Seibold encouraged and it will be fascinating to see what tinkering the normally defensive minded Bennett employs. Bennett is too smart to totally shackle the Bunnies and his winning strategies and man management techniques will be invaluable.
Key Player: Cody Walker – one of the most naturally gifted players in the NRL who should benefit from the tutelage of Bennett. If Walker can master the mix of structure and off the cuff, play what you see, he could be set for his best year ever.
Player Watch: Corey Allan – brought to the Bunnies from the Broncos by Bennett, there are big wraps on this former Junior Kangaroo who will play on the wing, though he can also play fullback. Scored a hat-trick in the Charity Shield on the weekend, if he plays left wing under Bennett's system he'll score a bagful of tries.
English Alert: George Burgess, Sam Burgess, Tom Burgess
Predicted Finish: 2nd
Sydney Roosters
Scary prospect, the premiers are potentially a better side this year than last! The Chooks only really clicked in the final third of the season and have added Angus Crichton, Brett Morris and English international Ryan Hall, while local junior Victor Radley has become a gun in the middle of the park, so there is improvement in this club. They have strike weapons across the park, a strong forward pack and if there is a better halves combination than Luke Keary and Cooper Cronk, show me. Throw in the coaching brilliance of Trent Robinson and it is a lethal mix with the eastern suburbs club a big chance of going back to back. Motivation is the major issue, it is mentally so tough to climb the summit again but if they don't take the title, they'll go extremely close.
Key Buy: Angus Crichton – lots of pressure on big signing Crichton to retain the Origin quality he brought to the Bunnies and add thrust to the Roosters right edge. His combination with Joseph Manu could rival the dominant and destructive left edge of Latrell Mitchell and Boyd Cordner.
Key Player: Cooper Cronk – written into Roosters folklore after the 2018 decider Cronk will enjoy renewing his burgeoning partnership with Keary fully fit! He thinks and acts like a coach on the field and this will come to the fore when the mental strain of going back to back kicks in, his experience, competitiveness and class, playing in his final season of footy, will drive the Roosters to the end.
Player Watch: Lindsay Collins – with Jared Waerea-Hargreaves getting on in age, though still a quality front rower, the Roosters need to rejuvenate their depth and Collins is ready to fill that breach. At the right age with the right amount of rage his strong stints off the bench will surely increase as Robinson looks to the future.
English Alert: Ryan Hall
Predicted Finish: 1st
Wests Tigers
There's a new feel to Tiger Town. Having recruited well bringing in Roosters duo Ryan Matterson and Paul Momirovski, while Josh Reynolds will feel like a fresh recruit after missing most of 2018, add in a new coach in Michael Maguire and there are hopes of finals footy. It is a solid no-frills squad which suits Madge's coaching style, but they'll need key players Moses Mbye and Luke Brooks to be at the top of their games to push into the playoffs. Age is a concern with club favourites Benji Marshall and Robbie Farah having a final fling but there is enough quality to trouble any side and experience obviously isn't a concern. Consistency and effort will be the mantra, Maguire will demand nothing less, but will that be enough to enjoy a return to finals footy in the NRL? I fear there could be tears shed in Tiger Town.
Key Buy: Ryan Matterson – the move to the Tigers means Matterson is a guaranteed started instead of the bench role he had at the Roosters. A big body but full of skill, Matterson could cause lots of damage on the edges. Expect a huge year from this impressive individual.
Key Player: Luke Brooks – you don't have to be a brain surgeon to know Brooks can be one of the top halves in the NRL, he has a high-grade skillset and now is the time for Brooks to move his game to the next level. Fast and strong for his size, expect Maguire to encourage Brooks to take the line on more often.
Player Watch: Josh Reynolds – looking to make up for lost time his enthusiasm is infectious. Whether he plays at five-eighth in front of Benji Marshall or blasts off the bench like a firecracker, Reynolds inspires those around him. The Tigers need X factor and special plays to shock the big boys and Reynolds at his best can provide that.
English Alert: Chris McQueen
Predicted Finish: 14th
Final Predictions:
2019 Grand Final – Sydney Roosters v South Sydney Rabbitohs
2019 Premiers – Sydney Roosters
Top 8
1. Roosters
2. Rabbitohs
3. Storm
4. Broncos
5. Panthers
6. Cowboys
7. Sharks
8. Dragons
Wooden Spoon – Eels