Leigh have released their Dacia Magic Weekend shirt design – and it has raised the roof.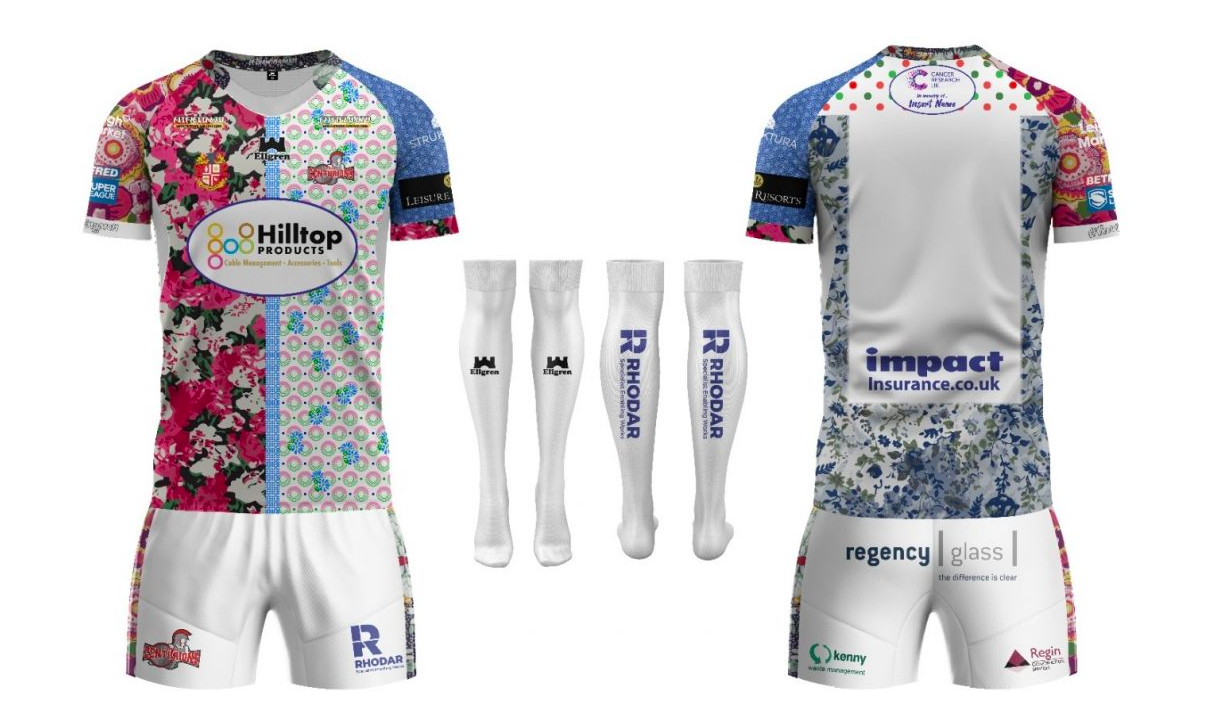 The Centurions will devote their Dacia Magic Weekend shirt design and sales to raise awareness and much-needed funds for Cancer Research, a charity that has reached and helped millions of people.
To increase the awareness of the charity, shirt sponsor Leisure Resorts have agreed to give up their top rear of shirt position, despite the game against Hull Kingston Rovers being live on Sky and arguably one of the biggest events of the club's season.
This enables the space not only for the Cancer Research Logo but also for each player to have the name of the person in whose memory they wear the shirt.
The idea and design comes from club owner Derek Beaumont, who lost his father last June to a rare blood cancer that saw him receive a two-week prognosis after believing treatment was working, only to actually survive for two days. The shirt is designed based around a shirt his father often wore as a bit of a tease and one that was worn at his funeral.
As well as players being able to choose in whose memory they wear the shirt, the club, in association with kit partner Ellgren, are offering fans who pre-order the shirt by 5pm Saturday 24th July the opportunity to have named on their shirt the person in whose memory they wish to wear the shirt.
All proceeds from the shirt will be donated to the charity and in addition to this, Club Owner Derek Beaumont and owner of Leisure Resorts Gary Molloy will be joined by some personal friends to bike ride from LSV to St James' Park, covering 142 miles and 5500ft of climb in one day on Saturday 11th September to raise additional funds for the charity!
Club owner Derek Beaumont said: "The day before my father's passing, he passed my youngest son a version of the shirt he wore, as he always commented on it when having a bit of fun with his grandad. I told him then that in his memory I would raise money for Cancer Research and our team would play in a shirt like he wore and gave my son.
"I am extremely privileged to be able to see that through.
"Cancer is a horrible disease and has perhaps not had the same focal point during the current pandemic. Whilst I have my own reasons, it occurred to me that many others will have their reasons to support such an amazing charity and why shouldn't they be able to make it known for whom they support it?"
The hem on the right sleeve and the inner neck carry the hashtag #WINGMAN which is in recognition of the support of individuals who were there for the person that is being remembered.
Derek Beaumont continued: "In the case of the shirt that I will wear that isn't me, as much as I would like it to be. It is my father's best mate Dave Wolstenhulme who supported him every single day and spoke to him on Facetime whilst I was sitting, spending what turned out to be my last day with him."
Gary Molloy, owner of Leisure Resorts, said: "I was only too pleased to support Derek's request to give up our sponsorship place to help raise support for Cancer Research. I saw how badly Derek was affected by his loss and almost unbelievably suffered my own loss of my father four weeks later, after a shock four-month prognosis for thyroid cancer that actually ended after only four weeks.
"We found some comfort for each other and undertook a 500-mile bike ride in five days four months later for charity, so it gives me great pleasure to support Derek by undertaking this bike ride.
"We support Rugby League because it's a great family sport that supports each other. I don't think there is anyone who hasn't been directly affected by someone with cancer at some part of their life, either their own family or someone they know. It is that far reaching. I am sure that the whole game will come together to support us on this challenge for the good of an amazing charity that benefits so many people."