Leigh Centurions may well have beaten Featherstone Rovers at the Leigh Sports Village by 32-12, but they were hit with a red card late on to one of their main men.
Krisnan Inu was sent off for a horror high tackle on Featherstone's Luke Briscoe as the wingman looked to score, with referee Robert Hicks not hesitatating to send Inu off the field and he trudged off, slightly tarnishing a tremendous win.
However, as the hooter sounded, Leigh's Mark Ioane kicked over the top, but was hit high by Sam Eseh.
Again, Eseh was handed his marching orders by Hicks straight away to round off a feisty affair.
However, neither Inu nor Eseh have been banned by the Disciplinary Match Review Panel and now it has been revealed why.
For Inu's 'tackle', the minutes revealed: "Player hits the shoulder and rides up onto the neck area of the opponent," but with no further action taken.
Eseh, instead, was cited with: "Player tackles across the chest and opponent falls to ground with impact."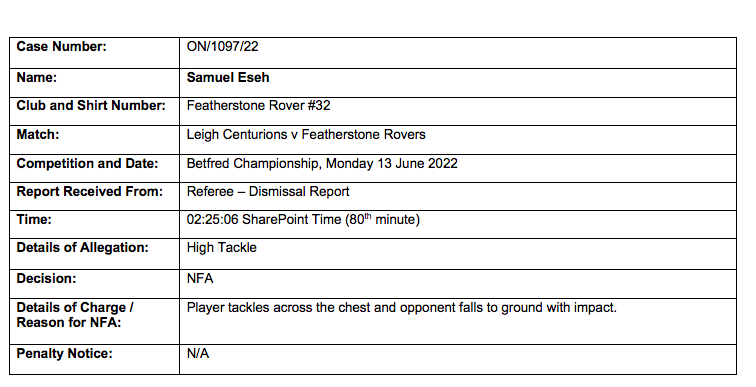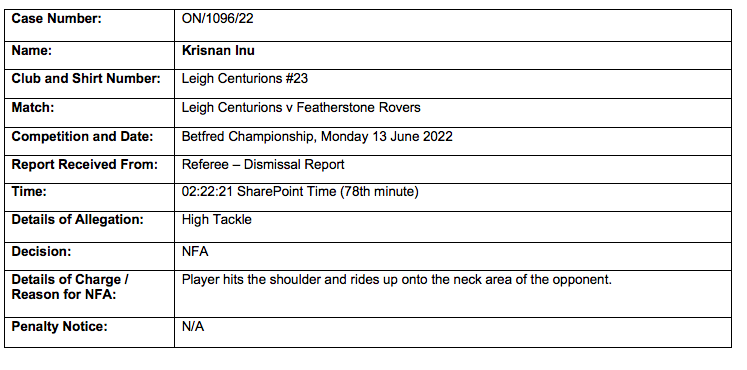 Instead, following the latest round of fixtures outside of Super League, the following charges were issued:
Lewis Camden – Bradford Bulls Reserves – Grade C Dangerous Contact – 2 Match Penalty Notice
Jack Billington – Huddersfield Giants Reserves – Grade B Kicking – 1 Match Penalty Notice
Ewan Badham – West Wales Raiders – Grade B Shoulder Charge – 1 Match Penalty Notice
Matthew Wildie – Featherstone Rovers – Grade C Dangerous Contact – 2 Match Penalty Notice