The Rhinos battle the Wolves at Headingley Carnegie as Brian McDermott's men look to avenge their early season defeat at the Halliwell Jones Stadium. Ahead of the fixture, here's a combined 13 of the two sides.
1. Stefan Ratchford (Warrington Wolves)
The England number one has been fantastic for the Wolves in a hit and miss season so far. He ousts Rhinos number one Ashton Golding out the team despite Golding being evidently better in defence. However, it is Ratchford's ability in attack that ultimately made this decision for me. He's scored just the one try but made six assists compared to Golding's solo assist and no tries.
2. Tom Lineham (Warrington Wolves)
The 'Flying Pig' has been in solid but not spectacular form for Tony Smith this season. He's amassed nine tries and 11 clean-breaks in a side that's often struggled in attack, particularly in the first six rounds of the season. Although Lineham's discipline is an issue with two yellow cards this season thus far, he's still a supreme talent and worth a spot.
3. Kallum Watkins (Leeds Rhinos)
The powerful centre is an easy choice for me to make in this side. He's a strong runner and at his devastating best when given that extra bit of space either near the line or in broken play, with a big fend and step key to his arsenal. He's scored seven tries, assisted three tries and made five clean-breaks.
4. Ryan Atkins (Warrington Wolves)
Atkins has been in good form this season and has become a lethal weapon for the Wolves again this season, much like he was in 2011 and 2012. Scoring six tries and making 1158 metres so far in Super League, this term suggests he's hard to stop and more than capable once near the opposition try-line.
5. Ryan Hall (Leeds Rhinos)
The England international winger may not be sprinting down the wing like he once did, but he's still powerful and unstoppable near the try-line. Scoring six tries, making almost 1500 metres and seven clean-breaks is decent work for a player missing the quality service at times from the Rhinos attacking structures.
6. Joel Moon (Leeds Rhinos)
The sole reason the Rhinos are now – for the most part – attacking much better. Once he switched to the halves he's not only benefitted from the new structures himself with ten tries, two assists and seven clean-breaks, the team also has hugely benefitted, becoming the second best attacking side in Super League.
7. Kurt Gidley (Warrington Wolves)
I had three options here: McGuire, Patton and Gidley. I picked Gidley as I think his experience has been needed at times this season, and has really shown during certain victories for the Wolves. Although he has less statistically than McGuire, I feel he's played better and deserves a spot. Unfortunately, Patton has been used as a scapegoat and hasn't been able to show his ability as much to earn a spot in this team.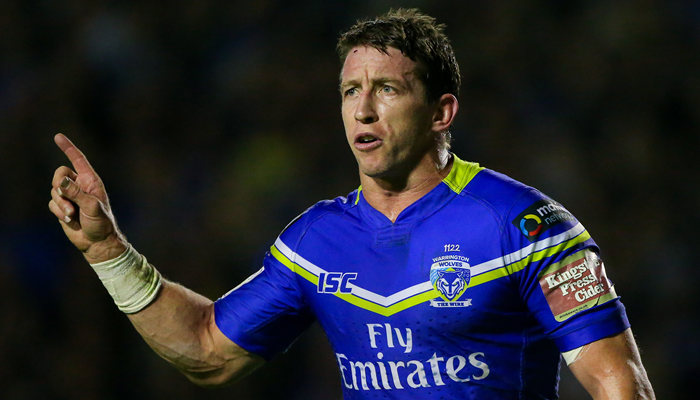 8. Chris Hill (Warrington Wolves)
The game-changing forward has been tremendous this season and solid for England against Samoa. Arguably the best English forward Super League has, Hill has been called upon to get his side out of trouble at times, particularly in recent games. He's made 1223 metres and almost 300 tackles, which is a solid return for a player that finds himself on the bench for spells of games.
9. Matt Parcell (Leeds Rhinos)
The easiest choice I've had to make in this team so far. The charismatic hooker has been a revelation for Leeds since he signed from Manly Sea Eagles; scoring eight and assisting eight tries, making the Super League's leading amount of tackles with 530 and six clean-breaks. His all-round contribution is absolute class and has clearly boosted the Rhinos chances of silverware this season.
10. Mitch Garbutt (Leeds Rhinos)
The powerful forward has been a mainstay of the Rhinos pack this season and opposition teams have often found him tough to stop, as he rampages forward to set the perfect platform for Matt Parcell to work his magic from dummy-half. Making the third most metres in the Rhinos side with 1346 and an average gain of 8.47 per carry, means that on collision he's gaining more ground than prior to contact.
11. Stevie Ward (Leeds Rhinos)
Captain material and a solid uncompromising player in both attack and defence, Ward has been knocking out consistent performances even in defeat, like against Castleford at Magic Weekend, where he was Leeds' best player on a difficult day.
12. Joe Westerman (Warrington Wolves)
During the early part of the season Westerman was by far the Wolves best player and, to some fans, the only player who was trying. That passion and effort hasn't dwindled at all – even looking better as Warrington begin to find their feet after such a terrible start.
13. Adam Cuthbertson (Leeds Rhinos)
Cuthbertson has been in inspired form this season; equal to Alex Walmsley in those stakes, he's scored five tries, made 1714 metres, seven clean-breaks and a huge 58 offloads. He's a half-back in a forward's body and judging by the performances I've seen on TV and live, as well as those stats, it's clear that statement is true.