After all the drama of St Helens' semi-final win over Salford Red Devils in the men's Super League at the Totally Wicked Stadium, the Women's Super League today took centre stage at the ground with a terrific pair of games.
First, Warrington Wolves earned promotion to Super League Group One with a 34-6 win over Featherstone with Warrington hooker Danielle Bound shining with a pair of tries.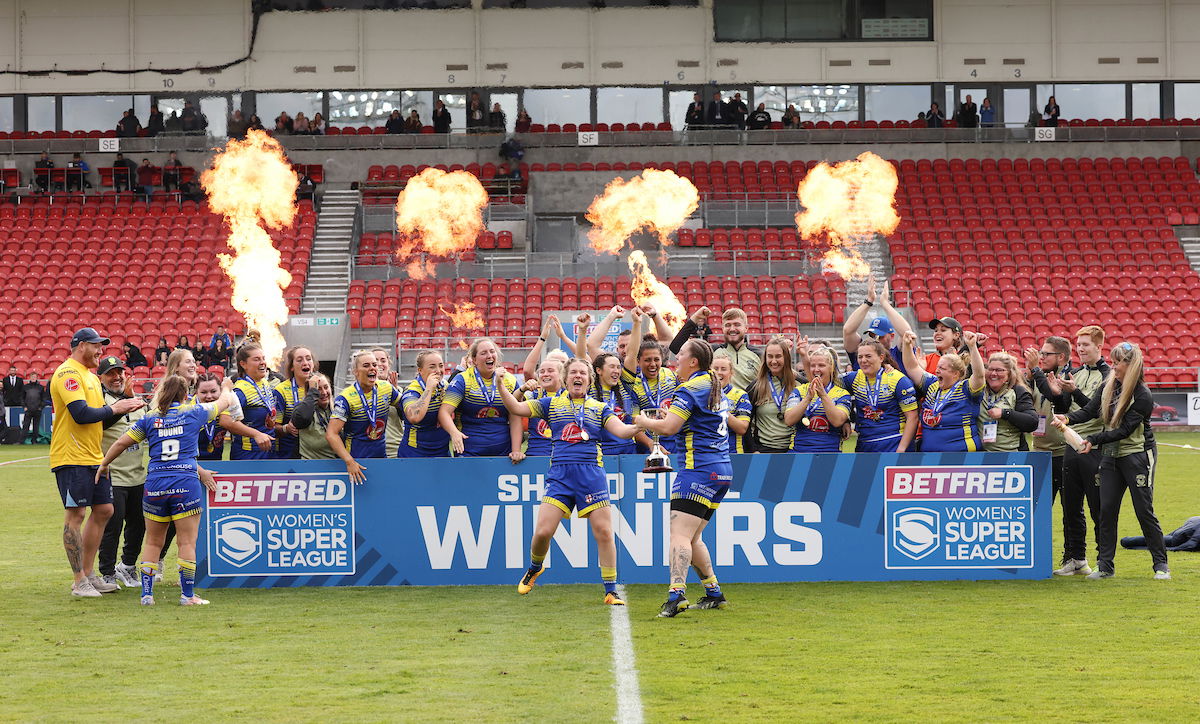 They will join the likes of York City Knights and Leeds Rhinos in the top tier next year but their focus today was being crowned Super League Champions.
The Knights, just three years after being around where Warrington are now finishing second bottom in 2019, were playing in a first ever Grand Final after finish top and losing the Challenge Cup Final last year.
They were taking on a Leeds side playing in their fourth consecutive Grand Final looking to replicate their Grand Final win in 2019. They reached the final via defeating reigning Champions St Helens in a repeat of last year's final.
A very worthy Grand Final then, the game burst into life straight away with York going close but being denied by lovely defence from the Rhinos in a microcosm of the first half.
A few minutes later Leeds went down their favoured left edge where star players Courtney Winfield-Hill's short ball put Caitlin Beevers over for the try within the first five minutes. Crucially Winfield-Hill then added the extras from out wide.
The rest of the second half saw the Rhinos emulate the amazing defensive effort we saw from the Rhinos men on Friday in their Super League semi-final against Wigan to repel constant pressure from the league leaders to go into halftime 6-0 up.
A great story had been set in motion and going into the second fans were excited to see how it would unfurl but a nasty leg injury for Shannon Laceys resulted in a 10 minute break as she was sadly stretchered off.
Given more motivation by Laceys' injury, the Rhinos doubled their lead after a high kick resulted in a repeat set from which Beevers darted over from dummyhalf with Winfield-Hill again converting.
The momentum was now with Leeds with them leading 12-0 but a peach of a try from Sinead Peach gave York hope. She darted through off a quick play the ball before showing great pace to get over but crucially the goal was missed.
Nonetheless, York had the momentum as they again heaped pressure on the Rhinos with Leeds relying on a try saving tackle from Winfield-Hill to deny them.
York thought they had a try back from a Leeds error when Hollie Dodd picked up a loose ball and dotted down but the try was denied as the referee ruled that the ball had been stripped.
This coupled with more amazing goal line defence in the last 10 minutes including a scrambling effort from Danny Anderson proving crucial.
That enabled Leeds to hold on to a second ever Super League title even without star player Roche.
It's an amazing moment for the Rhinos women but also another indicator of the wider brilliance of the club as a whole with Leeds winning the PDRL Grand Final last week, securing their place in the Wheelchair Grand Final and the Men's Grand Final this week whilst the Under 18s also await a Grand Final against St Helens.
So, this could be the second of possibly five Grand Final wins in 2022 for the club.