Leeds Rhinos appealed Harry Newman's ban at a hearing last night with the RFL.
Newman had been handed an initial two-match ban for a verbal tirade launched at referee Tom Grant in Leeds' defeat to St Helens.
However, the Rhinos appealed that decision, with the ban increased to three for a 'frivolous challenge,' something which the West Yorkshire club then appealed this week.
That being said, Leeds' second appeal fell on deaf ears and Newman will still have to sit out the West Yorkshire side's next game against Toulouse Olympique this Saturday evening.
Harry Newman has been unsuccessful in his appeal against the extra game of his suspension and will miss this Saturdays game at @TOXIII pic.twitter.com/Rwb6WB96TG

— Leeds Rhinos (@leedsrhinos) July 13, 2022
However, it's fair to see that one of Newman's teammates is unhappy with the procedure that players and clubs have to go through in order to appeal.
One of those outspoken stars is halfback Blake Austin who posted on his Instagram story: "Challenge a ban. You're wasting their time. Extra week. Challenge the decision of wasting their time. Them confirming you wasted their time. No extra punishment. Wow some system that."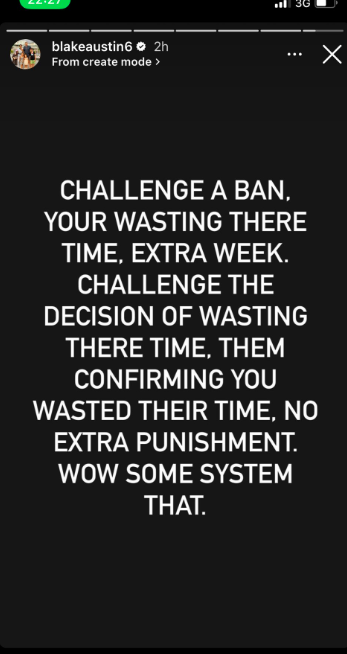 It was also fair to say that opposition against Newman's ban ran in the family, with Newman's father previously launching a barrage of abuse against the RFL for the 'frivolous challenge' appeal.
"Well I'm lost for words," Newman's father stated on a Leeds Facebook fan page. "I do not condone my son's actions as you need to keep your cool as a player and respect the officials. Of course the refereeing performance must rank as the worst I've ever seen in Super League.
"I believe the club had strong grounds to appeal based on the categories of offences supported by legal representation. To then further punish an individual for appealing by extending the ban is just another example of how this great game is being destroyed by the RFL.
"After all the injuries this decision has crushed H and we as his family will pick up the pieces.
"If it was me and I appreciate it is not I'd simply return to rugby union or head to the NRL. The stories of genuine fans walking away from the game in this group and the decline in attendances tells you everything you need to know of rugby league. The other week total published attendance for the round was 38,000, this equates to a half full Old Trafford.
"Unless someone grasps the challenge in the RFL professional rugby league full time will simply be part of our history."
Whatever the protest, Newman will still have to sit out this weekend's fixture.