New Zealand put their rivals on notice with an utterly dominant, often scintillating performance at Headingley against Leeds Rhinos winning 74-0.
The Kiwis played some masterful rugby but the story of the night was the plentiful farewells for some stars of the Rhinos and stars of the game.
Highlights:
Brilliant to see Burrow
The highlight of the night was perhaps, in fact undoubtedly, was seeing Rob Burrow. The Leeds legend who still valiantly fights Motor Neurone Disease was the guest of honour and delivered the match ball tonight.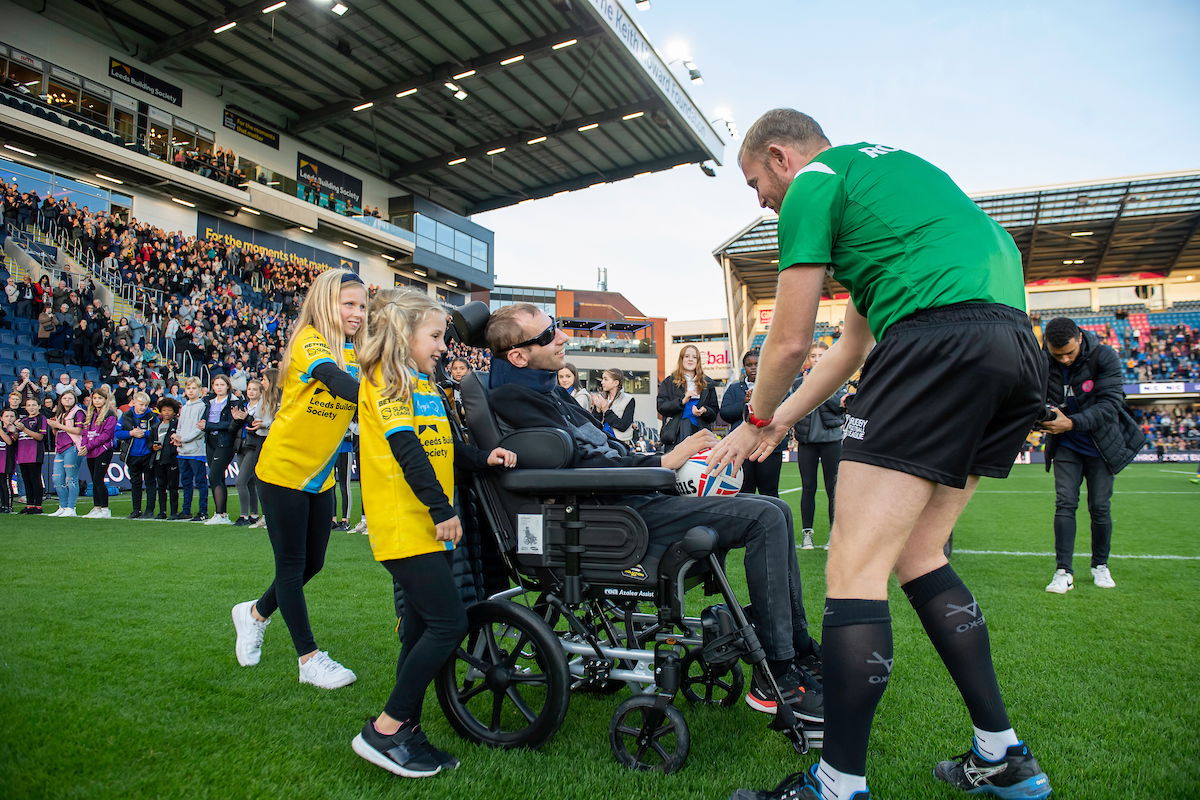 Haka
The Haka is always a special occasion and was again tonight especially as it featured retiring star Thomas Leuluai.
Briscoe denied sentimental try
If anyone remembers the 2015 encounter, they'll remember that Kylie Leuluai was denied a farewell try for a forward pass and tonight Tom Briscoe was denied his own sweet moment. Poignantly, the move started with an Adam Cuthbertson offload as the Rhinos moved the ball right through offloads and Briscoe looked to have scored in the corner but the try was disallowed and the teams were brought back for a 20 metre restart.
New Zealand denied
A minute later it looked like the Kiwis would open the scoring as they rolled down field. Thomas Leuluai played a key role in moving the ball right as Jordan Rapana dived in but his foot was forced into touch.
Offload City
It was offload city in Leeds tonight especially in the first 10 minutes. Many, understandably, came via Adam Cuthbertson whilst Matt Prior also produced a number of lovely offloads. But it was a New Zealand offload that opened the scoring as Sebastian Kris dived over from a lovely Kenny Bromwich offload.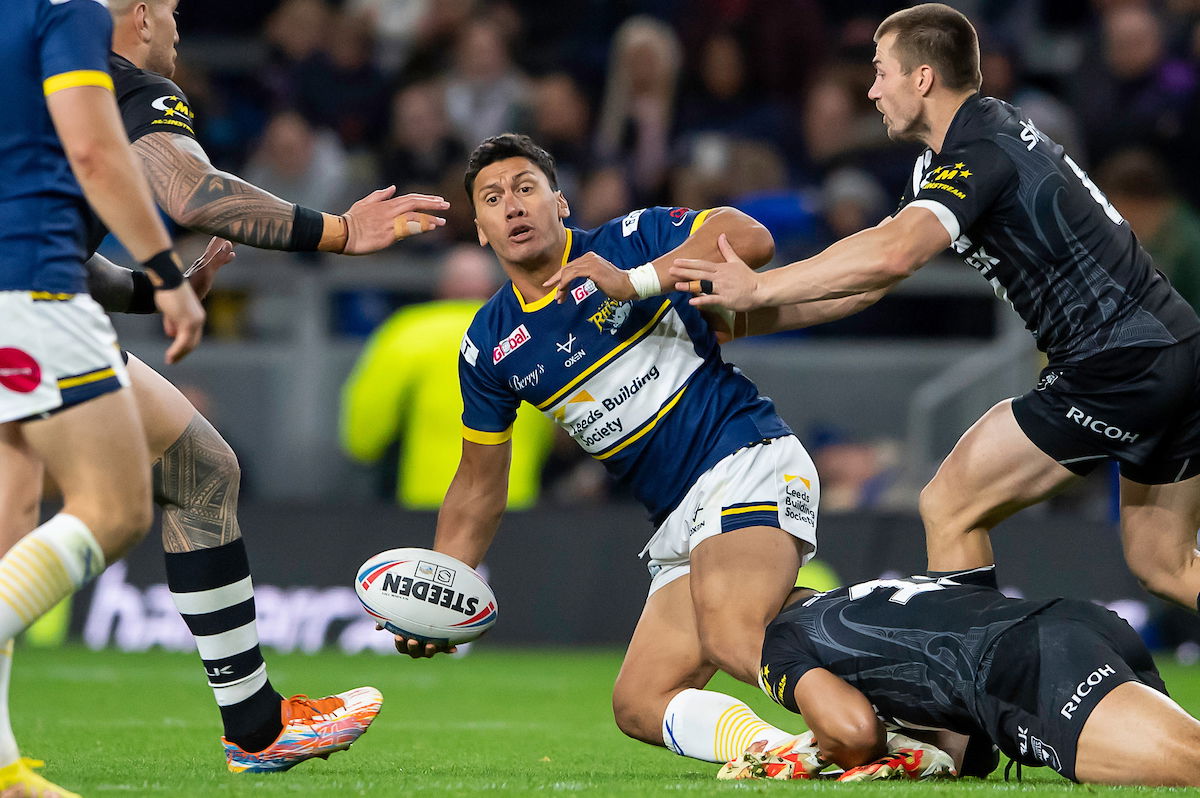 Nicoll-Klokstad merry-go-round
Earlier this week Nicoll-Klokstad spoke about one day playing in Super League and if he did make the move he'd be a hit based on the try he scored darting around trying to find a gap and when it opened up he showed real power to score.
Sensational finish from Ronaldo
That's a line you're more likely to see in football articles, but it was true at Headingley tonight as Ronaldo Mulitalo showed amazing strength to twist and turn to get the ball down in the corner after quick hands down the left.
Hardaker heroics
If that was a sensational finish then Zak Hardaker produced the equivalent when it looked certain that Briton Nikora would score in the corner only to be held up by Hardaker who twisted the ball away from the ground for a superb tackle.
New Zealand score dubious try
It was one of those where everyone in the ground felt it wasn't a try except for the most important person in situations like this: the referee. He judged that Kenny Bromwich had grounded the ball despite the way it bounced away.
Kris canters in for first half hat-trick
Sebastian Kris made it a first half hat-trick thanks to quick hands on his inside opening up a big gap for the centre to stroll in.
Whare with the try
Dean Whare got the first try of the second half hitting a nice line through a gap. The centre is being tipped to join Wigan in 2023.
Kiwis score lovely try
In the 23rd minute of the second half a darting run by Mulitalo carved Leeds up before an offload set Jahrome Hughes away. He found Jeremy Marshall-King to score.
Tries keep coming for New Zealand
As the second half wore on, more fatigue set in for Leeds and New Zealand began to play with more freedom scoring tries for fun some of which were brilliant from long range whilst others were simple powerful efforts close to the line.
Leuluai unable to nail parting gift
With the last kick of the game, Thomas Leuluai failed to nail a conversion as a parting gift with the South Stand, in jest, heaping the pressure on him as he lined up the attempt at goal.
Talking Points:
Leuluai gets perfect send off
The last time Thomas Leuluai faced off against Leeds Rhinos he suffered the worst result imaginable as his Super League career was ended in the Super League semi-finals at the hands of the Rhinos. He got to right that wrong with his national team tonight clearly enjoying a dominant display from New Zealand.
Privileged to have seen Adam Cuthbertson
The way Adam Cuthbertson played for Leeds tonight with freedom and some amazing skill with the offload, it was a reminder that we have been incredibly lucky to have seen a player like this in Super League especially reflecting on his 2015 campaign. A joy to watch even tonight as his side lost.
New Zealand too strong
When Leeds had the ball near the New Zealand line, they looked dangerous but ultimately the Kiwis were just too strong for them literally speaking. Their forwards made light work of getting down field where the points came.
Kiwis mean business
The last time we saw New Zealand at Headingley, they struggled against an understrength Leeds as the pre-cursor to their series defeat to England that year. This time they did not look undercooked. Powerful and quick with a killer offload, don't be surprised to see them lifting the World Cup trophy in November.
Wherever Briscoe is headed next they're getting a top player
Tom Briscoe captained Leeds tonight in his final appearance for the club. He had a try disallowed in the first few minutes and was a constant nuance at short kick-offs. He also carried really well from start to finish making a lovely half break in the first half. Wherever he goes next is getting a very handy player despite the fact he is in the twilight of his career.
Thompson's finest Leeds season comes to an end
Bodene Thompson has received some criticism during his time at Leeds but was excellent throughout 2022 despite not receiving the plaudits. He was also very good in the first half tonight in a beaten side. A Grand Finalist with the Rhinos two weeks ago, he should be thanked for his time at Headingley especially the last year.
Player Ratings:
Leeds Rhinos
1 Zak Hardaker – 7
2 Tom Briscoe – 7
3 Rhyse Martin – 6
21 Junior Sa'u – 5
5 Liam Tindall – 6
4 Blake Austin – 5
7 Aidan Sezer – 7
8 Sam Walters – 7
9 Kruise Leeming – 5
10 Matt Prior – 6
11 Zane Tetevano – 6
12 Bodene Thompson – 6
17 Adam Cuthbertson – 7
Substitutes
14 Brad Dwyer – 6
16 James Donaldson – 5
13 Jarrod O'Connor – 5
20 Muizz Mustapha – 5
6 Jack Sinfield – 5
22 Luke Hooley – 6
23 Elijah Taylor – 5
18 Jimmy Keinhorst – 5
New Zealand
1 Charnze Nicoll-Klokstad – 9
2 Jordan Rapana – 7
3 Peta Hiku – 7
4 Sebastian Kris – 9
5 Ronaldo Mulitalo – 8
6 Kieran Foran – 7
7 Thomas Leuluai – 7
8 Jesse Bromwich – 9
9 Brandon Smith – 7
10 Nelson Asofa-Solomona – 8
11 Kenny Bromwich – 9
12 Briton Nikora – 8
13 Isaac Liu – 8
Substitutes
14 Jahrome Hughes – 8
15 Joseph Tapine – 7
16 Dallin Watene-Zelezniak – 7
17 Jeremey Marshall-King – 8
18 Dean Whare – 7
19 Willie Isa – 7