Outgoing Salford owner Marwan Koukash has admitted that the club's continued poor attendances were the main reason for his exit.
Koukash has pumped millions of his own money into the Red Devils and despite improvement on the pitch this season, they have failed to get fans through the gate.
"When we were playing Huddersfield at home recently, at half-time I was given the attendance figures which was something like 1400 people," said Koukash.
"And when I looked around the almost empty stadium, I felt deflated, it was almost like a vote of no confidence in my leadership.
"I know there are some people out there who are genuine Salford fans that turn up week in week out, but there are others that stopped turning up because of me.
"Then there are other people that don't feel motivated to support their team because there is a guy at the end of the month that will write a cheque for the operating deficit of the club."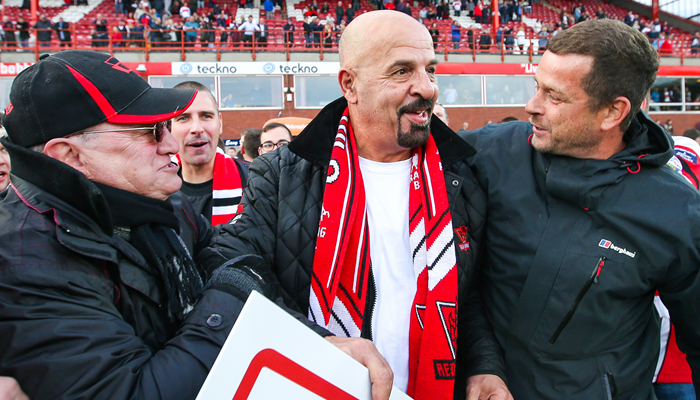 Koukash saved Salford from going under when he took charge in 2013, however he has been caught up in numerous controversies including a six-point deduction for salary cap breaches in 2016.
His brash approach can't just be pinpointed for the poor attendances, with the club struggling to attract fans since their move to the AJ Bell Stadium in 2012.
"I had a chance to rebrand the club into Manchester and try make it grow there," Koukash revealed. "I was also offered big money to take the club altogether to another city.
"I have a lot of respect for the City of Salford and the core fans that turn up every week and you can see their passion, which is why I decided the club should stay where it is."
The departure of the flamboyant millionaire will split many fans with the club losing his wealth and ambition, but Koukash says they need a fresh perspective.
"I came into Salford five years ago to build a big club, my vision was to turn a club nearly out of existence into a successful team that had 10,000 fans watching them every week.
"We have done alright on the field this season, the team finished fourth in the regular season and we played a very competitive Challenge Cup semi-final and were only 40 minutes away from been at Wembley.
"But now it's time for the club to progress off the field and maybe under a different leadership we will see that."