Just occasionally you come across a story that really grabs your attention, then keeps surprising you! One such story has caused me however to go just that bit further, that is the story of Hull FC club record holder John 'Jack' Harrison VC MC.
I am currently leading a public campaign to have a statue of Jack erected in Hull City Centre, and I'm going to tell you here, exactly why I think we should have a statue of this true rugby league hero! Some of you may find yourselves questioning some of the facts I'm going to give you here, but I promise you, they are all established fact and I've seen the evidence to prove it.
Jack was born on 12th November 1890 at home on Williamson Street, East Hull, he was the son of John and Charlotte, he came from a very ordinary background, his father was a Plaiter and Boilermaker at Earle's Shipyard, as well as being a staunch Hull Kingston Rovers supporter.
Jack was educated at Craven Street school, on the same street as where Rovers played their home games at the time, and his dad would actually take Jack to support the Robins in his early years. Jack grew up an avid Hull KR supporter, as well as being a scholar and outstanding sportsman at school.
In his teenage years Jack played, and excelled at football, cricket, swimming and rugby, until one day, when playing for amateur side Brunswick Wesleyans, he suffered a catastrophic head injury, was carted off to hospital, and subsequently told never to play the sport again because of the serious nature of his injury! We believe he actually suffered a fractured skull, but there are no actual reports to confirm this.
So for a few years, under the particularly watchful eye of his mother, Jack didn't play any sport, although he did still keep himself physically fit. Then in 1910 he earned a scholarship to go for teacher training at St. John's College, York (now York St. John University) and it was there where Jack decided, without the ever present influence of his parents, to start playing rugby again. Jack represented the college RU team for the full two years he was there 1910-1912, captaining the side in his final year, which then attracted the interest of York RL side. Flattered by their approach, Jack signed temporary forms for York and, despite what you may read in some places, he actually played six games, scoring four tries for them, one of the games and tries not making it into the record books because it was a testimonial game.
In 1912 Jack qualified as a teacher and returned home to Hull to take up a job as a teacher at Lime Street School, with thoughts of also carrying on his rugby career, having had two years of playing in York. Everybody expected Jack, with his East Hull roots and his father's influence, to sign for Hull KR, but instead he shocked everybody by signing for a Hull FC side who were the sworn enemies of the team his dad supported, but who had also recently been in three Challenge Cup Finals, although they had suffered the indignity to become the first team ever to lose three cup finals on the trot, Jack was seemingly impressed with their ambition to put the record straight, signing in the midst of a major restructuring for the Black & Whites, which included several high profile arrivals including Australian internationals Jimmy Devereaux, Steve Darmody and Herbert Gilbert, along with the later arrival of Billy Batten, who would become the centre on Jack's side of the pitch.
Jack made his debut at The Boulevard on 5th September 1912, in a 9-3 victory for Hull, ironically against York, he scored his first tries for Hull two days later in an enthralling 10-8 victory over Halifax. By the end of the 1912-1913 season he had scored 17 tries and was the club's top try-scorer, despite having two lengthy spells on the sideline, both after breaking his collar bone.
Then on 18th April 1914, Jack was one of two try scorers for Hull, the other was Alf Francis, as the Airlie Birds finally lifted the Challenge Cup, beating Wakefield Trinity 6-0 at Thrum Hall in Halifax.
On 1st September 1914 Jack married his childhood sweetheart Lilian Ellis. Married life obviously suited him as he then embarked on an incredible try-scoring season, which saw him rack up 52 tries, a Hull FC club record which still stands to this day!
However at the time, Europe was being engulfed in the abyss of the 'War to end all wars' and Jack knew he couldn't simply stay at home teaching. His bravery led him to leave his reserved occupation as a teacher and sign up on 4th November 1915, which then saw him sent to officer training at Inns of Court. During his training Jack did return home to Hull at Christmas, playing what turned out to be his last game for Hull FC against Broughton Rangers on 27th December 1915.
Jack was subsequently commissioned as a Temporary 2nd Lieutenant in the East Yorkshire Regiment, he arrived on the frontline, at the Western Front of the Battle of the Somme on 16th September 1916.
The rookie officer soon earned the respect and admiration of his men, including those who were professional soldiers, who had been in the army for many years, but who were lower ranks than him. On 25th February 1917 Jack was charged with leading a patrol through No Man's Land on the Somme! This he did with great skill and steadfast dedication, leading raids on no fewer than four German trenches, capturing a prisoner of war and leading his men back to British lines, without a single casualty among them. For this astonishing achievement Jack was awarded the Military Cross, the third highest honour in the British Army.
Then came a fateful day in the history of the proud city of Kingston Upon Hull, a day that is spoken about with both pride and horror. That day was Thursday 3rd May 1917, a day which lives in infamy for the people of Hull. It was decreed that, at 3:45am that day, the men of the Hull Pals would go 'Over the top' at the edge of Oppy Wood, Pas de Calais, under a bright full moon.
Running across the open, flat ground of No Man's Land the men were nothing short of target practice for the German machine-guns inside the wood. In a few short hours thousands would be slaughtered. During the advance towards the guns, Jack noted that one particular machine-gun was inflicting some particularly heavy losses on his men, he knew he had to do something about it.
Having seen himself and his men repelled twice as they attacked, Jack gathered his platoon in a bomb crater in No Man's Land. He then ran towards the machine-gun on his own, armed only with two Mills Grenades and his pistol. He threw one grenade at the machine-gun, but dropped the other. With the gun still firing, Jack took it upon himself to run directly at the gun. One eye-witness report in the Hull Daily Mail the following month states that he was seen throwing himself over the gun, firing his pistol. Jack was killed instantly, but it was noted that the machine-gun in question never fired again. Subsequently the men in Jack's 11th (Tradesmen) Battalion were able to get to safety.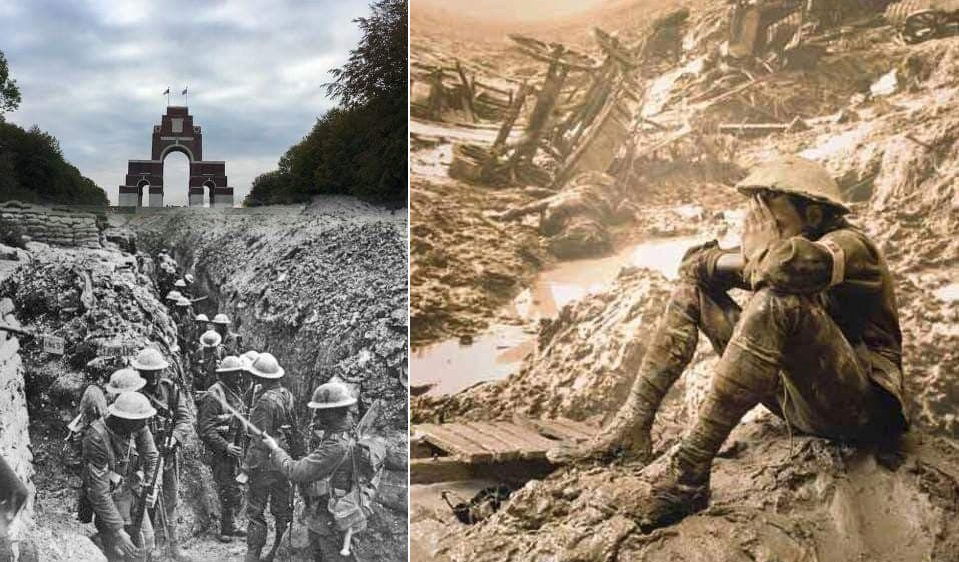 For this outstanding act of bravery, Jack was posthumously awarded the Victoria Cross, the highest honour that can be awarded to a member of the British Military! Jack's wife Lilian and their son Jackie collected both his Military Cross and Victoria Cross on his behalf in an investiture at Buckingham Palace, from King George 5th in March 1918.
The citation for his Victoria Cross reads as follows:
T/2nd Lt. John Harrison. MC E York R
 For Most Conspicuous Bravery and Self-Sacrifice in an Attack
 Owing to darkness and to smoke from the enemy barrage, and from our own, and to the fact that our objective was in a dark wood, it was impossible to see when our barrage had lifted off the enemy front line.
 Nevertheless, 2nd Lt. Harrison led his company against the enemy trench under heavy rifle and machine-gun fire, but was repulsed. Reorganising his command as best he could in No Man's Land, he again attacked in darkness under terrific fire, but with no success.
 Then, turning round, this gallant officer single-handed made a dash at the machine-gun, hoping to knock-out the gun and so save the lives of many of his company.
His self-sacrifice and absolute disregard of danger was an inspiring example to all. (He is reported missing, believed killed.)
Jack's body was never recovered, he died aged just 26 years old. With no known grave, his name is commemorated on the Arras Memorial not far from where he fell.
Therein lay the reasons why I believe there should be a statue of Jack in his hometown. There are far too many people who are unaware of the full story of Jack Harrison VC MC, which is, in my estimation, a real tragedy.
I know statues cost a lot, but with the help of Hull FC, and the Hull FC ex-players association, we have already had some fundraising ventures, such as a pub quiz, and I wrote and acted in a play about Jack, which was performed in front of Jack's family in early November.
I can now only hope that the rugby league family will support us, to make this more prominent memorial to a true rugby league hero, a reality, for all of us, along with Jack's family to appreciate.
If you require anymore information about our plans, events or just to simply donate, contact me on Facebook or check out our campaign page, Jack Harrison VC statue campaign, and contact us there, or you can email me at ian.judson123@gmail.com if you prefer.
Any help you feel you can offer, will be greatly appreciated and made very public knowledge on our social media.
I should also thank James Price at Hull FC community foundation for his recent help with a funding application, which I will update everybody about in due course when we get a decision.
A big thank you also has to go to the team here at seriousaboutrl.com for allowing me to write this feature, thanks very much guys.
Finally, a big thank you to everyone who has taken the time to read this rather large feature article.
#Statue52 #2Legends1Man #JackHarrisonVC