If you haven't noticed already, IMG, Super League and the RFL have been working together in a bid to 're-imagine' the sport of rugby league after years of stagnation.
That has involved frank chats with clubs, shareholders, governing bodies and now fans, with IMG setting up a fans' survey for supporters to complete in a bid to get across their opinion on the game.
A survey has been launched today through the RFL and Super League digital channels Rugby League Fan Survey (qualtrics.com), and will close at the end of August.
It covers a range of key areas such as viewing habits and preferences, competitions, and overseas clubs.
The consultation involves all key stakeholders including clubs, partners, the media, players and coaches.
The outcomes from the survey will be considered alongside the outcomes from the other consultations and IMG's expert industry knowledge. IMG's recommendations will be presented to clubs in late September – after the Women's and Men's Super League Grand Finals.
IMG's strategic review forms part of the first phase of the 12-year partnership with Rugby League. It is running alongside digital transformation powered by IMG's digital sports arm Seven League and a review of the sport's brand led by Endeavor's 160over90.
The partnership with IMG followed the realignment of Rugby League's governance which has seen the creation of a new venture, RL Commercial – and more recently, the appointment of Frank Slevin as its inaugural Chair, and Ed Mallaburn, IMG Media's head of sport, as a second Board member.
Among those questions are promotion and relegation, whether or not French clubs should be in Super League, the potential for two divisions of Super League and a potentially different Challenge Cup Final venue.
Perhaps the most interesting question revolved around the potential Super League structure on the survey, with the statement reading: "If Rugby League introduced a 10+10 league structure, whereby the Super League and Championship will consist of 10 teams in each league, with promotion and relegation to each league at the end of season, how appealing would this be to you?"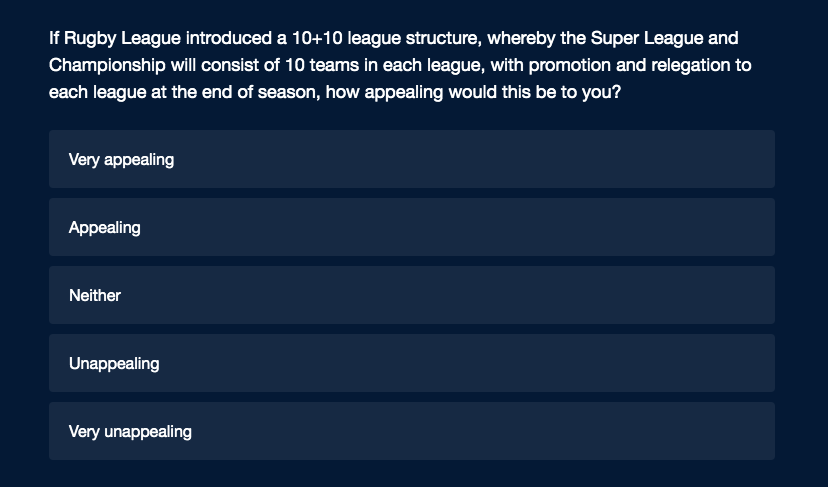 That structural change has been on the tip of peoples' tongues for a number of years now with two divisions of ten teams slowly making its way to the forefront.