It's always the hottest ticket in town, the unique Hull Derby is also one of the most important games in Super League, despite its detractors best efforts to convince people otherwise, which over the years has attracted some of the biggest names in world rugby league, and continues to do so now!
A look at the Hull Derby Hall of Fame reveals names such as Roger Millward, Johnny Whiteley MBE, Peter Sterling, Gavin Miller, Phil Lowe, James Leuluai, Dane O'Hara, Josh Hodgson and many more instantly recognisable names.
These days it has to content itself with names such as Sika Manu, Kane Linnett, Danny McGuire, Jake Connor and tonight again sees the red and white side coached by NRL Grand Final and World Cup winning coach Tim Sheens!
Speaking at a joint press conference this week, Jamie Shaul said: "It's really good to have a game at the end of the week.
"There's only so-much pre-season you can do, your body's sore and you're groaning every day, then the games start coming, and you start enjoying rugby again.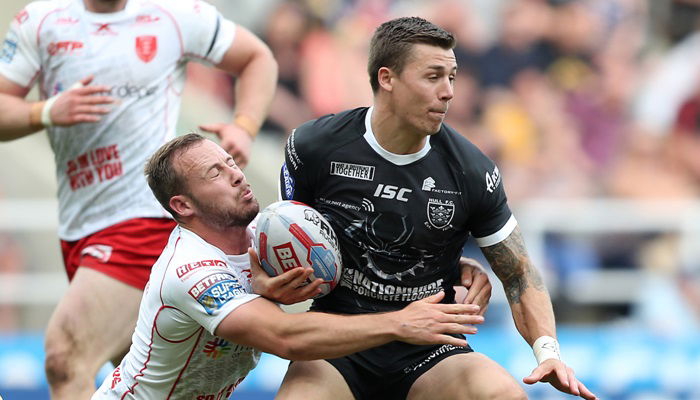 The importance is also not lost on the fullback, to make a good start this year after the trials and tribulations of 2018!
He said: "Last year's behind us now, on Friday night it's a derby and a great occasion for the city, and our fans.
"But at the end of the day we're there for one purpose, and that's to come away with the two points, and get our season up and running, in the best possible way."
So did it change anything in pre-season training, finding out that the first game of the season was going to be a derby?
"Yeah you could say that, you look for when you're going to play Rovers when the fixtures first come out.
"To see them at the top of the fixture list, it makes the hairs on the back of your neck stand up, when you see that's your first fixture."
Speaking to his coach Lee Radford, there certainly is a palpable sense of almost relief to be getting back to the job in hand.
Radford said: "It's been good, exciting, breaking down an opposition, informing your players of where you think they can have some success.
"That's what I love about coaching, and that's what this week has brought."
So what changes have been made in pre-season, especially when they found out that the first match was a Hull Derby?
"The changes that were made in pre-season, were made naturally because of the rule changes, we knew what we were doing, we had pre-planned our pre-season friendlies.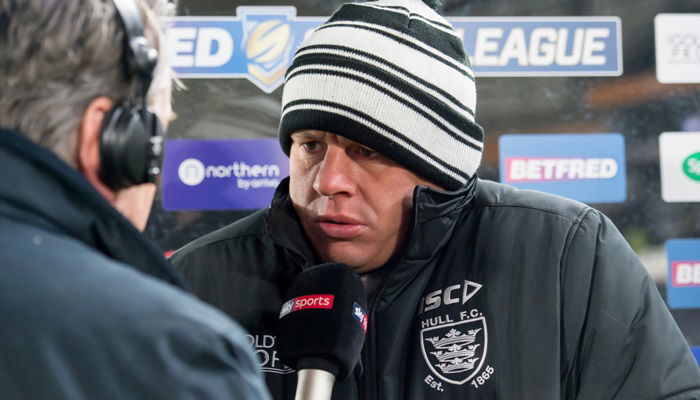 "We had an inkling that we would be playing them, because we usually have a pre-season friendly with them, but we didn't this year."
Has not having first Albert Kelly, and now Jake Connor not available for this game, seen any disruption in the camp
Radford said: "No, I think last year has made us immune to that now. Would I love to have Jake on the field? Yes.
"Is he on the field? No, is it a big chance for somebody else? Absolutely"
With the ban for Jake Connor, for swearing at an official, will either team have any players left the following week after an intense Hull Derby?
"They've set a precedent, I love the fact that we respect officials more than other sports, but as long as they stay consistent."
So how about introducing new players to their first Hull Derby, how does that work?
"There's no initiation period, there's no dip your toe in! You'll know when you walk out for the warm-up, what it is.
"You'll hear it, you hear it on the bus, when glasses are getting thrown at your window, they're wasting a pint for it, you'll know what the derby's about."
On the other side of the fence, as mentioned earlier, is former Australia coach Tim Sheens, who had his first experiences of the Hull Derby last season, which certainly made a big impression on him, even with his wealth of experience.
There is also certainly a concern for him, with a big lack of training time on the KCOM Craven Park pitch, following a floodlight incident, and with covers laid on the pitch, to protect it from the current freeze.
He said: "Getting back to home for the first game will be nice, with a home crowd as well, for what I'm told is a sell-out crowd, will be great."
So how does a Hull Derby compare to a World Cup Final or an NRL Grand Final?
"Obviously the context of a World Cup Final is bigger, because of what it is, but a derby game is always a passionate game.
"For the fans, it's a massive game. Last year they beat us at home with 12 men, but we also went and beat them at their place.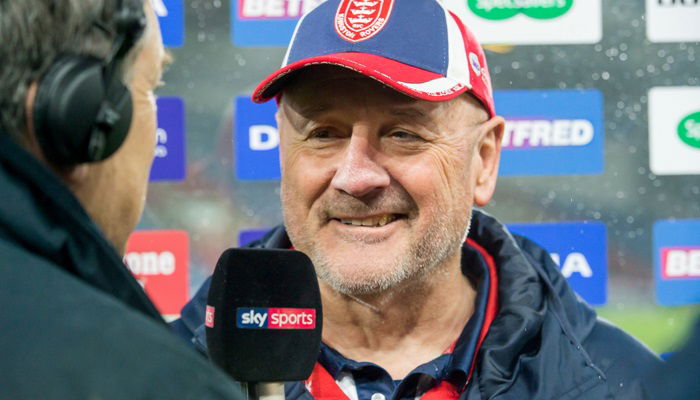 "That was huge for the fans, we took about six or seven thousand, and a lot of them stayed beyond the final whistle to celebrate."
"So yes there is that, there is that special feeling, absolutely no doubt. There are some big games, but inside Hull, as a community, this is as big as it gets."
What does he, as an opposition coach, think about the ban for Hull's talisman Jake Connor, which sees him ruled out of this game?
"It's probably best for me not to comment on this much, but I'll say this! Consistency has to be there, and you have to protect the officials.
"You can't downgrade that, in rugby they are very respectful to their officials, you don't want to see the arguments that go on.
"There's enough pressure in our game, to keep the focus on each other, without involving officials as well."
So does starting with a blood and thunder derby, help prepare his team, for a daunting trip to Warrington next week?
"That's a good question, yes it does, it does! First you get yourself playing up to that level, you get used to that intensity and the latest rules.
"It's a great intensity this week, and I don't think it'll require anymore intensity to play Warrington next week."
All that remains to be said now is, let battle commence!