Following the latest round of Betfred Super League fixtures, the Match Review Panel have issued the following sanctions.
Zane Tetevano (Leeds) – Grade D Strikes with Hand, Arm or Shoulder – Refer to Tribunal
Harry Newman (Leeds) – Grade C Aggressive Behaviour towards Match Official – 2 Match Penalty Notice
Bodene Thompson (Leeds) – Grade B Trips – 2 Match Penalty Notice
Elijah Taylor (Salford) – Grade B Strikes with Knee – 1 Match Penalty Notice
Miteli Vulikjapani (Hull FC)- Grace C Dangerous Contact – 2 Match Penalty Notice
Liam Watts (Castleford) – Grade A Dangerous Contact – 1 Match Penalty Notice
Newman's ban comes in the wake of his outburst at referee Tom Grant as a St Helens man scored on Thursday's fixture against the Rhinos.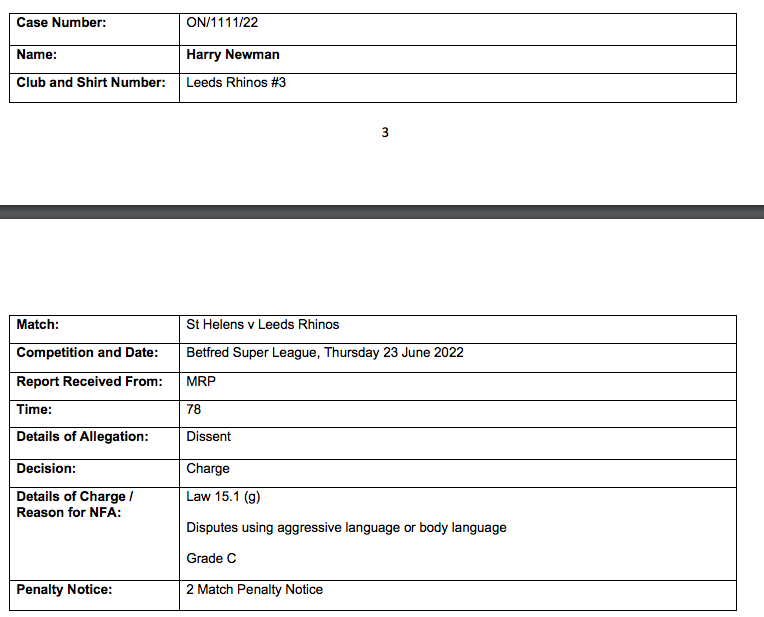 The Disciplinary Match Review Panel's minutes state: "Law 15.1 (g) Disputes using aggressive language or body language Grade C."
It means Newman will miss games against Hull FC and Castleford Tigers with the latter at the Magic Weekend.
The centre has only just returned from a horror hamstring injury, but he showed his class against Saints despite the poor result with a try that only Newman could have scored.
Stepping inside, the England hopeful skipped past numerous defenders before putting the afterburners on to race under the posts.
Of course, it mattered little in the context of the game, but it was another feather in Newman's potential international cap ahead of the World Cup at the end of the year.
Newman will have to compete alongside Mark Percival, Reece Lyne and Herbie Farnworth for that centre spot in Shaun Wane's squad.