Following the success of the 2017 Rugby League World Cup, calls are growing louder to have more internationals, and not just waiting every four years for the World Cup to come around.
Tonga's fairytale run to the Semi Finals was the story everyone was talking about the whole tournament, and could have been playing in the final at Suncorp, falling just short of a miracle come from behind win against England.
Nations such as Australia, New Zealand and England play internationals on a regular basis, but the other nations we need to see more of.
There has been talk of an annual New Zealand v Tonga test each year, at either Eden Park or Mount Smart Stadium, but considering Hamilton's Waikato Stadium was a sell out during the World Cup, people wouldn't be disappointed if they held it there.
Teams need that time to get combinations going and to gel as a group. For the good of the game, we need to see more internationals between the lesser know nations. This, I believe will reduce the gap between the top three of Australia, New Zealand and England.
We saw a few upsets in the World Cup that we probably wouldn't have picked beforehand, with New Zealand becoming the first top tier nation to lose to not one, but two second tier nations, going down to Tonga 28-22, and also falling to Fiji 4-2, in a tryless Quarter Final.
Lebanon also had a memorable run in their first World Cup since 2000, and recorded their first ever win, beating France 29-18. Brad Fittler did a remarkable job, with a team mostly made up of park footballers, but were led by the experience of NRL Players, Robbie Farah, Mitchell Moses, Tim Mannah, Michael Lichaa and Alex Twal.
Port Moresby was always rocking and that experience looked like something special for PNG. Hosting their first World Cup matches at home, the Kumuls thumped both USA (64-0) and Wales (50-6), while also narrowly overcoming Ireland (14-6).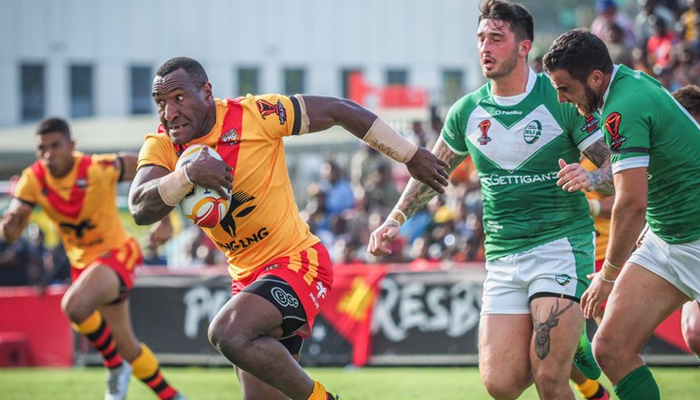 Ireland were the surprise packets of the tournament, thrashing the highly fancied Italy 36-12 and also their bitter rivals Wales 34-6. Usually with two wins, you'd think that would be enough to get you a spot in the Quarter Finals, but due to the system of this World Cup, where the first three from Pools A and B qualify, and only the top team from Pools C and D progress, the Irish can consider themselves hard done by, considering Samoa qualified, despite failing to win a game, scraping through with a draw over a depleted Scotland side.
There were many calls for this to be changed before the 2021 World Cup, where the top two teams should move to the next stage. We will now see 16 nations by the time of the next tournament.
In rugby union, they have the successful six nations tournament. I think the RLIF should really consider doing this for our game. For example, teams in the northern hemisphere and UK, you could have England, Scotland, Ireland, Wales, France and Italy. In the South I think it could work too with Australia, New Zealand, Fiji, Samoa, PNG and Tonga.
The RLIF would be silly not to consider this as our game is on the brink of great things. We need rugby league to grow in all parts of the world and for that to happen we need more international matches, involving as many nations as possible!