After an offseason that NRL CEO Todd Greenberg described as a train wreck, the NRL has responded strongly attempting to win back trust in the game and get the NRL back on track. Sick of being railroaded with headline after headline of bad news, a conga line of players walking in and out of court and treated like a soft target, constantly embarrassed by poor player and club behaviour, the NRL has reacted with venom. Greenberg, now given new discretionary powers by the ARL Commission has been armed to act and has pulled the guns out of the holster blasting suspensions and fines with an accuracy, firmness and fairness that was required for the game here to start the long haul back to credibility.
Rugby League Central last week introduced a 'No-Fault Stand Down policy' for players charged with serious criminal offences in the wake of the outcry over Jack de Belin's aggravated sexual assault charges. The criminal offences that apply to this policy are for players charged with an offence that carries a maximum jail term off 11 years or more. Though de Belin has pleaded not guilty he is the first player to be stood down under the new policy until the court case is completed. Under this new policy de Belin can still train with his team mates at the Dragons on full pay.
The tightrope the NRL is walking here is implementing strong policy without prejudicing the case, de Belin is innocent until proven guilty not the other way around and the danger is de Belin being cleared in court after losing a fair chunk of his and the Saints season. While the Dragons have accepted the NRL decision they are far from happy about it. To be fair the NRL needed to show it is serious about shaking the sagging community attitudes towards it and have shown Greenberg has the backbone to make tough decisions. A day after the de Belin decision Greenberg reloaded the chamber and fired off a raft of fines and suspensions no doubt aimed to deter players and clubs to think twice about making poor choices, in fact just think. Basically, behave or beware! There will be serious consequences.
Here is Greenberg's hit list of players and clubs:
Jack de Belin (St George Illawarra Dragons) stood down until the court case is completed.
Dylan Walker (Manly Sea Eagles) charged with common assault of his fiancee last December has been stood down until his court case is completed.
Tyrone May (Penrith Panthers) banned by the National Rugby League after being charged by police for his alleged role in leaking sex tapes.
Shane Flanagan (Cronulla Sharks) registration cancelled for breaching conditions during his 2014 suspension by contacting the Sharks.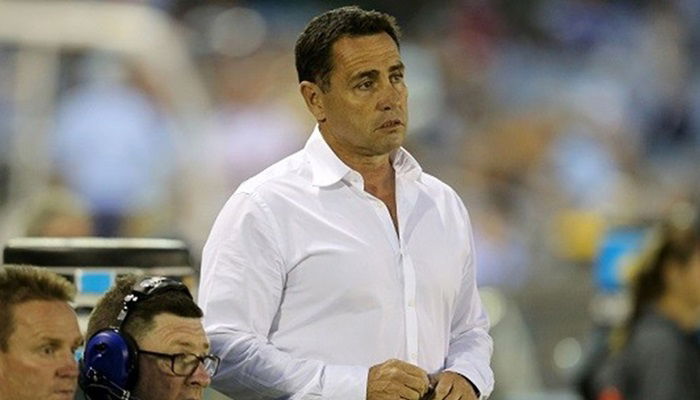 Cronulla Sharks fined a total of $1.25m ($500k suspended) for salary cap breaches and continuing to be in contact with Shane Flanagan in 2014. Penalised $707k on the club's salary cap spread over the next two seasons (2019-20). Sharks CEO Barry Russell self-reported a breach and a little more was uncovered than Russell realised. Not sure how many clubs will self-report in the future, probably as many as dodo eggs on the supermarket shelf I'd imagine. At least the 2016 premiership is safe as they were salary cap compliant that season.
Wests Tigers fined $375k for failing to disclose an ambassador agreement with one of the club's favourite son's hooker Robbie Farah. Also whacked with a $639k salary cap penalty spread over 2019-20 and CEO Justin Pascoe suspended for six months, backdated to December 19, 2018.
Scott Bolton (North Queensland Cowboys) suspended for 10 weeks and fined 5 per cent of his salary after pleading guilty to common assault involving a woman last year. At the request of the NRL Bolton has agreed to address to all players during the Magic Weekend in Brisbane which has meant his suspension has been halved.
Dylan Napa (Canterbury Bulldogs) fined 10 per cent of his salary for this season after the 'Big Papi' videos were leaked, filmed during his time at the Sydney Roosters. The NRL has deemed a fine is the appropriate penalty as if it had suspended Napa, the NRL is concerned other videos recorded in the past, and chances are there will be, may surface at targeted times to put players out of big games. Any videos recorded from this moment will be at the mercy of Greenberg's discretion. My advice is put it away and don't press the red button lads. The Penrith Panthers five-eighth Tyrone May has become embroiled in the latest video doing the rounds and was pulled out of the Panthers final trial game against the Parramatta Eels on the weekend. Greenberg's response will be interesting and don't suspect leniency to be shown.
Sex, lies, and videotape has been the horror movie unfolding before our eyes, the NRL has had enough and any player or club who overstep the law, community standards or NRL policy can expect to have both barrels directed at them. Let's hope the start of the season on March 14 is the heralding of a new era in rugby league in Australia as the NRL cannot afford another summer like the one we've just had burnt into our retinas, sponsors and society won't stand for it. A hard line has been drawn in the sand with each club and every player on notice.