Today we're picking a team of the best players to pull on a Great Britain jersey since 1990.
It will focus on international performances over the last three decades that have featured the Lions only, and not England. Here are our choices…
Full-back: Kris Radlinski
Wigan legend Radlinski proved to be sheer quality on the international stage making over 30 representative appearances, 20 of which for Great Britain. His debut came as a 20-year-old in 1996 and his Lions career would go on to last nearly a decade. His long run in the side is made even more impressive given the competition he had for in the full-back, especially from the likes of Paul Wellens.
Wingers: Jason Robinson and Martin Offiah
It really wasn't hard when it came to selecting the wingers in this side, given the quality of these two Wigan flyers. Robinson was prolific for club and country, notching 8 tries in just 12 appearances for the Lions. Offiah meanwhile rightly sits in the Rugby League Hall of Fame. The speedster scored 26 tries in only 33 games and is one of the greatest players ever to pull on the Lions jersey.
Centres: Paul Newlove and Keith Senior
Like many in this side, Newlove's Great Britain career impressively lasted for nearly a decade. The three-time Super League champion made 20 appearances for Great Britain, notching nine tries. Like others in the side, he burst onto the international scene at a young age winning Great Britain caps in 1989 at the age of just 18, before being included on the tour of Australia and New Zealand three years later. Alongside Newlove at centre is Keith Senior. Unquestionably a Super League legend, the unstoppable centre should also be considered a Great Britain great having given 11 years of service to the side. Senior scored 12 tries in 33 appearances and was also part of the last GB side to topple Australia in 2006.
Halves: Garry Schofield and Sean Long
One of the most natural talents in Lions' history is undoubtedly Garry Schofield.  His place in the Rugby League Hall of Fame is testament to that, having consistently produced the goods at international level through the 80s and 90s. His 46 international caps has yet to be topped and in those appearances he racked up an impressive 31 tries. As mentioned, Great Britain's last win over Australia was all the way back in 2006 and the mastermind of that famous night in Sydney was certainly Sean Long. Another successful Super League player with four titles to his name, he was also a mainstay in the Lions side at the turn of the century. 'Longy' made 15 appearances for his national side and scored 45 points in a decade-long international career.
Props: Adrian Morley and Jamie Peacock
It was impossible to look past these two at prop. Morley's international career is perhaps best remembered by one infamous moment, but that can't overshadow what he achieved for the Lions. He was always a player the Aussies respected, especially given his success in the NRL, ending his 16-year GB career with 16 caps. Much like Morley, Peacock gained huge international respect, and that came without playing his club career down under. 'JP' made 26 appearances for Great Britain over 11 year and captained the side to victory over Australia in 2006 – flooring Willie Mason in the process.
Hooker: Kerion Cunningham
The epitome of St Helens' golden age and for a whole decade Great Britain's go-to number nine, Cunningham had to be in this side. The five-time Super League champion received 14 caps for Great Britain and could control a game with his vision and knowhow. The Welsh international probably didn't produce his very best for the Lions, but was still a top quality international hooker.
Second-rowers: Andy Farrell and Paul Sculthorpe
These two former GB captain oozed quality. With four Man of Steel awards between them, they naturally became mainstays in the Great Britain team. Farrell made 34 appearances in the Lions shirt and scored over 100 points in an 11-year stint on the international stage. Meanwhile, Sculthorpe's Great Britain career lasted 10 years and included 26 caps, five tries, three goals and two drop-goals as he proved to be an important asset to the side.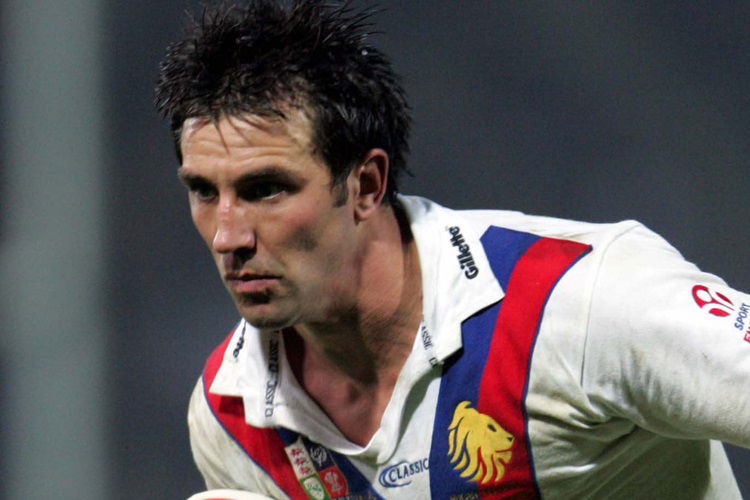 Loose-forward: Ellery Hanley
The three-time Man of Steel winner was in a class all on his own. Hanley was perhaps the best player in the world and that translated to the international stage too as he made 36 appearances for Great Britain and scored an impressive 20 tries. He dominated the domestic competitions in England and Australia and was the star attraction of international rugby league for some time. There have been few better players to pull on that famous white, blue and red jersey and it's unlikely we'll ever see a player of Hanley's quality again.