Gareth Widdop has been in Australia since the end of the 2021 Super League season as he spends Christmas with his family.
Whilst he continues training to keep up his fitness in the off-season Down Under, Widdop has also spent time doing some community work with the Clontarf Foundation.
According to the Foundation's website, the charity not-for-profit organisation exists to improve the education, discipline, life skills, self-esteem and employment prospects of young Aboriginal and Torres Strait Islander men and by doing so equips them to participate more meaningfully in society.
But, Widdop shared something that he labelled "an eye opener" after a harrowing incident on the streets.
The Warrington halfback posted: "Today has been one hell of an eye opener getting out and about in the community with these young men, this morning after doing role (sic) call at school the lads noticed this kid and his brother weren't at school the loads noticed this kid and his brother weren't at school so we hoped (sic) in car, took some breaky for them and drove to their house to give them a lift so they would go to school crazy to think these two young boys were at home having to fend for themselves at such a young age.
"The best thing about it and what my job has given me is to see that kids face smiling away from not wanting to go to school to getting them up and at it giving them some positivity and motivation.
"A lot of these kinds don't have father/mother figures in their lives and role models to look up to and are passed around from home to home so to be able to give back to these kids and see them smiling and happy is an unbelievable feeling especially when times are tough."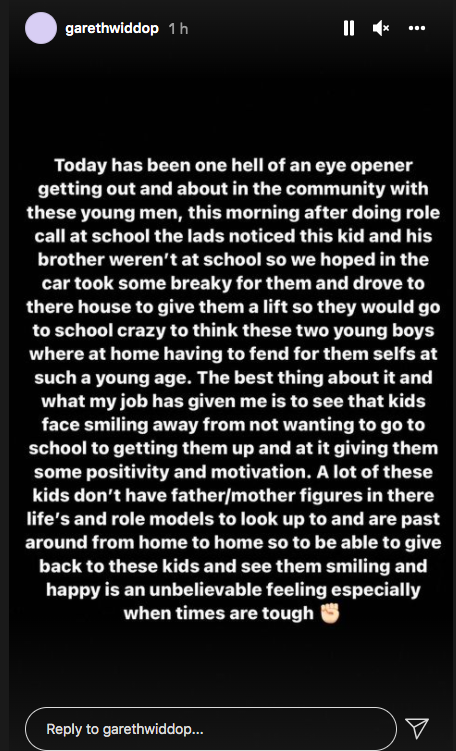 Widdop himself had to spend most of the 2021 Super League season without his family who were back in Australia, but continued to excel in a Warrington shirt to a point at which he was even nominated for the Man of Steel award.
On the field, it was also difficult for the former St George Illawarra Dragons playmaker as he had to strike up a brand-new partnership with George Williams midway through the season.