McDermott still undecided on fullback
Leeds coach Brian McDermott seems to still be mulling over his line-up, with the fullback position the toughest to call. Both Ashton Golding and Jack Walker have been given opportunities throughout pre-season to stake a claim for the spot, with Friday's loss to Featherstone being their last chances.
It's a similar dilemma to the end of last season, when Walker eventually got the nod to play in the Grand Final. It should be his teammate this time round, however, who starts at the back this coming week. Having watched the Rhinos throughout pre-season, Golding looks the more confident and determined. Walker may just be taking it easy after his whirlwind 2017, but any complacency will soon be shrugged off once the season starts.
Two in for Toronto
After losing three big name forwards last week, the Wolfpack have started to fill the gaps, bringing in prop Jack Buchanan and outside back Nick Rawsthorne. It's a great move for Buchanan, who has been searching for a club since leaving Widnes at the end of 2017, but I can't help thinking it's an odd decision from Rawsthorne.
He was a fringe player at Hull but was certainly rising up the pecking order, even earning a top 20 squad number for this season. He's made the move to Canada for more game time but still has plenty of established three-quarters in front of him, including Liam Kay, Adam Higson and Greg Worthington. So really, he's in no better position than he was at Hull, just a league below. Seems the Wolfpack's novelty is still very appealing.
Betts to back youth
Many have predicted Widnes to finish bottom this year, but Denis Betts is backing his side to feed off the enthusiasm of their young players. The likes of Matt Whitley and Danny Walker are having an increasingly strong effect on the team – Whitley especially – while the club's latest batch of young stars are starting to roll off the production line.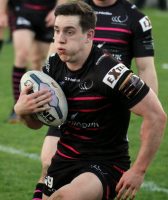 The Chapelhow brothers both came to the fore last year, while there were also debuts for young forwards Owen Farnworth and Liam Walsh, who have been rewarded with first team places for 2018. One youngster yet to make his mark, though, is fullback Olly Ashall. The 21-year-old missed most of last year with a serious knee injury but has impressed in pre-season and will be pushing Rhys Hanbury for a starting spot. The Vikings may not set the world alight this year, but they won't go down without a fight and Betts' decision to back the youth could pay dividends.
KR still looking to strengthen
There's still one big question surrounding KR's line-up ahead of this week's Super League opener – who will partner Danny McGuire. Tim Sheens has made no secret that he is still in the market for a halfback, with Rob Lui being his latest failed target.
It's looking like youngsters Matty Marsh and Chris Atkin will have to do for now, but if last year is anything to go by, Sheens isn't shy when it comes to making mid-season transfers. There aren't many players available – Josh Drinkwater is the only one that comes to mind – but as the season goes on, there will undoubtedly be players looking for different clubs in search of game time. It looks, therefore, like Rovers fans will have to wait for any new additions.
Disabled rugby league making huge strides
This Sunday will see history being made in Warrington, with the first ever Physical Disability Rugby League match in England set to take place. The Wolves' side, created last year, will take on Leeds Rhinos at Victoria Park's Asics Stadium.
Comedian and TV presenter Adam Hills will turn out for Warrington, after helping to launch the side back in October, while his Last Leg co-star Alex Brooker will be supporting the Rhinos. Not only is it superb to see the game being launched but having two celebrities who have done wonders for the promotion of disability sport on board is an awesome achievement. Hills in particular seems very enthusiastic and, as the video below shows, he's already got ideas of how to grow the game.
So if you're free on Sunday afternoon, go down and show your support, it would be great to see a big turnout.