Bunny loses a finger
South Sydney rookie Angus Crichton hit the news twice this week, but one story was certainly more bizarre than the other. Following the news that he'll be joining the Sydney Roosters in 2018, it also came to light that the back rower had a finger amputated in order to avoid missing the first three months of the season.
Some call it stupid, some call it commitment. I call it good publicity. After switching to his side's arch rivals, Crichton needed some positive coverage to get the Bunnies' fans back on his side ahead of 2018, although getting your finger chopped off is certainly a drastic way to do it!
All change on the board
It was good to see the Super League board change it's structure last week. The continuously unpopular Nigel Wood left, paving the way for each SL team to have it's own board representative. It's hoped this will give clubs a louder voice when it comes to making crucial decisions about the game, but it could also spark some serious disagreements.
As for Wood, he is still chief executive of the Super League body but it's hoped this may be the beginning of the end for him. Since taking over in 2007, he has come under heavy criticism from fans, with a 'vote of no confidence' petition even set up last year. The numbers don't lie and in his 10-year tenure, attendances have dropped heavily, as has player participation. It's extremely questionable whether or not he has the game's best interests at heart, but a new face with fresh ideas certainly wouldn't go a miss.
Burnham takes over
Speaking of fresh faces, Andy Burnham has been named the new RFL president. He's a former sport secretary and current Mayor of Greater Manchester, so has promising leadership credentials.
How much he knows about the sport and its structure is yet to be seen, but being a former Leigh MP it's highly unlikely that he doesn't have at least a fans' perspective on the game. With that in mind there's a good chance he'll be a huge success if he takes a lot of the fans' views and opinions into meetings with him.
Hayne could be in hot water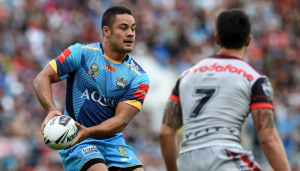 Fiji and Parramatta star Jarryd Hayne has been accused of rape while playing American football for the San Francisco 49ers, an accusation that could threaten his career and livelihood. The 29-year-old is currently on a religious holiday in Israel but will likely face a court case when he comes back and miss the start of the 2018 season.
Whatever the outcome, this is sure to seriously harm Hayne's reputation, which is a huge shame given that he's one of our game's biggest talents. While I'm not endorsing what he may or may not have done, the words 'innocent before proven guilty' should be the approach everyone takes when commenting on this case, and not the other way around.
Rugby league is back!
The three weeks since the World Cup finished have felt like an absolute lifetime, so having rugby league back on boxing day was a huge relief. There were four games in total, with two featuring Super League sides. Leeds beat Wakefield 17-10 in a hard-fought game, while a youthful Castleford team fell victim to Featherstone, losing 32-16.
As ever, the festive games uncovered some hidden treasures, none more so than Featherstone trialist Gareth Gale. The 24-year-old scored a superb solo try and put in a solid performance, as he looks to impress John Duffy and hopefully earn a contract. Elsewhere on boxing day, Bradford beat Halifax 22-6, while Batley were victorious in the Heavy Woollen derby, defeating Dewsbury 28-16.