Valentine's Day
Roses are red, violets are blue, Holmes has just scored 11 in two! The Kangaroo winger ran in six tries against Fiji on Friday, beating the World Cup record he set just seven days before. It's a remarkable feat that's left many asking where on earth he came from.
Holmes only made his international debut a year ago and is leading the new generation of Kangaroos. Fellow outside back Dane Gagai has impressed, while Michael Morgan looks like the perfect candidate to replace the retiring outgoing Jonathan Thurston. Mal Meninga's new blood have had no issues so far, but will they be able to live up to expectations in the final?
A game of inches
So was it a try or not? Andrew Fifita's last-second effort certainly caused plenty of controversy, with plenty thinking the Tongans were hard done by. I'm one of them. Elliott Whitehead stripped the ball one-on-one, before Fifita regathered and grounded it. By the letter of the law that's a try and had Matt Cecchin sent it to the screen, the game could've had a very different outcome.
Regardless, England can't afford lapses in concentration. If we do that on Saturday Australia will steamroll us. A full 80-minute performance is the least we need to stand any chance of beating the Kangaroos.
Our subs hold the key
England's bench was sensational against Tonga. Wayne Bennett has found the ideal impact players we need and they all did their jobs on Saturday. Ben Currie more than held his own, while Roby was outstanding yet again. He will, however, have a bigger role to play on Saturday in Josh Hodgson's absence.
The really impressive duo, though, were Tom Burgess and Alex Walmsley. As far as forward subs go, you can't really get much better than the former Dewsbury amateurs. Burgess was producing big hits left right and centre, whilst Walmsley ran hard and proved why he's in the side. Our rotations will be a big factor in the final and could prove the difference.
Jillaroos and Ferns to clash in final
The Women's World Cup Final will play as a curtain-raiser to the men's game, but will in no way be a tame contest. Both Australia and New Zealand have formidable squads and have been the standout teams, racking up some huge scorelines along the way. They're also yet to face each other at the tournament and so will be chomping at the bit to get out there.
Kiwi winger Honey Hireme will be looking to extend her try-scoring record, after grabbing 11 in three games, while powerful prop Lilieta Maumau will lead the forward pack. In the Jillaroos side, keep an eye out for crafty halfback Ali Brigginshaw, as well as experienced backrower Kezie Apps. Ruan Sims, sister of Ashton, is also their vice-captain.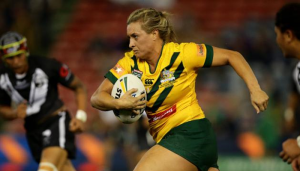 England women can hold their heads high
While we may not have reached the final, our girls can take pride in the way they performed. They only came away with one win but certainly left a lasting impression and now have something to build on for the 2021 tournament. Amy Hardastle's full-length try against PNG was certainly a standout moment.
The players themselves will come back to England with a handful of good experiences and will essentially spearhead the expansion of the women's game in Britain. Leeds, Wigan, Widnes and St Helens will all enter the women's Super League in 2018 and with others set to follow suit, it's becoming more and more competitive. With a bigger player pool in 2021, we should come much closer to reaching a World Cup final.
Credit: NRL Photos