England still look shaky
The score may have looked convincing, but our win over PNG was far from it. England's performance was enough to beat PNG and probably Tonga next week, but we'll have to seriously up our game to stand a chance against Australia.
To put it simply, we need to cut out the errors. We spilled the ball 20 times, while our completion rate was a mere 56% – way below the standards we should be setting ourselves. Other than that, signs were positive. Gale and Brown (when he was on) looked settled in the halves, while Hodgson and Roby interchanged well. Our threequarters were also as impressive as usual, with Widdop's shift to fullback proving a masterstroke. There's still a long way to go but we're well in with a chance if we tidy up our game.
Australia still the benchmark
Did you know that in Australia's last nine World Cup games, they've only conceded two tries. What a staggering fact that is. If any statistic proves that defence wins games, it's this one.
Combine this pure resilience with the sheer quality of their attack and you're asking the question – how do you beat them? It's looking likely that England will face the Kangaroos in the final, with the positive being that we scored one of those two tries only a few weeks ago. It shows they aren't indestructible, it's just breaking them down on numerous occasions that's seeming the problem. Mal Meninga will be hoping his side keep up their impressive record against Fiji next week but as they showed on Saturday, the Bati are no slouches themselves.
Fiji mean business…
Well no one expected that! Fiji trumped Tonga's victory last week with their own monumental triumph over the Kiwis. Captain Kevin Naiqama's interview afterwards will go down as one of the defining images of the tournament, with the emotion he showed being a representation of his entire nation.
While they may not be the most skilful, Fiji play with more heart than anyone else, which is what makes them dangerous. Their desire to work for each other makes them so tough to break down, while their attack is driven entirely by grit and determination, often leading to points. They're obviously huge underdogs against Australia, but how good would it be to see a World Cup won by faith and sheer persistence?
…But New Zealand need a serious re-think
New Zealand Rugby League has hit an all-time low. Tonga and Fiji earned their wins over the past couple of weeks, but the Kiwis have been a bitter disappointment. Their performances were lacklustre and showed no conviction but the most disappointing part was the lack of pride, summed up by Adam Blair's interview following Saturday's defeat.
He effectively shunned his side's poor performances and didn't seem bothered that they'd just been knocked out of our biggest international competition. It's as if the Kiwis have treated this World Cup as just another set of fixtures, as opposed to a huge opportunity to become world no.1. They should take a leaf out of Naiqama's book, for example. If they showed even half of his passion then things would drastically improve.
 Lebanon just come up short
Lebanon were so close to a semi-final! In the weekend's second surprise result, the Cedars pushed Tonga close, only losing by two points in what most were expecting to be a one-sided contest. There's plenty of positives to be taken from their campaign, not least that the game in Lebanon will undoubtedly skyrocket in popularity.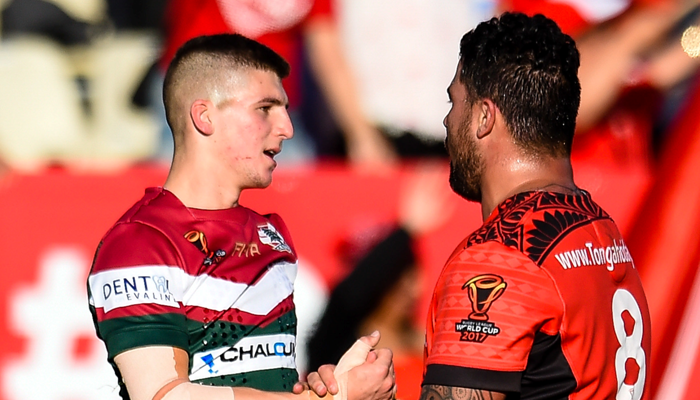 By the next World Cup expect the Lebanese side to feature plenty more NRL stars, as well as a good mix of homegrown talent. Among the NRL contingent should be players like Adam Doueihi and Abbas Miski, who've both played exceptionally and deserve first grade shots. Next up for the Cedars is the Pacific Test against PNG next year, which is another huge chance for them to build on their impressive WC showing.
Main Photo: Daniel Carson/SWpix.com/PhotosportNZ