Leeds defy the odds… again
There was a sense of déjà vu about Saturday's Grand Final. The Rhinos went into the game as complete underdogs but came out and proved everyone wrong, a story we've heard so many times. Their 2011 and 2012 triumphs from 5th spring to mind, as do the 2007 and 2008 titles, where they beat bookies' favourites St Helens.
This year was yet another dominant Old Trafford display from Brian McDermott's men, as they constricted the Tigers' attack and really made them work in defence. Admittedly, it wasn't Castleford's best performance by a long stretch, but the game still took some winning. I guess it was experience that paid off in the end. Leeds know how to win Grand Finals, whereas Cas were like rabbits in headlights, stunned by the occasion. It's safe to say the best team won on the night.
Rhinos will miss their legends
Danny McGuire was immense on Saturday night. He's faced much criticism over the past few years but has finished his Leeds career on a high, playing some of his best-ever rugby in his final season at the club. Rob Burrow's role was more of a cameo, coming on for the last 15 minutes when the game was well-won, but his contribution to the club is another that can't be understated.
Hull KR-bound McGuire completely controlled the game from minute one. As well as the big plays, his two tries and try-saving tackle on Greg Eden being the standouts, he constantly motivated his troops and kept heads up when Castleford put on a bit of pressure. He showed how much he has stepped up and become a much-needed leader within the squad. Brian McDermott's job now is to ensure his side don't endure a repeat of 2016 next year, with the club again losing such influential players.
Ward is a warrior
Stevie Ward completely embodies what Leeds have been about over the last two years. His story of injury, despair and depression has been well documented, so it was heartbreaking to hear that a dislocated shoulder was to keep him out of the GF at the start of last week. Fast forward to Thursday and Ward, like the true warrior he is, declares himself fit to play. Outstanding.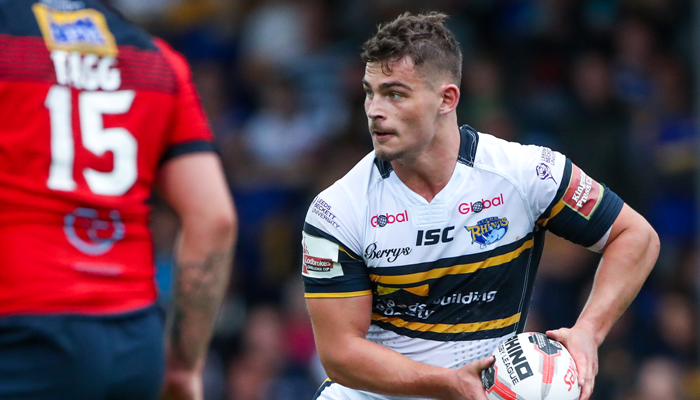 I think the mental toughness he shows comes from the experiences he's been through. Missing the 2015 Grand Final and almost all of 2016 simply made him hungrier, and I genuinely believe he's one of the most headstrong people in the game today. There's much debate as to who Danny McGuire's successor as captain should be but for me, Ward is a ready-made leader and should be the only candidate.
Cas can hold their heads up high… but Hardaker should be shaking his
So it wasn't the fairy-tale ending for Daryl Powell's men. Regardless of the result, 2017 has still been Castleford's most successful season to date. They topped the table by a considerable distance, winning the League Leaders' Shield, and made it to a Grand Final, a huge step forward from a team that was only promoted 10 years ago. While they didn't get the grand prize on Saturday, there's no need for Cas fans to worry, I'm sure the good times won't be ending anytime soon.
As for Hardaker, I hope they throw the book at him. To let down his teammates, coaches and fans at the most important time in the club's history in the way he did is an absolute disgrace. He's had way too many chances and simply hasn't learnt from his previous mistakes. What his future holds at Cas, or as a player in general, is yet to be seen but there's only so many times you can expect to get away with acts of such stupidity.
Bennett surprises with England squad
Wayne Bennett released his England World Cup squad today, and it wasn't without its fair share of surprises. Jonny Lomax, Kevin Brown and Ben Currie were the main shock inclusions, while there were no places for George Burgess or Sam Tomkins.
I'd have liked to see Paul McShane receive a call-up. McShane has had an exceptional season and would be a great back up to Hodgson. On a positive note, both Alex Walmsley and Scott Taylor made the cut after great seasons with St Helens and Hull respectively.
All smiles for Bradford ladies
Ok, so technically I'm cheating by adding a sixth point, but I think these ladies deserve a mention. Bradford Bulls' Ladies won the first ever Women's Grand Final on Saturday afternoon, beating Featherstone Ladies 36-6 at the Manchester Regional Arena.
The game is a great step forward for Women's Rugby League, which is growing rapidly around the UK. The women's competition is still in its early days, but I'd love to see future finals played as a curtain raiser to the men's one to give the women's game even more exposure.