Finals footy never fails to impress
What a weekend of Rugby League. We were treated to two sensational semi-finals and a momentous Million Pound Game, each full of passion and emotion. As ever, there were the obvious winners and the unfortunate losers but this weekend's fixtures were the kind of games that need to be used to showcase our sport.
The full 80 minutes of both semis were full of top class skill and entertainment, while the peril and desperation of the Million Pound Game is unlike any other event in world sport. My only criticism is the length of our finals series. For me it's the most exciting part of the season, so having more than just two rounds of finals would spice up the competition even more.
Cas are favourites but don't write off the Rhinos
The whole of this week will obviously centre around the Grand Final, but boy is it hard to call! On the back of their most successful season yet, the bookies will back Daryl Powell's men. They've played a brand of rugby that no team has really been able to contain all season, with the combination of McShane, Gale and Hardaker proving particularly dangerous.
Leeds are no strangers to being underdogs, however, and have proved pundits and journalists wrong on countless occasions. Look no further than their 2011 and 2012 Grand Final triumphs, where they won it from fifth despite plenty of scrutiny in the build-up. Both sides come into the game on the back of some strong performances but in a match like this, all form goes out the window. Ultimately it comes down to flare vs experience, so may the best team win.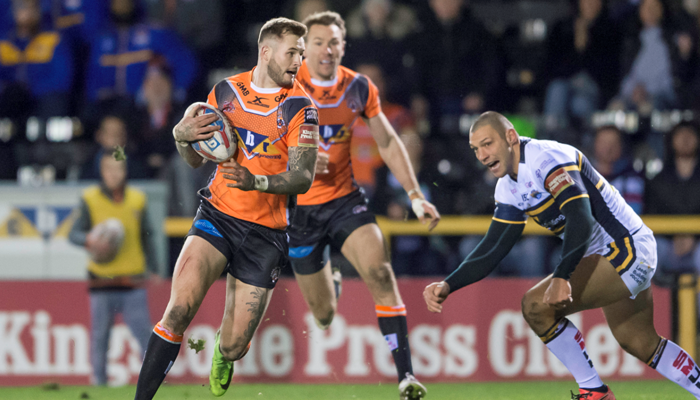 Powell and McDermott face selection dilemmas
Squad depth has been key in both sides' road to Old Trafford, but Saturday's line-ups could be the coaches' hardest decision of the season. Cas have had a generally settled core all year, with minimal changes in key positions. The only change could be Oliver Holmes coming back if he's fit, but it's a harsh call on who he'd replace.
As ever, McDermott will remain coy on his selection until gameday. There's a big job in the Leeds pack to fill Stevie Ward's shoes, after the back rower was ruled out with a dislocated shoulder. Most intriguing, though, will be the Rhinos' fullback selection. Do they go with an inexperienced but exciting 18-year-old in Jack Walker? Or with defensively sound Ash Golding, who may be challenged more by Gale's kicking game?
The 19-man squads released on Wednesday will give some indication as to the coaches' choices, but it will be interesting to see who makes the final 17s.
Storm send Cronk off in style
For Melbourne fans, Sunday's Grand Final win was perhaps quite bittersweet. Craig Bellamy's side secured the NRL Premiership, beating off a weakened North Queensland side 34-6. But the game had quite a sombre undertone with Cooper Cronk playing his last game for the club, while fellow legend Billy Slater is also yet to decide his future.
The two, along with captain Cameron Smith, have become the core of the team for the past 13 years so the potential departures will leave a huge void within the side. I guess the blow is cushioned somewhat by the emergence of young Cameron Munster. The 23-year-old full-back or half has come on in leaps and bounds this year, starring for Queensland in Origin and putting himself in contention for a World Cup berth. The Storm are never sparing in young talent, so while they may be losing at least one legend I'm sure the next Cooper Cronk will be coming through the ranks.
Barrow get promoted
The Raiders secured a richly-deserved return to the Championship on Saturday, beating Whitehaven 10-6 in a real nail-biter. Since their relegation in 2014, Paul Crarey has rebuilt his side into the dominant outfit in Cumbria, using players with experience from across all three professional leagues.
They follow Toronto into the Championship next year but will likely have more realistic ambitions than the Wolfpack. Survival will be the prominent aim in Crarey's mind but he's always keen to push his team further, so I can easily see them causing some upsets in 2018.