Cas win the league
First of all, I think congratulations are in order for Castleford, after they sealed the League Leaders Shield on Thursday night. Daryl Powell's revolution has hit new heights this year, with the Tigers' quick and expansive style allowing them to run rings around defences. The important question is, though, can they keep it up?
Castleford have had few poor spells in 2017, losing just three league games all season. They've had a couple of off games but have been pretty consistent overall. With the season now reaching its business end, though, it will be interesting to see whether or not they can keep up their good form, especially with the likes of Leeds and Hull both eyeing up Old Trafford appearances as well. They get a week off to enjoy their achievement now, but will have to come back focused and ready to fight for the title.
Leeds bid emotional farewell
Friday gave Leeds a chance to say goodbye to their beloved South Stand, which is to be knocked down and rebuilt. The famous terrace has seen many a classic encounter over the years, however, neither the Rhinos nor St Helens were able to put on a display that lived up to the occasion.
The game was riddled with errors while neither team looked particularly threatening for most of the night. Regardless of the game, the Rhinos put on a great evening; selling souvenir programmes, having Ronnie Rhino abseil down the stand and inviting a whole host of former players to bid their own farewells. I think it's safe to say that the South Stand created one of Rugby League's most sensational atmospheres on a regular basis and it's a real shame that it won't be experienced ever again. So farewell South Stand, thanks for all the memories.
Wigan hitting the straps
If ever there was a time for Wigan to step up their game, this would be it. The Challenge Cup Final is just days away, but the Warriors' dominant performance against Salford on Friday will be sure to fill them with confidence.
They destroyed the Red Devils 42-6, with Joe Burgess grabbing two tries and showing glimpses of the form that won him a place in the 2015 Dream Team. Unsurprisingly, George Williams also got a try in the win and I think he could be the difference in Saturday's final. His balance and vision will be sure to cause Hull problems, while he can change the game at the drop of a hat. His and Albert Kelly's battle will be an exciting one to watch.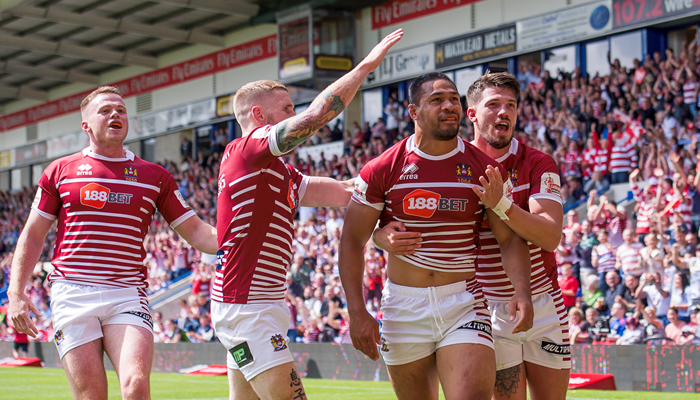 Catalans in serious trouble
Before this weekend, many would have had Leigh pencilled in as the Super League team most at risk of relegation. But after their convincing defeat of Catalans on Sunday, it seems to be the French side now facing the drop.
Steve McNamara's men have just one win to their name in the Qualifiers so far, which came in a tight, two-point contest against Championship London. A thrashing by Warrington and this weekend's big loss shows that things aren't getting any better for the Dragons. It's a mystery as to where the problem lies, as they've got plenty of talent players and a good coach, although they do seem to be lacking any kind of attacking 'spark'. Next up for Catalans is Halifax, but they will again be a tough test, especially on the back of an impressive display against Warrington.
'Fax push Wolves close
As I just mentioned, Halifax deserve plenty of plaudits after their gutsy effort against Warrington. They were in the game for most of the afternoon, but a late blitz from the Wolves saw them run out 22-8 winners.
Richard Marshall's side aren't really expected to do much in the Qualifiers, with his players using it more as a learning experience playing against high calibre sides. But if they keep putting in performances like Saturday's, then they could seriously upset the competition. Arguably against any other side, Fax would have come away winners at the weekend, as the Wolves are probably the strongest side of the eight. So with Catalans and Leigh still to play, an upset is certainly on the cards.
*Pictures: SWpix.com