Featherstone Rovers have today confirmed their intention to be at the forefront of tackling anti-social behaviour in rugby league as we head into the new season.
The Rovers were one of the first clubs to launch their own Tackle It strategy and have built on that further with "a state-of-the-art CCTV system" and will be promoting their Tackle It principles at this weekend's friendly against Wakefield Trinity by handing out leaflets to attendees which speak to the ambitions of the club in this area.
This comes in the wake of an incident at the end of last season as well as allegations of discriminatory abuse from a small section of the crowd at the Millennium Stadium which flies in the face of the history of the club.
On this, a Spokesperson for the club told Serious About Rugby League: "This type of behaviour is utterly unacceptable, the vast majority of our fans are among the best in the sport, they're passionate and supportive.  The behaviour of a very small minority is spoiling it for everyone else, we won't tolerate it."
Furthermore, their intentions in this area have been laid bare in the leaflet they intend to distribute on Sunday which reads: "Matchdays are for families and friends to enjoy and make memories. We want our games to provide an environment that will inspire and entertain people of all backgrounds and generations.
"We will not tolerate inappropriate behaviour or language, nor any form of discrimination.
"Failure to comply will result in you being asked to leave as well as possible exclusion for future matches.
"Poor behaviour costs the club financially and could also cost us our on-field success."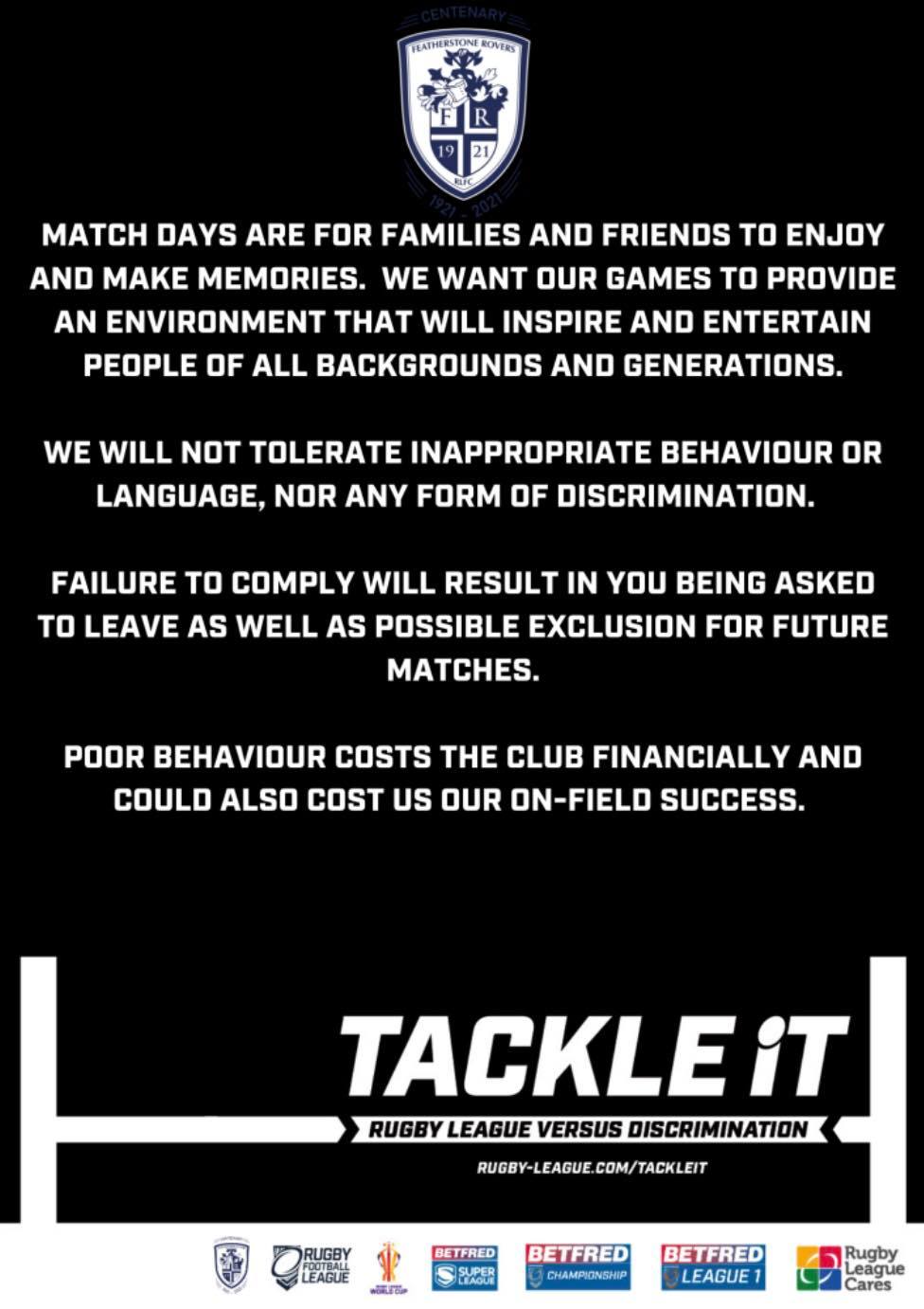 However, actions speak louder than words and Featherstone are delivering in that area as they look to identity those who went against the standards set by the club in last year's fixture against Halifax. In doing so, they have been provided with an image of the perpetrator who has now been banned from the stadium as they seek further assistance from supporters in order to identify the person.
The club are encouraging supporters to join with them in their ambition to push against anti-social behaviour and ask that fans report any and all incidents in the future which can be done by contacting martin.vickers@featherstonerovers.co.uk.
This weekend the Rovers butt heads with Willie Poching's Wakefield before they take centre stage in front of the Premier Sports cameras on Monday 31st January as they battle York City Knights in the first Monday night fixture in the 2022 Betfred Championship.
Along with Leigh Centurions, the Rovers are the favourites for promotion in 2022 and led by Super League's most successful coach they could very well feature in the top flight come 2023.
At the forefront of the Championship competitively, they also appear at the forefront of the sport in terms of tacking anti-social behaviour.