I was at a function over the festive season and was talking to a 12-year-old lad about Rugby League. He plays full-back or stand-off for a well known Wigan amateur outfit.
I asked him who he looks up to and would like to emulate as he continues to play the game into young adulthood and beyond. Expecting him to name Sam Tomkins or George Williams, his home town heroes, his answer completely threw me. "I WANT TO BE LIKE MICKY HIGHAM".
The more I thought about it, the more it made sense. This young man knew his game.
He went on to explain that to him, Micky epitomises everything about the greatest game.  A proper rugby league player through and through.
Reading this you will know that Micky has just played his last game for Leigh and his future is now going to be as part of the backroom staff, with particular emphasis on community projects. This new role is quite fitting for a man who commands nothing but the utmost respect and admiration from the people of Leigh. They love the man and with good reason. Nobody has a bad word to say about him. He has no problem displaying that trait common to rugby league players that make them proper stars in the eyes of fans, acknowledging everyone who wants to exchange pleasantries with him, as he walks in and around the town. No "Leyther" is ignored.
Typical of a man who never once took the game and the living it gave him for granted and felt privileged and humble throughout his career.
Micky was born in the borough of Wigan at the nearby Billinge Hospital and raised in Leigh.
As a kid he started out at Leigh Rangers and then moved on to the big amateur clubs in the town, Leigh East and Leigh Miners Welfare. "Metal Micky" as he was known, due to his extremely tough and resilient physique, he quickly established himself as a top amateur player in the area and signed for Leigh in 1999. He soon attracted interest from down the road and it wasn't long before he moved to St Helens. He won a Grand Final winners ring whilst at Saints and spent some great years there before transferring to Wigan in 2006. This move was unusual to say the least. Wigan and Saints just couldn't agree terms and the transfer stalled. At the same time, Wigan's Terry Newton was wanted by Bradford. So, Bradford signed Micky – the only time he has been involved with a Yorkshire club, albeit he never actually turned out for them and they then did a swap with Wigan who took him in exchange for Newton.
They have never had anything less than outstanding hookers at Wigan and he was no exception. He fit right in and became a fans favourite. It came as a surprise and disappointment to many when he moved to Warrington after a couple of seasons. I don't know why the Warriors didn't renew his contract, but their loss was certainly the Wires gain. Again, establishing himself as a favourite with Warrington supporters, his work rate was tremendous. I've seen Micky out on his feet at times. You can tell he'd run his blood to water and hardly knew where he was on occasions. But he just kept going.
Challenge Cup glory came his way at the Wolves and he had a good few years at the club.
But then his home town team started to make some noises. Things were happening at the Leigh Sports Village and club owner Derek Beaumont decided nothing would stop his beloved Leigh from getting to the top flight. In a move that didn't impress Tony Smith, the Warrington coach, Micky transferred to Leigh in 2015.
Success was inevitable. They dominated the 2016 Championship and didn't come too far off dominating the middle 8's to secure their promotion to Super League. In the process Micky bagged himself the Championship "Player of the Season" award at the spritely age of 36.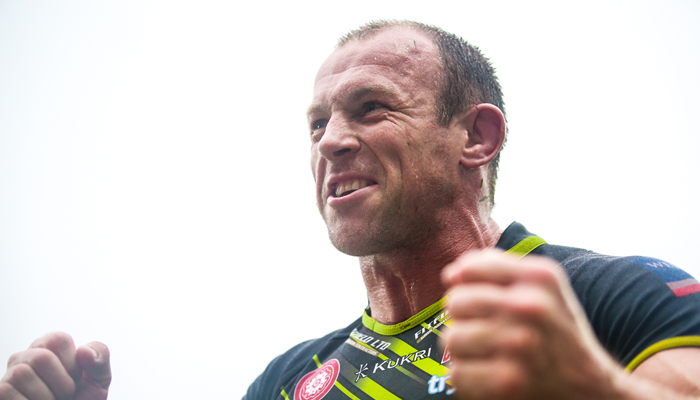 A decent start to the 2017 Super League campaign gave Leigh hope that they were good enough to mix it with big boys on a consistent basis. However, it wasn't to be. Lack of depth in the squad, injuries and fitness issues put them back in the middle 8's, where there was to be no escape.
The dreaded (and massively unpopular) Million Pound Game saw Leigh relegated in front of their home supporters at the end of a difficult season. An abiding memory from that game and of Micky is seeing him on the pitch in tears, apologising to Sky TV's Angela Powers for his emotional display. What he must have been going through at that moment and yet he had the consideration to feel bad for Angela having to interview him in that state. For me that showed an enormous amount of class and courage. In the tough, tough environment that is rugby league, to see a player get so passionate and upset about what had just happened and yet still think of others spoke volumes for the type of bloke Micky is.
So as Micky leaves his playing days behind to take up a role I have no doubt he will thrive in, coaches everywhere should use Micky Higham as the model example of everything you should stand for and aspire to be as both a player and a person.
That young lad had it right!