New Huddersfield Giants signing Ashton Golding has said the birth of his son helped him remain positive in what was an otherwise bittersweet season.
Golding played just once for Leeds in 2019, spending most of the year on dual-registration with Featherstone in the Championship.
He made 21 appearances for the Rovers, though, and came within 80 minutes of helping them win promotion to Super League.
But despite being left out in the cold at the Rhinos, the popular fullback didn't take it personally.
"It was a difficult season in the sense that I didn't expect just to play one game for Leeds but if you flip it on its head, I was in a privileged position to be able to play 21 games for Featherstone," he said.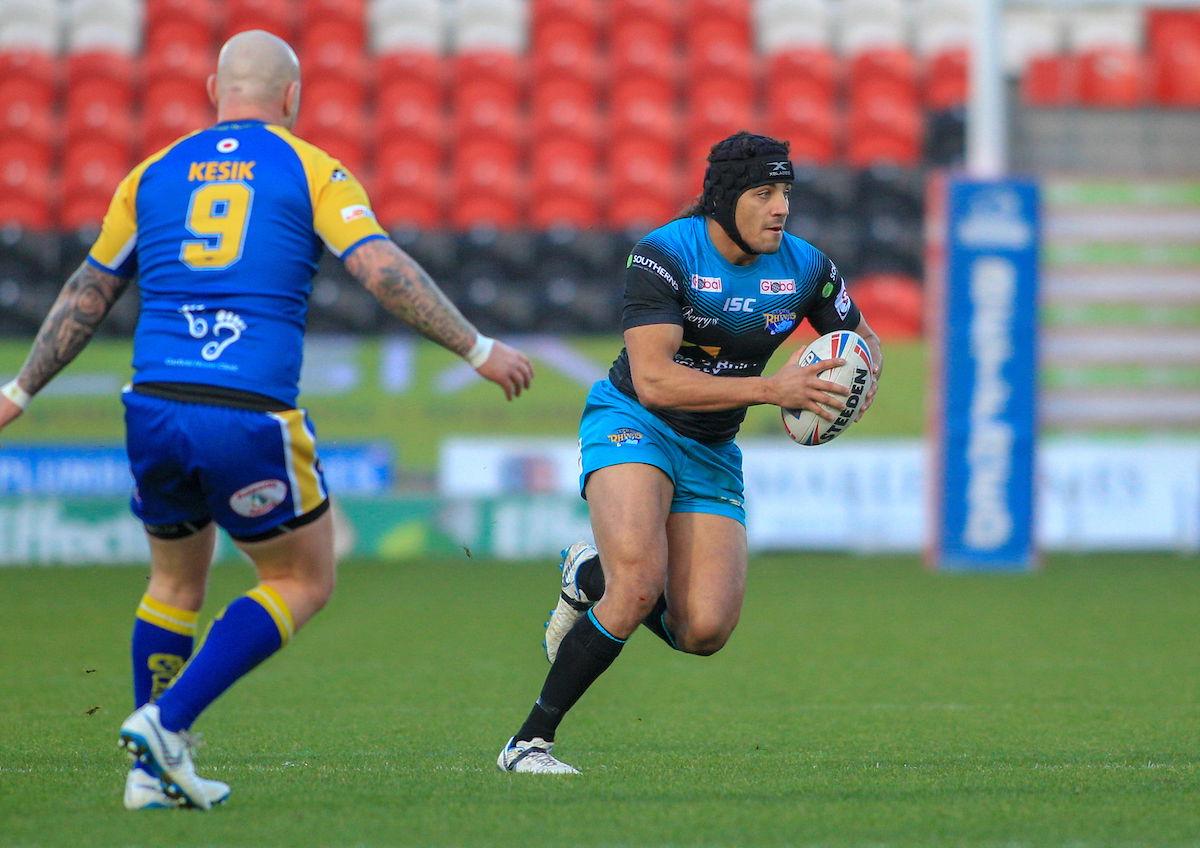 "(Rovers coach) Ryan Carr worked wonders with me. His attention to detail was magnificent and he's a massive part of why Featherstone had so much success.
"Obviously I'd have loved to play for Leeds last year – that was my goal but unfortunately that didn't work out.
"I never hold grudges – life's too short, careers are too short to start holding grudges. I'm just privileged that I got to play one more game last year, it could've been a different story and I might not have played at all."
In December 2018, Golding experienced his first big change of the past 12 months, when he became a dad for the first time.
That moment has since changed his outlook on life and made him realise that while it pays the bills,  rugby league isn't the be all and end all.
"As a young lad from Leeds, playing for the Rhinos was everything to me and my life, but then you have your first child your perspectives start to change," he added.
"You'll come home from work and it might have been a bad day but the smile on your son's face is going to cheer you up no matter what's happened.
"That's honestly what happened with me – I started to see the brighter side of things and tried to be more positive."
After nine years at the Rhinos, Golding will now move further west to Huddersfield, after signing a three-year deal with Simon Woolford's side.
He'll have an early reunion with his ex-teammates, with the Giants hosting Leeds at the John Smith's Stadium in Round Two of Super League.
?? Hi there @ashtongolding1 pic.twitter.com/rlnVkwMpoS

— Huddersfield Giants (@Giantsrl) November 5, 2019
Golding, though, insists that game is at the back of his mind for the moment: "I'm just looking at the fixtures and thinking I can't wait to just get going. I noticed Leeds were second but I also noticed Catalans were the first away game.
"But that's a mile away from where I'm at. I still need to earn my stripes, earn my spot and earn the trust and respect of my teammates.
"I'm willing to put in the hard yards in training and hopefully that will stand me in good stead.
"Pre-season's all about building for the last game of the year, so that you're still fit and healthy, so hopefully we'll do all the hard yards now and reap the rewards at the end of the year."