Leeds Rhinos and England star centre Charlotte Booth has signed for West Brisbane Panthers.
She is the first Women's Super League player to make the transition Down Under and I (CJ) caught up with her to explain this monumental transition.
CJ- Congratulations, you are the first Women's Super league player to go over to Australia. It's a massive achievement. So, tell us who you are signing for and what are the reasons for the move?
Charlotte- The move is both lifestyle and rugby related. I've been blessed to be a part of some amazing sides, winning the treble in 2017 with Bradford, the Challenge Cup in 2018 with Leeds and then Challenge Cup and Grand Final winner in 2019, again with the Rhinos. I am not getting any younger at 26 and I feel playing abroad now will be the next chapter in my playing career and an opportunity to kick on and really push myself. So yes, rugby and who doesn't love the sunshine?!
CJ-This is a big loss for Leeds Rhinos ladies, how did they react when you announced your departure?
Charlotte- Leeds have been super supportive, Head Coaches Leon Crick and Adam Cuthbertson have both been very understanding. They have said I will be missed and it's a loss for the club, but in regard to my personal development it's going to be priceless. They have allowed me to train up until travelling to Australia, I cannot thank Leeds enough as a club. It's a real special place.
CJ- What is the pathway into the NRLW?
Charlotte- It's all still rather new to me. As far as I understand, the Division One leagues play up until May with selections for State of Origin and then NRL teams following on from performances during the league.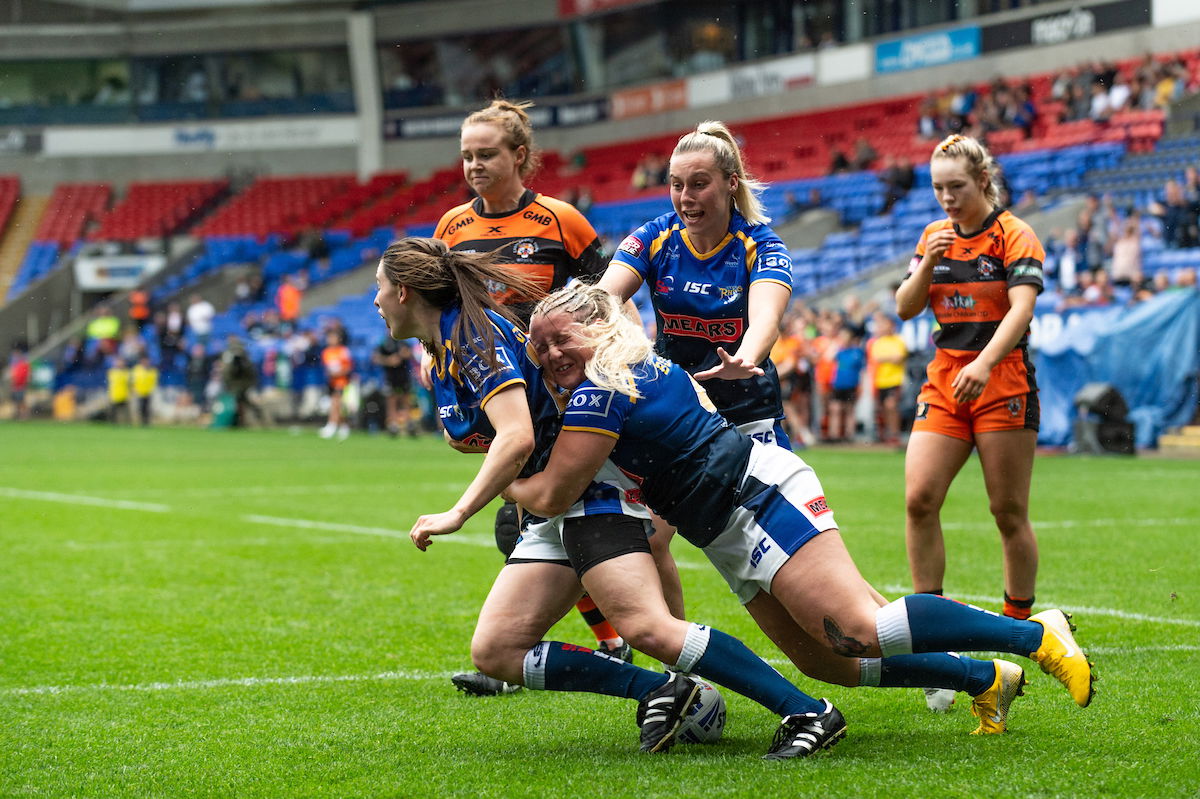 CJ- Can you see more women going over to the NRLW? And vice versa Oz players coming over to WSL?
Charlotte-Yes definitely! Why not? In my opinion sport is a fantastic way of opening doors of opportunity and travel is one that although can be daunting it's a true opportunity to get out of your comfort zone and learn.
CJ- We both recently played for Featherstone Lions, against South Leeds Spartans to honour Natalie Harrowell of Featherstone Rovers, who sadly passed away. What is, in your opinion, the standard of rugby at Championship level?
Charlotte- Personally I believe there's some real potential at this level, however the athletic-ness of the players in general is somewhat lacking. Getting on board some S&C (Strength and Conditioning) coaches and improvements around training would definitely benefit these teams and players.
Charlotte's decision to move over to Australia is a great breakthrough for our female players. She is carving the pathway of those who will follow her.
Her strength and determination to see out her fullest potential is such a strong and already well-developed league. We have seen what the NRL can do for our male counterparts and this is another step in the right direction for all women rugby players to attain too.
From all the members of SARL and players in the WSL, we wish Charlotte all the best in her new adventure.