Jacques O'Neill has become a name that has become famous in rugby league and social media circles in recent weeks.
For the past month, the former Castleford Tigers star has been on ITV2's Love Island having been released from his rugby league contract to pursue other opportunities.
Since then, O'Neill was coupled together with Welsh wonder Paige, though their relationship was getting strained in recent days following Jacques' antics in the infamous Casa Amor saga where he was exposed to six different girls for three days.
The 23-year-old had not closed the door on a return to rugby league and potentially Castleford after hinting with Paige that he would work things out around his career, but it appears as though O'Neill could be heading in a different direction.
With a photo on his Instagram feed, which was been looked after by ex-Tigers teammate Larne Patrick, O'Neill has been snapped up by modelling agency FOMO Models which could suggest that is the route he may go down now his Love Island experience is over.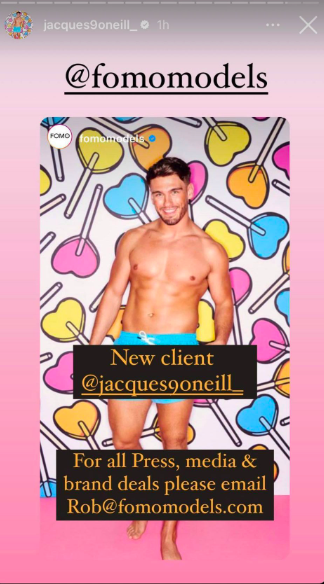 This afternoon, a spokesperson for the ITV2 reality show confirmed his shock exit: "Jacques has made the decision to leave the villa. He will explain his reasons to the Islanders during tonight's episode."
The Love Island rep added: "We fully support his decision and look forward to seeing what's next for Jacques."
Last night's teaser for the showed saw Jacques storm over to Paige who was chatting to returning Love Islander Adam Collard as he asked: "Have you been f**king off? Who the f**k is he? Just another geezer who's been on the show? He can f**k off then mate."
It remains to be seen where O'Neill's future does lie after Love Island, but the door is open for a return to the Jungle.