The Rugby League World Cup is billed the most inclusive ever and all three England squads – Men's, Women's and Wheelchair – are to send out a powerful message in support of disability inclusion during their pre-match warm-ups.
England Men play France at Bolton on Saturday and when Shaun Wane's side take to the field for their pre-match warm-up they'll be wearing shirts specially designed by people supported by the leading social care charity Community Integrated Care. England's Women's and Wheelchair squads will also wear them when their respective competitions begin next month.
The shirts celebrate the partnership between the charity and Rugby League, and carry an inspirational message about the value of inclusion and community which England's teams will champion on a global stage.
Drawing upon the artistic talents of hundreds of people who are supported by Community Integrated Care, every aspect of the shirt design has been co-produced with members of the ground-breaking Inclusive Volunteering Programme with the Rugby League World Cup.
The design features a striking 'handshake' image – a symbol put forward by many participants in this project as a symbol of community – with the addition of hearts on the front of the shirt representing respect and compassion for all. The shirt draws together the colours and brand identity of Community Integrated Care with the Iconic St George's flag, highlighting the deep connection between the charity and England Rugby League.
The reverse of the shirt carries the emblem for Community Integrated Care's 'On The Same Team' campaign. 'On The Same Team' aims to educate primary school children on the value of diversity, inclusion and respect, helping to tackle prejudice before it is formed through sharing the inspirational stories of players in the Learning Disability Super League. With almost 15,000 young people already signed up for this education programme, which has been supported by the RFL and Rugby League World Cup 2021, it is influencing the attitudes of future generations at scale. Schools can sign up for this free programme at TheSameTeam.co.uk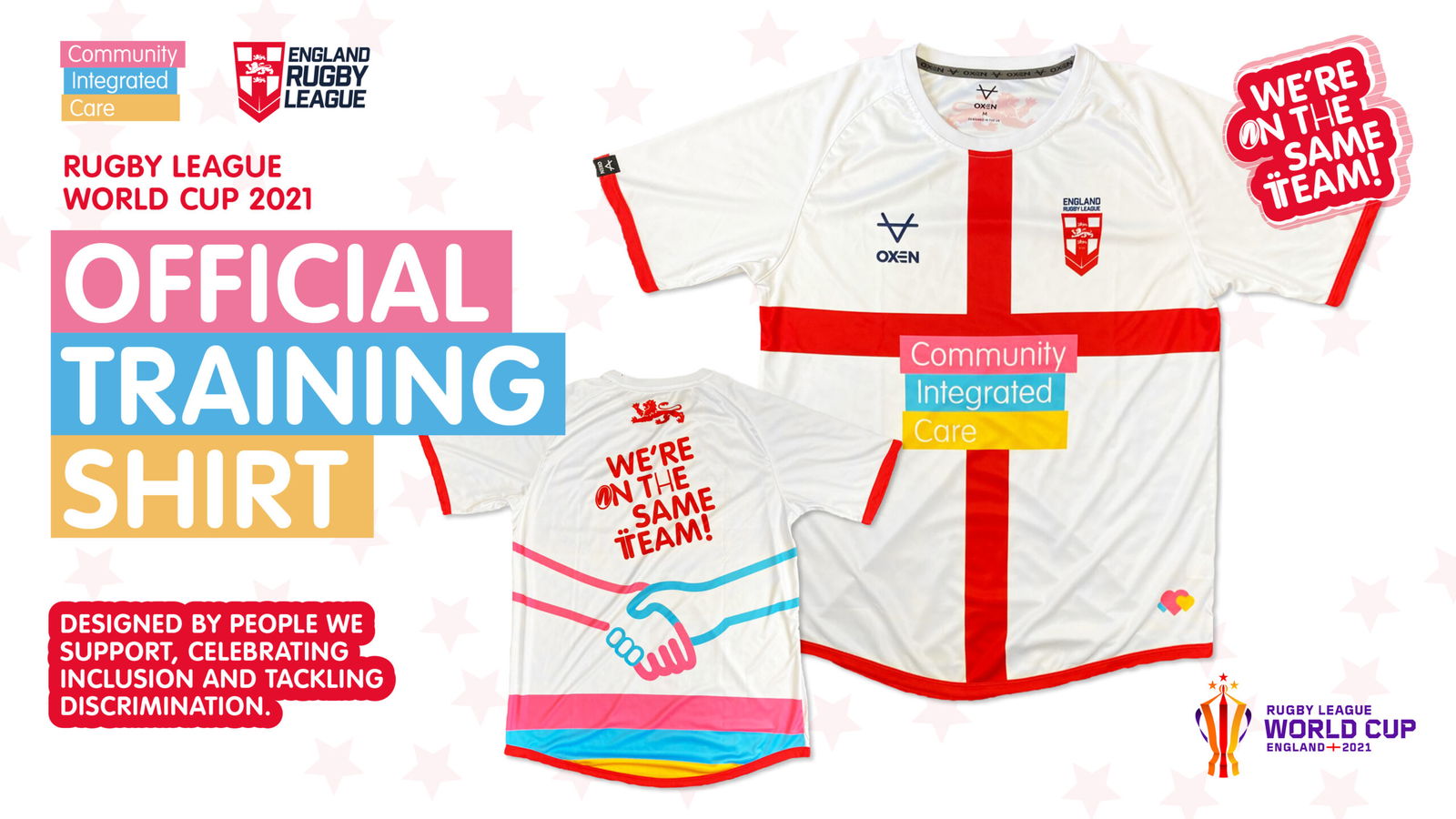 England captain Sam Tomkins says:
"Everyone in the England Rugby League squads will feel very proud wearing this special warm-up shirt. The partnership between Community Integrated Care and Rugby League is amazing, helping to change so many lives in our communities, so it's important that we shine a light on this special relationship.
"It is inspirational for us, as players, to know that the shirt has been designed for us by so many people who are supported by the charity. We are so grateful for their hard work and ideas, in the designs they put forward. We hope that by wearing this shirt we can carry an important message to the public and encourage many more schools get behind the 'On The Same Team' programme, which helps tackle bullying and discrimination."